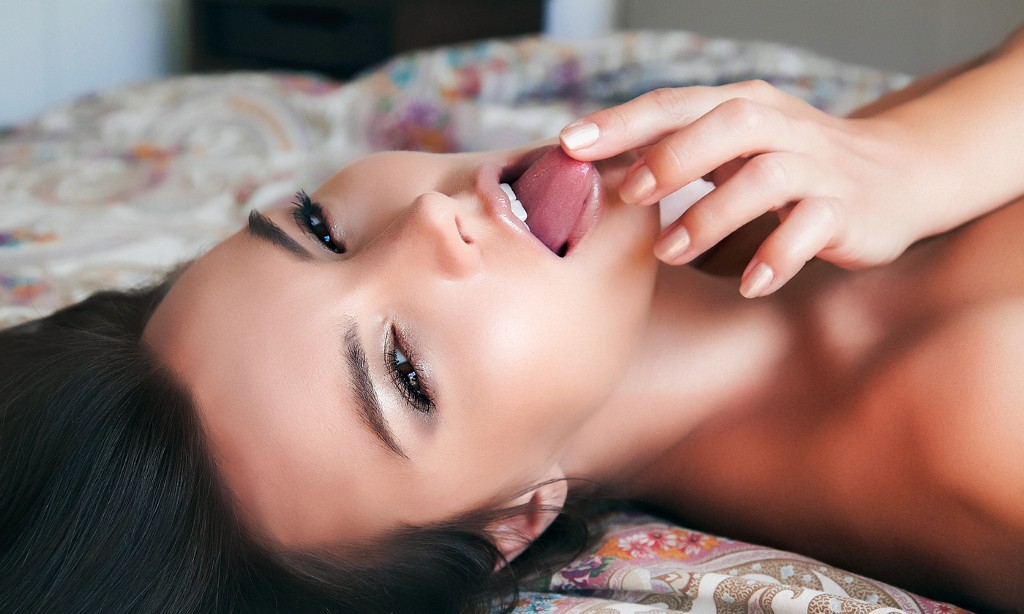 I'm having a recurring dream about editing a work in progress, when I feel your large warm hands separating my limbs. You kiss, nibble and bite me up my legs, as you massage my inner thighs.
Lying in your bed on your Frette sheets I feel I'm cuddling into a cloud. I haven't slept this well in years, and I'm wondering if I'm still dreaming. Did I dream you up? Or are you continuing to arouse me as your manhood bench presses against my body's weight? What are you doing that feels so good? All I know is that your hands, arms, legs, mouth, body, ass are all taking me out to a diner I've never been to before. I smell coffee. And the sight of your firm grabbable ass makes me think I might be in a museum.
As I'm still lying down propped up on a puff of pillows, you reach over to the nightstand and take a sip of coffee. I don't know how you do this without spilling it, but you pour my coffee into my mouth as we share a deep playful kiss. I bite your lower lip. You "rrrrrr." I "aaahh." Together we "rrrahhrrrahh." I continue to kiss down your chin into the grove of your cleft. I tongue fuck it. In and out, I twist and turn my tongue, as you moan and I groan. Even though I don't have a cleft chin I can feel my tongue slipping inside yours as if it were mine.
"Jen, you're wonderful."
I try to say, "thank you," but you're already shutting me up again. You scrape the side of my tongue as I curl it around your mouth. You're kissing my tongue with your teeth as it curls up and down. Left, right and around, you're leaving a wake of tiny ostosis stripes. You really enjoy rigging me whenever you can. You don't need rope to hold me in position. You just follow my lead, take me every way you please, and have your way with me. Sharing our morning coffee together with my body bound to the bed; filling my mouth with the aromatic brew awakens my senses. I'm edging with you as we begin to have sex.
You don't need any lube to slide your thickness into my wetness. I'm open and ready for business! I take as much of you as I can possibly put in my pussy. I'm purring as I grab your ass and spank it. "Smack!"
Oops. I must have hit you too hard because you exclaim, "Jen, what are you trying to do to me?" I must've done something right because you're thrusting deeper inside me. You're super glued inside my cunt and clamped into a submissive position. I spank you again. Harder. With more force.
You start making sounds I've never heard before. While it's new and different, it's turning me on more and more. My walls are pressing in and out. They're turning round and round so fast my horny hole is a tornado! I cackle like the Wicked Witch, as you flip me over like the pancake on the sterling tray beside the bed. So that's where the scent of vanilla was coming from.
Prone, my ass in the air, pillows protecting my head from knocking into the headboard, you spank me back. But your hand is bigger. And it stings. It hurts. You didn't just spank me, you slapped my cheek! Harder than you meant to. I try to get up, but my face must have changed.
"Jen baby, are you okay?" Your voice is softer than the sheets.
"It hurts, H. Please do something." You kiss my ass as you stroke my hair.
"Jen, I'm going to get you something for the pain." Kissing my face all over the place you feel bad because you don't want to leave me alone.
"Sweetheart," you say with the tenderness of every love song ever written, "I've never been turned on like that before."
Still lying in your luxurious bed, I laugh. You're perplexed. "H, we're having vanilla sex for Godsakes." You uncap a cold bottle of Fiji water, put a pill in your mouth and take a sip and hold it. Then you pour the painkiller into my mouth and I swallow its bigness because it hurts. I've never been struck that way before by anyone. Ever. Tears stream down my face.
You hold me as tightly and tenderly as you can while you butterfly kiss my tears away. "Jenny, I desperately want to spoon you, but I need to tend to your wound baby." You kiss the back of my head and sniff my hair, letting out an, "umm."
You grab a tube of arnica and squeeze a glob of it on your hot imprint. It starts to slide down to my crack. It feels good. How can being in pain — real, I need a pill pain — stir something so deep inside me I never felt before?
You truly care about me. Your eyes glimmer when you look at me. I've never seen another man look at me the way you do. You left needle-like pinpricks of your hand tattooed on my ass; in the bedroom. We were in the dungeon last night and you had more control. What is it with you? Did I just say that out loud?
"Jen, I've been fantasizing about waking up with you. I want you."
I've been told you're the good looking late 40s-early 50s bachelor every woman on the Vineyard wants to bed. The fact that you're loaded elevates you to celebrity status. I know I'm attractive. I love myself. However, I'm still a bit taken aback.
It reminds me of when I thought you were boring. I laugh even more. You realize why I'm giggling and fight to hold back your own laughter. But it's no use. Even though my ass is stinging with pain, the combination of your strength and warmth touch my heart and my body equally. I can't believe I'm thinking this, but could I be falling in love? No, that's impossible. You can't be real; I'm just dreaming.
Catch up with part one:
❤ ❤❤ ❤ ❤ ❤ ❤ ❤ ❤ ❤ ❤ ❤ ❤ ❤ ❤ ❤ ❤❤ ❤❤ ❤ ❤ ❤ ❤ ❤ ❤ ❤ ❤
Please clap jenorously. Ty. Jen X's Rule: If this story causes you to cum you must clap 50 Times! Take your sticky finger & give me all you've got! Please share on your socials: I'll support you right back, highlight and comment. xoxo, Jen X