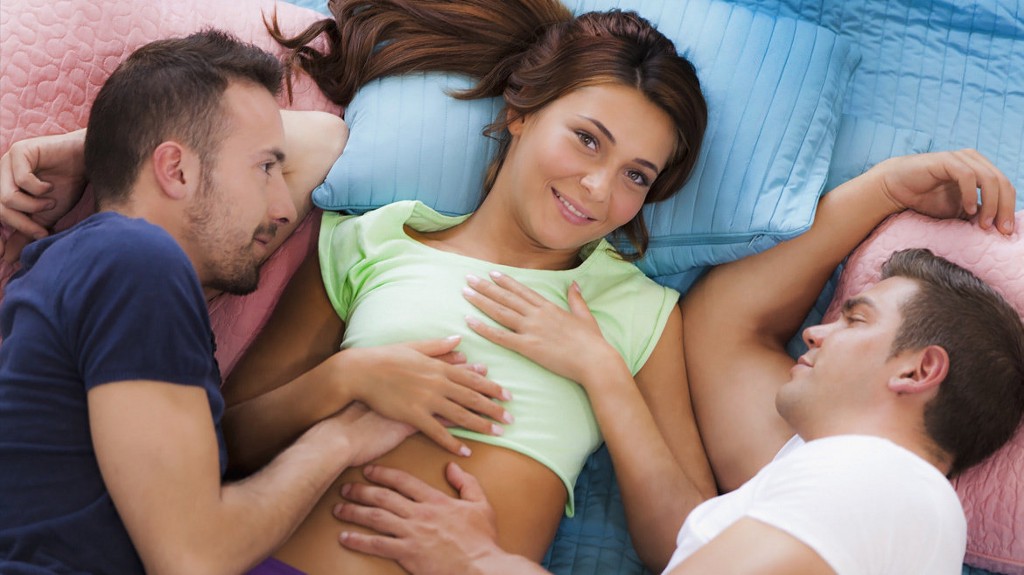 It took quite some coaching and getting to know one another before all this went down. It had taken me quite the serious amount of inner soul and body searching to be OK with being pansexual. Yeah, you got it, we'll have anyone anytime if they spark our fancy and we spark theirs, but don't get me wrong we do not just fuck anyone anymore. There are a number of criteria that must be met before the bling happens. What is it with Vanillas anyway? Just because we are into kink and BDSM does not mean we are indiscriminate. In fact she and I are way more discerning now than we ever were before we met each other.
Actually, most of us kinksters are this way. Suffice to say that when the chemistry works and the social feeling works and the rules of play are all in alignment, BLING! It takes big communication and big having dealt with yourself to get there, and few can do that. But once that happens, the possibilities are endless baby. Phew, WOW!
Anyhow, my honey found she and he and I found the other fuck stud. We all came together in our nest and den of iniquity. She found her prey while working out at the gym and I found mine while at the pool. My sessions in the sauna are my relax and chill time. Her time pumping iron and thinking of pumping cock and eating pussy are hers. And she knew I would melt for the ones she was going to bring home for me, as I knew the one I would be bringing would set her alight too.
She knows my proclivities and I know hers and we both know exactly what type turns us on. And we are more than good with it, it turns us the fuck on to see each other hot and bothered. We faced all that ugly that goes with this territory and we own it and are OK with it. Especially me, who many would not be OK with, but you know what, fuck 'em if they can't take a joke. Who we love and make Love to is our business alone and nobody does anything beyond the rules of consent in our world so it's all good. You should try it, fuck, it's delicious, you have no idea what you are missing, morals and all that aside. Like I am about to share with you, and yes I thought hard about sharing this with you. Once I faced me and got OK, the rest was sweet delight here the fuck we cum, yummy.
We are a match made in Nirvana because our mutual taste in men and women is practically identical. We like 'em clean shaven, smelling edible, with muscles in all the right places. Rippled and tight as fuck is nice but not necessary, being sensually confidant with the desire to fuck mummy and daddy types, like my honey and I, now that's where it's at for us. Slick, and ready for penetration and servicing. Oh yeah, and they gotta luv House! Fuck yazzzzz.
The boyz and gurls we like to fuck and love are playful and fun too. The sex is the icing on the cake for our connection because really without the connection there can be no sex. Not really. We tried that just fucking thang, it didn't work for us. There had to be something more. Respect with a sprinkling of adoration, playfulness, kindness, and tenderness. The icing on that love cake is just the right mix of saucy and brat with the ability to talk and be comfortable being our mutually imperfect selves. We have been around the sun a few times, we are not like we were in our 20's anymore, but we know way more than we ever did then.
And now we found our combination. Not an easy thing after many, many epic fails, but now that we did, watch the fuck out. Sparks were going to fly that night, mmmmmm. With her and I both being switches the combinations of fun are endless and now with these three others here with us, BADA BOOM Baby!
We had chatted for weeks on our mutual messaging services and had dinner several times together before that night so all the butterflies in our stomachs were out of the way and we all knew what were into and looking for. So when that night of nights finally came we all were ready to get it on. Real magick takes work, real life is not like a porn flick, you gotta work it baby!
My honey got everyone drinks and I set up a deli nibble plate with a nice mix of salty, tangy, bitter, sweet, juicy and savory to light up our senses and to pick at while we made everything just cozy for all present. Pillows fluffed all about and candles lit creating a mood and making ones guests right at home so they will come again and again. And that other kind of cumming too later, mmm.
That part is coming you just wait you, hehehehehehe. Wow, I thought I was naughty, you readers take the cake on that one. Get to the good stuff already, geez that @RoseMyErotica has spoiled you guys. Alright enough back story then.
After some idle chat and the liquid courage set its effect my honey was first, she was the brave one that night and with the sway and flow of the house set we had on the stereo proceeded to strip before us all. With her sway and her flow, she shed her saucy skirt and that oh so tight blouse the boyz and gurl were eager to see come off. What a fucking sweet tease she was there in herself and her sexual power. Damn it, fucking hot! Dancing on the floor there she flirted with all of us with a light touch here a kiss there and moved with a bounce here and a strut there between us, her spectators. Those dynamite legs and those stilettos making a perfect ass of themselves in her curves and her moves. Oh my, I could feel her reveling in the attention. Our eyes burned for her and the heat rose between us all. The boyz cocks got hard poking out to the world through their pants and our sweet other femme fatale's nipples were appreciating the view of my stunning darling; she who was swallowing up all their love for her there on the floor.
Gawd, I honestly am not sure who grabbed her first but before I knew it there was the woman eating my girl's cunt and a hard cock was fucking her mouth and the other dude was feasting on her breasts. And there was me all chilled, except my poor cock, raging like a mad wild thang screaming, 'FUCK ME, NOW!' But I chilled and reclined with a shit eating grin on my face and felt my honey being pleasured. You know me, I like to watch.
They glided over her with precision and sweet care. The feel of it was stunning. To sense my girl being so attended and loved was extraordinary. My breath dropped from my core several of those moments. She who was feasting on my Love's sweet wet pussy came over to me and kissed my lips and her tongue met mine in tenderness and prolonged sweetness. He who was attending my honey's beautiful breasts took the opening as a cue to slowly slide up into her with his extension. I heard her moan through the cock penetrating her mouth just as slowly. The boyz worked her together nice and easy like, knowing and sensing there was no rush. I settled back into the kissing of her who tasted of my sweet's cunt. She reached down and stroked my needy cock while her mouth explored me. I surrendered to her need to take control of me. I could feel it. It's that switch thang, how do I explain that. Take charge one minute, surrender it the next baby, simple.
She stripped me naked and I lay before her raging hard for her womanly wiles while my honey was being deliriously fucked by those two studs. She watched me watching my honey taking those two cocks and she purred, "You like that huh?"
"Yaz baby, seeing my woman take two stiff ones is fucking hawt."
"Well boy, I am going to take your stiff one," and without a moment's hesitation she took my full length right to the base and her eyes lit up aglow, moistened and teared up from the deep fucking her throat was receiving. I closed my eyes and groaned out to the world in my satisfaction as she moaned softly in response.
The boyz thumped away in unison on my honey's body feeling the beat of the house music running its fine course through their cores and into her wetness. Her temperature rose and she was soon sweating, I could sniff it through the air. Her scent was so unique and attractive to me. The others too now were adding to that scent in the room and it was obvious by the vibe in the room we all were settling in to this most delightful of sharing.
She mouthing my cock to its root and off again kept up that insane pace on me while rubbing her own now exposed pussy and came herself with a meowing and purring through the continued attention to me. All the while I was getting the show of my life before my eyes with my honey getting it from two well hung studs. It was all too much and in relatively no time I shot my load deep down her awaiting and swallowing throat. She sucking me smiled at my satisfaction and appreciation of her skills. And skilled she was, phew … FUCK!
Not long after those three before me were soon an orgasmic mess themselves. My honey moaned and squealed her muffled pleasure with cock pumping her sweet, cute as fuck face and he pumping her pussy arched his back and thrust his full length into her and released his load in an obvious almost pained, agonizing sweet release. His face contorted and voice deep and penetrating us all in his pleasure. Her sounds, scent and just all around sexy AF self could not help but set these boyz off and moments later the man in her mouth stuffed her face full and emptied his best most creamy of parts into her hot mouth. That mouth I was all too intimate with that knew how to give of itself so willingly.
The smell of sex in the room was intoxicating, I fucking love that smell. Hot bodies and smiles on faces and that sense of abandon and letting go of the most intimate of sorts. Now shared with these three with us. The giggling and joyous banter and chat went around the room in post orgasmic play. The two men with my honey cuddled and continued caressing her and the honey on my lap came to my mouth and shared the cum she did not quite get the chance to completely swallow with me. That tangy mixture of saliva and lover's cum is so good for the soul. It sets you free and its elixir is good for you and it is fucking tasty for me.
After sometime, you know that recovery time to hit the bathroom, cleanse and release there and go for round two we were at it again and the great switch happened. The boyz came to me and she went to my Love. The boyz together played with my cock stimulating it to life again as I them and the two honeys got into a 69 and muff dived while we gentlemen watched and marveled at their skill and beauty. With all our three cocks standing in high salute before us we set to fucking each other while the gurls fucked each other.
One sank his long, musky, tangy, sweet hard cock into my mouth and all I could do was salivate and slurp over his nine-inch length, all the while panting and gulping between insertions and withdrawals like an animal in heat. He behind me lubed me up with Uberlube and thrust his meat deep into my ass and they worked me baby and I was theirs to be fucked and fucked hard until they both shot sweet loads of man cum in me all while my Love occasionally glanced over as she was being eaten alive by her woman lover. She who was now sinking her ten-inch long phat vibe into my honey's sweet wet cunt sparking a flood of her own lover's fluid. Staring wide eyed, both lust driven princesses and naughty little vixens of our delight awed at my ability to take these two hunks of gorgeous manhood into me.
We all were entangled in quite the fucking scene. Very hot. It had been long in coming this day and we finally were living out a fantasy long held dear and secret in our moist, wet thoughts. And she was quickly realizing watching me in this position was making her wet beyond belief, let alone having a darling between her legs relishing her deliriously delectable self.
The next day my honey sent the following to all our phones:
MMM! FF! Nice Luvs … Wanna Do It Again?
Can you guess our mutual responses?
Here's a taste of what we were listening to …