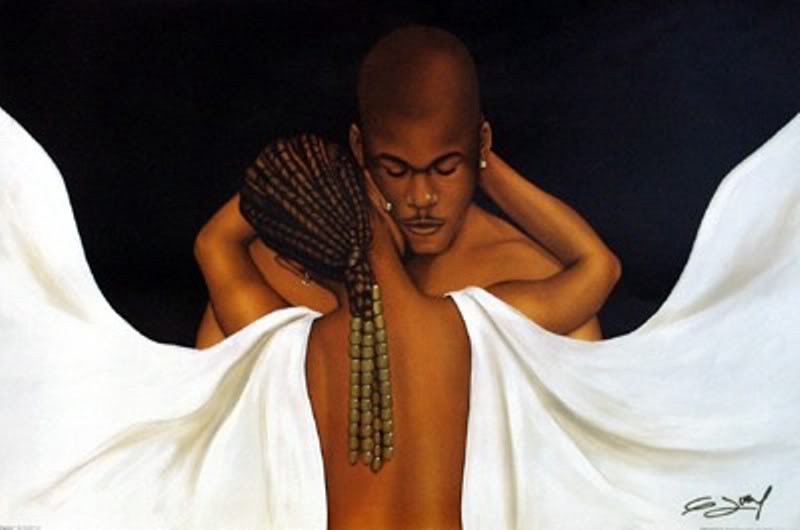 Under the duvet which covers them both, he moves over to caress her succulent naked breasts with his right hand. In an instant, her engorged nipple responds to his large soft palm.
'Weren't you supposed to be sleeping?' Ademola says to his wife.
'And you are doing a good job of ensuring I am not.'
He removes the duvet from his side of the bed, exposing himself to the coldness of the air-conditioned room, and tugs at it in order to expose his naked wife. She holds it firmly.
'Ehnehn, Demola. It's cold. I will not be having a bout of cold tomorrow, just because one Demola wants to have sex…'
He jumps on her, sitting astride, his erect penis poking her cleavage.
'Always the rough man. Never gentle and romantic.'
'You love it like this. Oya lie that you don't like it rough and hard,' he asks as he bends over to hook his lips on hers.
'Not when I have work tomorrow,' she answers gently under her breath.
'Okay, I'll make it short and snappy ma'am.'
'Aye, aye, Captain. Easy tiger!' she says, managing to free her mouth from his rampaging tongue.
He twirls his tongue over her soft lips and nibbles on them. He loves doing this to her when they kiss. It is his favourite part of the act.
Slowly, he slides towards her groin with his pre cum filled penis nodding excitedly in milliseconds waiting to be deployed to action.
He gently removes the duvet off her — successfully this time — and rubs his right hand over her freshly shaved crotch.
'When did you shave?'
'This evening, daddy.'
He bends, sniffs her and pauses some seconds to savour her freshness. He then spreads her legs and attempts to bury his head between them but she captures his head midway.
'Baby… not this night please. I just want zadddy inside me tonight.'
He says nothing in response, effectively hiding his disappointment at not being allowed to devour her vagina like he would have loved.
Spreading her legs wider now, he tilts her waist upwards from under her with his right hand and gently eases his penis into her dripping vagina.
She moans in ecstasy and pushes her waist higher to meet him.
'Daddyyyyyy…' she manages to say.
He continues to thrust slowly, allowing his buried penis to marinate in her soggy vagina. She meets his thrusts and they are both consumed in rhythmic exhilaration.
Not long after, he jerks forward as he grunts in climax. She fuses her groin to his, wrapping her legs around his bum, imprisoning his penis as he shoots all his sperm into her.
Thanks to B.A. who wrote this but was too shy to publish…