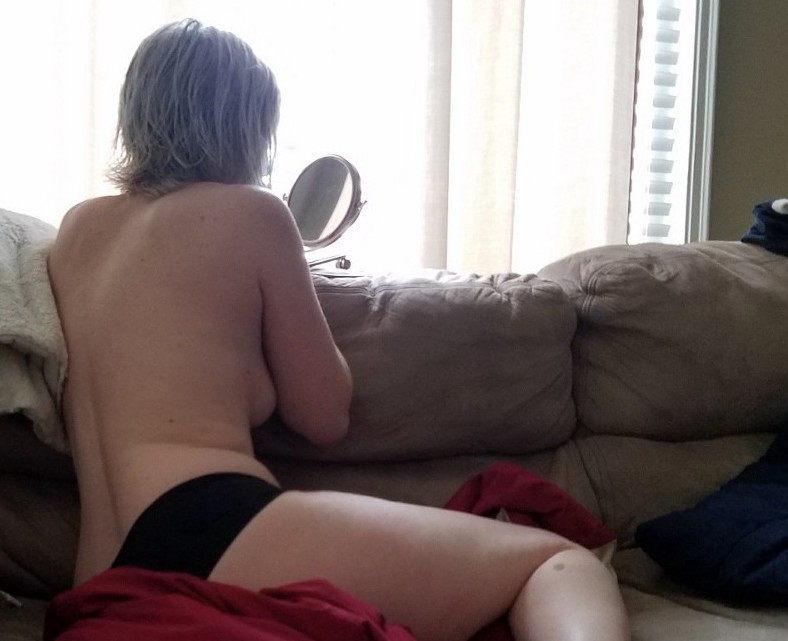 There sits my wife admiring herself
Looking all sexy and fine:
She's getting ready for a date tonight — 
Some lucky out-of-towner — do you need to ask why?
I love my wife
She loves me back,
But I can't stand not wanting to share her
With some other lucky guy.
We hold hands as we walk outside
All dressed up for the night
I usher her into the car
I floor the gas pedal and then we're off and out of sight
She's nervous, but excited as I
I kiss her hand, tell her it's going to be alright:
Out there is some lucky guy
About to score big-time tonight.
It's a bar out on Elton Drive
We go inside, find her man, shake hands and I say 'hi'
I am totally hands-free and leave them to mingle
His hand touches her arm and she giggles
He whispers in her ear: "My room is in a hotel down the block."
We finish our drinks and head out for a walk
He lets us inside — I sit by the door
To keep watch as they talk no more.
They slip out of their clothes
They grope, kiss and fondle like they're doing a rough tango
Down on her knees, she sucks his dick
He looks at me and winks
I unzip mine out and start to squeeze
He leads her to bed and eats her pussy
She moans so loud — a horny slut being pleased
Only a lucky man gets her going like this.
I watch him slide into her deep
She locks arms and legs over his like a Mantis in need:
Back and forth, steady as a rocking wand
Faster their pace goes, so does my jerking hand
She gets on top and rides and bucks her butt on his cock
Frantic gasps, frenetic onslaught
She whimper, moans, begs to be fucked harder
And he, lucky guy that he is, obliges her desire.
Done for the night, they exchange numbers
Promising to call each other sometime
We leave the hotel and drive back home
But we're not done yet — not until I quench my thirst:
She spreads her legs on the bed, beckons me near
I sniff her panties first
Then I peruse her pussy next
As I taste the essence of tonight's lucky man.