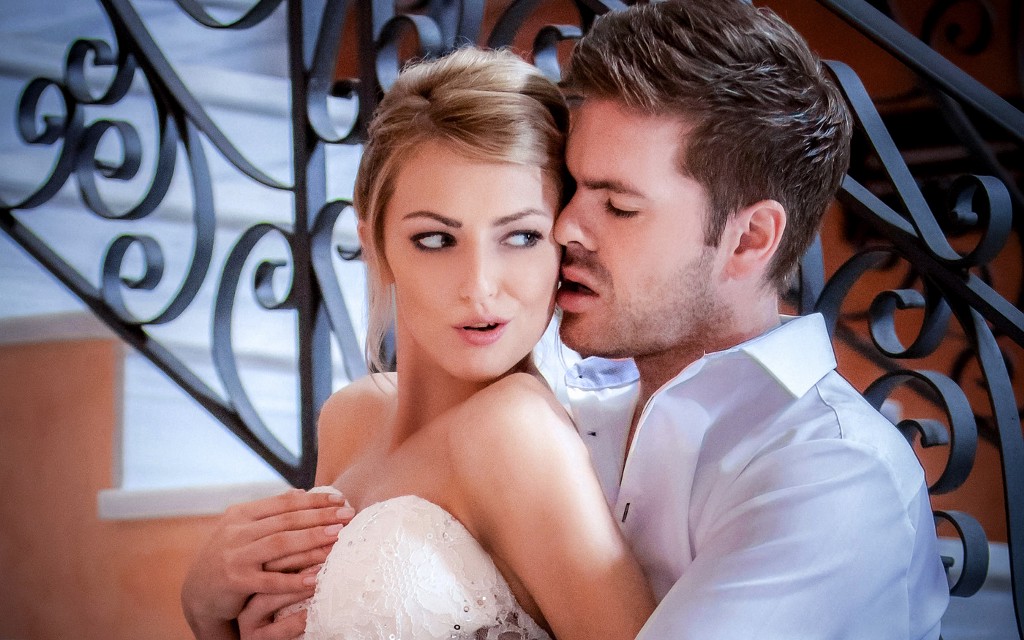 Otherwise the wedding guests would begin to wonder…
Teddy bent Bunny over the dressing table and lifted her dress. His theory was confirmed — she was not wearing anything underneath.
When Teddy walked into the room to check on Bunny moments ago, he found her lying on the bed with her hand disappearing between her legs, hidden under the frills of her dress. After a quick and silent exchange of stares they knew what he was there for. A few seconds later, Bunny was gazing at their reflection in the mirror, panting and eager, as he pulled his pants down and pushed his hard shaft inside her.
Spring showers, flowers and weddings — Bunny and Teddy had been invited to the ceremony of their friends. While Bunny looked for the perfect outfit, Teddy was the lucky one to help her get into several dresses, and more importantly, help her out of them.
Teddy flew in for the occasion and rented a convertible for the weekend. The ride across the countryside was as beautiful as can be. Bunny's light flowery dress hugged her curves as an exclamation point to her natural beauty. Her long hair flowed in gentle waves along the flowers on the fabric, and her endless legs were framed just perfectly as they peeked through the slit when she walked.
Throughout the ceremony they exchanged glances a few times. It was while they were posing for the pictures that he placed his hand on her waist, and as it wandered down, he realized there was no seam of underwear. That thought made the bulge in his own underwear grow larger.
During the drinks and reception they were flirting non-stop. While talking with other wedding guests he held her by the waist beside him and sometimes in front of him. She used every opportunity to rub her firm ass on him and his manhood, and enjoyed the hardness that resulted.
Dinner came and the seating arrangements had them facing each other. She secretly dropped her shoe and placed her foot on his lap, hidden by the tablecloth. As many times before, he began massaging it. She also had to suppress her reaction as she savoured the pressure of his fingers deep in her sole. Soon, however, she began to press back, sizing up the bulge with the ball of her foot and massaging it into a full-on erection. The lady seated next to Teddy paused at the flustered look on his face. He attributed it to the spicy appetizer and Bunny grinned, nodding eagerly in agreement.
By the time the main course had been served, she knew she could not take it anymore. The feel of Teddy's bulge was driving her wild; she needed to take a moment and relieve the pressure. Bunny excused herself saying that she needed to go to her room for a powder break, planting a brief kiss on Teddy's cheek before she walked away. He knew this was his chance. Shortly after he claimed a need for a bathroom break too and sneaked up the stairs, just to end up in the room with Bunny.
Bunny was so horny that she could not think straight anymore. As she walked into the room she checked herself in the mirror… Her hips looked so smooth without any underwear. It was really turning her on. As she lay on the bed to rest, she grew restless and soon her hand found its way between her legs.
After three strokes she heard the door of the room open and after the initial shock, she squealed in excitement seeing her Teddy. There was no need for words. She stood up and after a hard embrace she felt herself being bent over, his hungry paws moving up her bare thighs as she held onto the table.
The tip of Teddy's shaft was wet with his precum. Waves of emotion trickled down her spine as soon as it made contact with the delicate flower of her vagina. It was instinct taking over. Bunny could feel his hands clasped around her waist, pushing her closer to the edge with every thrust.
As he reached her deepest point she playfully bounced back onto him, just to feel the length of his shaft coming back in for more. After several such masterstrokes her first orgasm hit with the vengeance to be expected from an entire afternoon of playing with fire. As she came, the scenes of the drive, the flirting, the foot massage, all passed before her eyes.
Teddy felt how she was curving her back and moved his hands to cradle her. He pulled her up and pulled her hair back before delivering a wet kiss. And just like that, with one hand on her chest and the other around her waist, they kept fucking to the rhythm of the chirping birds outside.
Teddy felt the pressure accumulating with each stroke along the velvet of her walls. He had to stop kissing Bunny, and looked straight at their reflection in the mirror as he was cumming.
They were stabbing the beast of pleasure. As soon as he began spasming, the waves of her second orgasm hit. The ritual was complete, celebrating spring, desire and above all, love.
She returned first, and a minute later he walked out of the bathroom as if nothing had happened. Dessert was already served. Nobody seemed to have noticed anything. Except for that lady, who flashed a wide smile at Teddy as he sat down with difficulty. They kept on with the frolics, knowing that in a few hours their little love dance would resume.