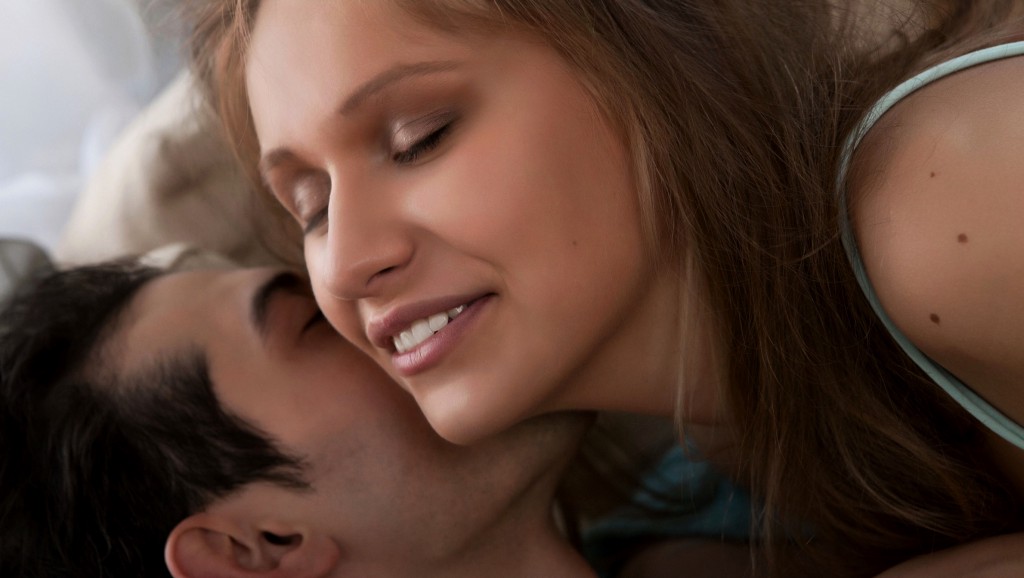 Teddy, can you help me with my French?
Those were the words in her text. I told her that I would love to help her and she asked me to join her in her dorm room to help her study. She came to pick me up in the lobby, wearing a nice top without a bra, and a nicely shaped skirt that showed her beautiful legs in all their glory.
We went upstairs to her tiny room. Her desk was full of miscellaneous stuff like her makeup, electronics and textbooks, so she was studying on her bed. She went to her backpack and got her textbook out. My French is not bad, but some of the texts she had to work on were above my level.
Teddy, what does "Elle mange sa chatte" mean?
I wondered, how do the French manage to make the most sleazy phrases sound nice? And I was also wondering if it had been the way she phrased the question, or the look in her eyes, that gave me an instant hard on. Yet there I was trying to help her with her foreign language skills. So I offered to demonstrate to her what the phrase meant.
Teddy, why are you kissing me? Is it related to la chatte?
I told her that kissing was definitely a first step into demonstrating what the phrase meant. It is impolite to just get to it or in medias res, as you would write in Latin, which she is also studying. She wondered out loud if I had asked her for permission to kiss her on our first date. I reminded her that she had just come back from the bathroom asking me if I wanted her to stay. I did not answer with words but with a kiss.
Teddyyy, why are you licking my nipples now?
Just like on that very first time, I had been caressing her breasts to make her horny for me, I knew that her nipples held the key to her wetness. I noticed that they were hard, and not just at their tips. After licking one of them at its full extension I placed my fingers around it as my mouth wandered to the other one.
Once both breasts had been served I moved down on her. A surprise was awaiting me. My girl was not wearing any undies under her skirt. Somehow I was surprised but not surprised. As I looked up into her eyes I could see her angelical smile of mischief.
It felt like a race; she started to remove her clothes as I was trying to get out of my jeans. She threw me on the bed to help me out of them and then proceeded to climb on top of me. I will never get tired of admiring her beautiful body, especially when it's framed by her fantastic long hair. She started kissing me while rubbing her boobs on my chest.
My hard one was protruding, and I thought she would lock us in position. But she had other plans. She raised her torso and moved her knees to bring her sex in contact with my mouth. She placed my arms under her legs as I extended my tongue for that very first contact with the tip of her clit.
I love the shape of her sex. It is compact with everything in place. Yet when she is aroused the tip of her clit will peep out from her labia. I was devouring the length of her lips, and placing the tip of my tongue at the entrance of her vagina. I could feel her sticky wetness ready for me. I spread her lubricant across her labia and all the way to the tip of her clit.
She started rubbing herself into me. I put up my arms to hold her, as she took the fingers of one of my hands and placed them into her mouth. She directed my fingers to one of her breasts and then did the same procedure with my second hand. We were rocking this boat, her bed was in rhythm with us. It was late afternoon and the last rays of sun were pouring through her window.
Her clit felt so big. I was surrounding it with my lips. I had to open my mouth as wide as I could to fit all of it inside. My tongue was focusing on that spot where the hoodie of her clit starts. She was doing the up and down motion while I was working sideways. Her torso was stretching out to the skies and her arms were looking for balance by holding on to my chest.
Teddy, you are licking me soooo gooood…
Were the words she managed to express while trying to grasp for air. My girl was in a roar and she was pushing herself down on me. I was tasting her forbidden fruit which I was convinced was a piece of heaven on earth. Like a warrior she was riding me hard, alternating deep rubs with moments where she would move up to let her clit rest and desensitize itself.
When she was up it was only the tip of my tongue touching the tip of her clit. When she was down it was either my tongue going inside of her vagina, or my mouth sucking the hell out of her clit.
I started tapping my fingers on her nipples and could hear the effect of the change in her. Her "Just like that" mixed with her cries of "yes, yes" filled the room. Suddenly we reached a reality discontinuity where time slowed to a crawl. I could feel her rubbing getting out of sync, while at the same time feeling how she was letting her body loose as if she were fainting on me. I held her with my hands as I felt the approach of the first shockwave coming from her clit.
I stopped and held my mouth in place. The tip of my tongue pushing the hoodie of her clit off. My arms cupping her breasts while my elbows were holding her waist.
I'm cumming Teddy, I'm cumming!
Were her sweet words, and with that in a flash the floodgates of her pleasure opened up. She was spasming on me as my cock was getting extremely hard. Her moaning turned into laughing and I knew she had released the pressure she had been building up.
She moved down and lowered her head to kiss me. As she was inserting my cock into her extremely wet pussy she told me:
I think I know the meaning of "Elle mange sa chatte" now, but don't you think the phrase got the gender wrong?
And with those words she started fucking me into oblivion…