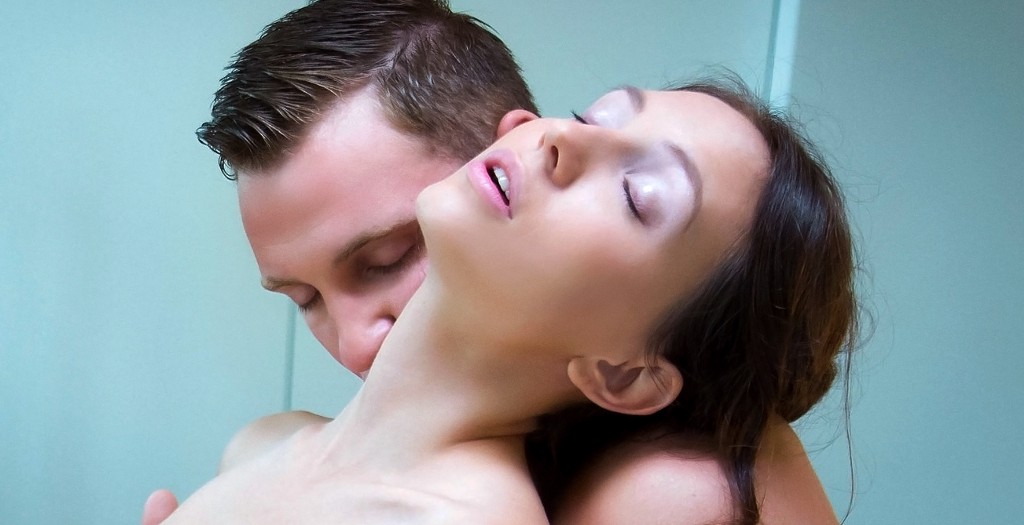 We are lying in bed in the late afternoon after one of our epic lovemaking sessions. We are talking about life in general, and basically in agreement that not seeing each other in almost three weeks is too much. She is hugging me in this monkey position where our legs and our hands are intertwined in a Gordian knot. We were supposed to be cooling down to be ready for the next round. She slides her hand down playfully and starts stroking my cock.
Her touch has power over me. I have told her that I don't have conscious control over my shaft. Suddenly I will have a hard on in an inappropriate social setting. Or it will be flaccid when I want it to be part of some action. But her consciousness has power over it. With a few strokes she has me ready to go again. She just made a meal out of me, but is coming back for more.
I have lost the thread of my thoughts. There is no way to concentrate on anything else but her. Her desire for me is showing up in her kiss. She is working double time seducing me. And those sweet eyes are asking me to love her. Again.
I turn around and get on top of her. I'm back in the ring to take another swing. Our knot dissolves and her legs open up to receive me. I get my hands under her shoulders and hold her in an embrace that leaves no space between us. I can feel one of her legs playfully caressing my butt. And her hands are busy caressing my back.
She moves her hips slightly up and we lock in position. Her wetness is part her and part us. Like alchemists we have created our own mix. Passion and desire mixed with love. Driving my rod inside of her aided by this mix feels just right.
As I go in, my perception of space changes. It feels as if my upper body has been reduced, and my lower body is taking over it. I start rocking slowly, for our dance always starts peacefully. We are rolling, and it feels deep. Her kiss is asking me for more, and her hands wander to my butt, showing me the pace that she needs. And she gets.
Her breathing guides me. Her fingernails are digging grooves in my back. I look at her and catch a glimpse of a smile. My girl is on fire and her cum is coming. She is up to shook me all night long again. I hold her tight and concentrate on the timing of her explosion of pleasure.
As her orgasm comes I go deep and stay in there. She has told me that at the moment when she reaches her highest point, her body turns very sensitive, but that after a few seconds it goes back to normal and we can keep on rolling. So I am pinning her with my shaft, and I can feel her contractions on me. They are like waves, starting on one side of my cock and moving up to the other side.
I don't know how she does it but she manages to open up her legs and move her hips up to let me in deeper. And our dance starts again. I move my arms up to get a better view of her. I love the way we mess her hair, she looks so wild. She gives me a smile and moves her hand on top of mine. She wants my hand on her neck. She likes being held like that.
I don't know where my body ends and hers starts any more. We have melted together. I can see in her face how she is getting ready for her next orgasm. We are on a streak. Her walls were shaking and the earth was quaking. It is almost like a domino effect. The first explosion will trigger the second, and the third and the fourth.
Her shaking catches me by surprise. She grabs me by the waist and pushes me out slightly with her hands. I grab her legs and move them above my shoulders. Her eyes show a mix of surprise and an expression telling me: "I don't know if this is going to be too deep." Slowly I move in and prove to her that it is not. She is the best damned woman that I've ever seen.
She told me how sometimes she feels as if we were hitting something. I don't know if we are. What I know is that the visual is fantastic. I catch a glimpse of her smile as she looks down on us. Her view is of me going in. My view is of her vulva surrounding me. She is extremely wet, the feeling is overwhelming.
Her "oh fucks" bring me back to reality. She tells me she is going to come again. I love when she announces it like that. It allows me to focus on the next shoving, and the next, and the next. She is taking more than her share. I know that her well of pleasure will overflow soon, but as I am pumping I don't know if it will be the next down or the one after which pushes her over the border. She's got me fighting for air.
I hold her thighs with my hands as I am pushing in, and then it happens. Her legs shake a little, she has to catch her breath. Her eyes look at me. But I am not yet done with her. I bend her legs and place her feet on my chest. I am giving her time to recover. She pulls her hair together with both hands as if to give me a go. She is one of a kind. Right now she is just mine, all mine.
And go we do. And up it builds. She is thirsty for my loving and wants my juices again. She is rocking her hips in synchronous motion with mine. She opens up her legs, as a butterfly would open her wings. Our loving is a mix of yoga, dance and pure craziness.
I see it in her expression, she is going to do it again. Her pleasure is my pleasure. It feels so powerful to see her reach for the stars. I have told her that I am a pleasure giver, and that giving it to her is what I need. So she gives it to me, her fourth orgasm. She comes with a big growl. I see her hands go on top of her breasts as if she was reaching for something. I feel her panting, her trying to catch her breath again. I move out, for I know it is way too sensitive for her down there right now. She tells me I should come. I tell her she already got me there.
As I lie next to her I place my hand on her labia. I love to feel her shaking. I get one of my fingers inside and collect a sample of the smoothie we prepared. I bring the finger up and we lick it up together. We both giggle and kiss while our arms and legs embrace each other. Again.
Like what you read? Did you find the hidden lyrics in the text (Hint, AC/DC)? Show us by highlighting them! If you want more, we have two compilations of our stories available now on Amazon. Eros with our Erotica and Relationship logic with our musings on relationships. Or check out some more of our writing here: