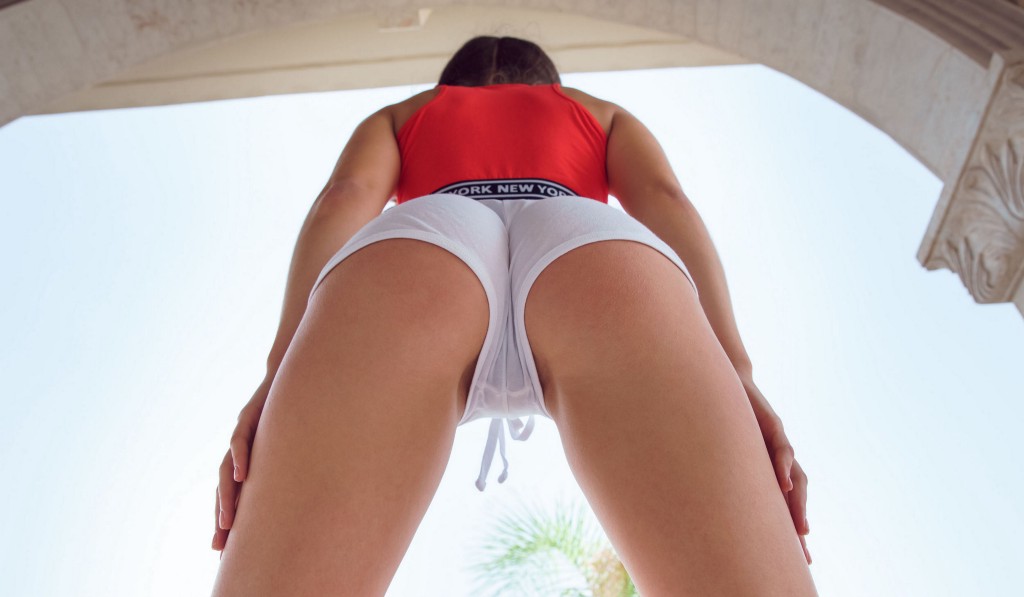 The finish line is just the start…
Ann's gray fleece is found midway towards the finish line. The weather is unseasonably warm and she needs to stay cool in the race for the prize that awaits her.
The trail winds through a pinewood forest. The deeper into the woods, the sweatier the layers of clothing abandoned by the runners. Sweatshirts are followed by t-shirts. And as the finish line nears, there are tank tops, sports bras, and occasional pairs of yoga pants. Several runners cross the finish line naked except for their running shoes.
Ann made it with her red sports bra and her running pants still intact. There's an upside-down triangular shape of mesh that narrows down from her waistline to her crotch. Her bright underwear shines through.
She grabs a couple of Dixie cups of water. One is for drinking and the other to cool the sizzling skin under her dirty blonde hair. She qualifies for a medal, which she can redeem for her prize. A volunteer points her towards a covered walking bridge a little ways further into the woods.
The bridge is wide enough for her to walk between two rows of pedestals that run down both sides. A few of the faster women have already made their claim, but Ann's not too worried. The guys remaining atop the pedestals are younger and buff as hell. Their impatient cocks are getting hard under those boxer briefs.
The select committee of husbands organizing the race has been working hard to find the right prizes for the contesting wives. There are 60 men for 50 runners, meaning the 10 fastest get a bonus stud.
The men were chosen to address past wrongs. Husbands in the last Hotwife Hustle complained that their wives' prizes didn't have big enough cocks. The wives complained that some of the men had beer guts, bad breath, or performed prematurely. Road workers complained to city hall about all the soiled condoms littering the streets.
This time is different.
The committee members comb their networks, shadow kinky dating sites, and get social on Twitter to find worthy studs. All applicants must be under 30. They are screened with short essays describing to the husbands why they want to fuck a hotwife. Of course, they must send full body shots and dick pics. And in the age of Photoshop, the men have to show up for an in-person measurement of their erect dicks and blood tests the day before the race. They get a voucher for a local motel where committee members can verify when the lights go out for curfew.
Ann makes her selection partially based on the hardness of the men on the pedestal, but more for their friendliness.
She walks back and forth with indecision. For sure, she wants the big brawny guy with dark skin and a kind look. He's got soft-looking facial scruff that she wants to nibble on.
Fortunately, she finished in 7th place so she gets a second choice too.
Ann's got her eye on another guy with a buzz cut and a jacked chest. She's a little concerned about the barbed wire tattoo carved around his flexing biceps, but he wins her over with a gentle smile and eyes that are green like the unexpected spring day.
It might be the guilt, but she likes seeing the traits of her husband in the guys that she fucks.
Ann walks out of the covered bridge with her elbows locked with her prizes. They come into a clearing of picnic tables and the smoky smell of bonfires.
Several of the faster runners are already getting fucked. They pass by the race's winner. Ann was admiring those tight legs of runner 011, which are now spread-eagled in the air. She's sitting atop a stud who's lying back on a picnic table. His firm hands are gripped on her ribs and his big dick is mostly in her tight little ass. Her other stud has his hands around her knees and is trying to find some room in her bigger hole. Runner 011's hands are braced against the table. Her elbows look like they are about to buckle from exhaustion. She's sweating up a storm and screaming like it's the first time she's felt the sensation of double penetration.
Ann thinks she's liking it.
They arrive at their campsite. "Sorry guys, I need to stretch or this is not going to end well," she says.
The men take a seat at the picnic table and watch her. The stretches are not meant to be provocative, but when she gets on the ground and spreads her legs — holding them upright as long as she can — these studs get restless. The next stretch doesn't help. She straightens her legs back against her body until her toes are touching the ground just above her head. The brawny guy can't help himself. He gets on his knees beside her and takes her perfect ass in his big hands to work the stiffness out of her cheeks.
"Ooooh, that feels so good," says Ann.
The jacked guy also gets on his knees. He pulls her sports bra up over her breasts and gently rubs her nipples in his fingers.
"Ok, ten more seconds," Ann says, counting down in her head.
They drop their briefs at T minus 0. The brawny guy's dick is long and skinny with a throbbing head. The ripped guy has more girth than his frame would suggest.
Dicks are so weird.
"Fuck me," she tells the brawny guy. He tears a hole through her running pants and pushes her underwear out of the way. Her legs still stretched against her body, he straddles her ass and pushes his long dick straight down. Her legs are clamped together, which slows him down as he pushes his way inside her like he's doing a slow squat. The jacked guy tears her pants some more so he can get his tongue into her sweaty ass. She can't believe how much he seems to be enjoying himself.
The pine needles in the trees above splinter the light, allowing her to take in the scene. The air is cold but the light is bright and she is warmed by the feeling of being desired. She feels love.
She needs a cock in her mouth. "Give me that big fucking dick." She stretches her jaw for the jacked guy's cock, which she holds with two hands.
The brawny guy is doing his squats faster now and when he finally pulls out of her to give himself a break she squirts a little.
Ann gets on the table. They take off her pants and her underwear and she goes back into her spread-eagle stretch. It's all she can do to welcome in that thick cock — "Fuck, it's too big." Ann wipes the sweat off her chest and rubs it into her pussy. The jacked guy thrusts into her slowly. The brawny guy sticks his dick in her face so she can suck it.
It takes only a few minutes and she's screaming for the jacked guy to pull out. The pressure of his dick makes her explode inside. When he pulls out, she squirts all over his stiff cock.
Ann gets off the table and bends over to give the brawny guy a turn. The guy with the fat cock positions himself at the end of the table. He directs her down for some head.
This is a biathlon. The first part was a run. Now it's a fuckfest. Her body is being tested for how much it can absorb before it gives way.
These guys have stamina. They find every which way to fuck and get blown until Ann's got nothing left inside her. The sweat is all gone. Her well has run dry.
"OK, cum, cum, please cum," she cries.
They are compliant bulls.
The brawny guy picks up the pace of his fucking. She takes the chiseled guy's cock out of her mouth and directs it towards her tits as he masturbates.
Their manly grunts and groans become louder before they get higher-pitched. The brawny guy cums first. He seizes up inside her — his nails grip deep into her butt cheeks — as the cum floods through his long cock. He spasms as he fills her with every last drop. The jacked guy jerks his cock so quickly that his cum seems to shoot out in slow motion.
Ann laughs as he unloads on her tits. It feels warm.
Ann wipes a stray shot of cum off her chin. She asks the men to kiss her goodbye.
She feels cold in their absence and wraps herself in a thick wool blanket from the picnic table. There's also spiked hot cider in a branded thermos.
Ann takes a seat near the fire. The orange glow of the fire burns the blue in her eyes gray.
All that's left of her prizes trickles down from her chest and her insides and falls to the ground. She'll drip herself clean as she waits for her husband to finish some of his committee responsibilities and join her by the fire.
Check out more of Ann's hotwife adventures
About the Author
I earned my pen name from my wife for my tireless efforts to find her the best sex toys, porn, and erotica, including my own hand-crafted smut. I eventually started to write about our dirty project on slipperyjunk.com.
Follow me on Twitter