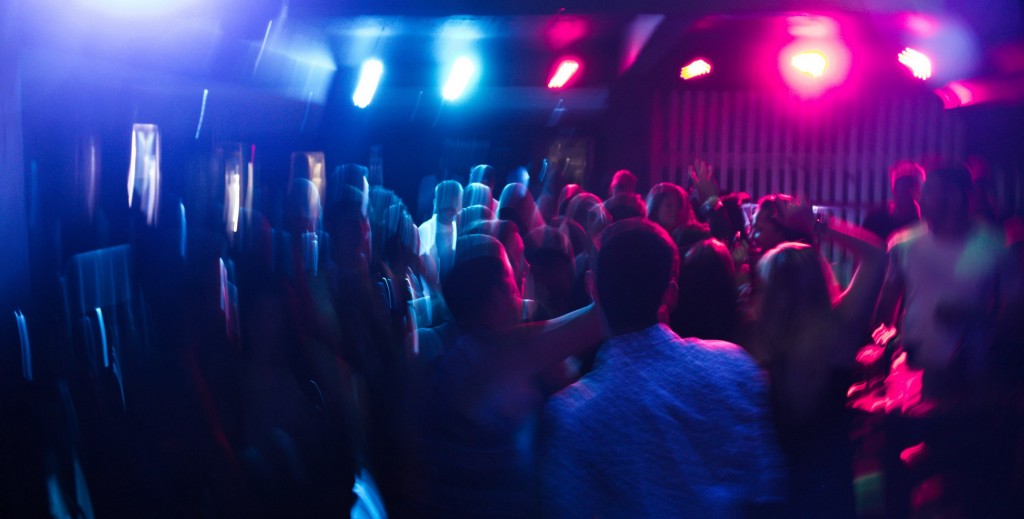 The music pounded in my ears. I could feel my chest vibrate with each beat. The strobe and laser lights flashed in time with the music, otherwise the club was dark. I loved the industrial dance nights. The dance floor was filled with shadowy figures, some dancing together, some apart. But the energy was high, and filled with nothing but love. Everyone felt as if part of a larger collective. There was a sense of togetherness with everyone, no matter if you knew them or not, or even spoke with them.
I had come alone, in desperate need of a night out. I knew a few people well, and a few more casually although I recognized most of the faces I saw. I danced with abandon, knowing it didn't matter what I looked like, or if my eyeliner was running down my face from the heat. Everything was about the moment. Being able to be free, even if just for a short time, is a wonderful gift.
After a bit, I took a break to go outside onto the back deck and escape the heat inside. As I walked out, I twisted my waist length hair into a messy knot on top of my head. The breeze felt amazing on my sweat slicked skin. I pulled out a cigarette and was fumbling in my bag for a lighter when I heard a voice say, "I got you."
I looked up to see Chris standing beside me, lighter held out. I accepted the light, and looked him up and down. I hadn't seen him in at least a couple of months, he'd been traveling a lot for work lately and hadn't made it out in a while. We met several years back at a mutual friend's party. We became fast friends and fairly quickly moved on to be great friends who randomly fucked as well.
"Thanks! It's good to see you out and about again," I told him.
"You too, now where's my hug?" he replied. I stepped forward and put my arms around his neck. I rested my head on his shoulder lightly as his arms enveloped me tightly. I could feel my tits pressing into his chest, and I let out a small sigh before I could stop myself. He held me for a split second longer, than released me with a quick pinch on my ass.
"Seems like you missed me," he said with that sexy half smile that always drove me crazy.
"Little bit."
"Well come on then," he replied, grabbing me by the hand.
I allowed myself to be pulled and guided by him through the crowd. He led me out to the parking lot, weaving in between cars until we arrived at his car. He opened the back door and motioned for me to get inside. I slid into the backseat, feeling the leather upholstery smooth against the backs of my thighs. He got in beside me, then pulled me in for a kiss. Time seemed to freeze. Nothing existed except his tongue in my mouth, and his hands roaming from the back of my neck down my back to unhook my bra and move it out of his way in a smooth, practiced motion. He broke away from the kiss, and pushed me back slightly, pulling down the top of my shirt so that my tits popped out. One arm wrapped around me, pulling me closer to him as his mouth clamped down on my already erect nipple.
My breath was coming in short gasps as my back arched to push up closer to him. His tongue was tracing circles around one nipple, as his free hand was squeezing and pinching the other roughly. I began to whimper, and whispered, "Please."
He glanced up at me and said, "Is that pussy of yours feeling lonely? I bet your panties are already soaked through aren't they?" With a last sharp pinch on my nipple he pushed me back against the opposite car door and slipped his hand up my skirt to my panties, which were very much soaked. He pulled the crotch aside and pushed a finger deep into my dripping wet pussy. I moaned loudly and began to grind up against his hand, needing more. He added another finger in my wet slit and began to finger fuck me as I rocked in rhythm against his hand, feeling my orgasm begin to build.
Just when I was on the edge of release, he pulled back with a chuckle. "Not yet. You have to earn it, you know that," he said sternly as he unbuckled his pants and pulled out his large cock, already rock hard and ready for me. I leaned forward, bracing myself on his thighs as I wrapped my mouth around his tip. I began to tease the head with my tongue, then started licking my way down his shaft until I had his entire cock in my mouth. I suckled on it eagerly, feeling him harden even more in my warm mouth.
His hand moved to the back of my head and pushed me down further, until I was taking in more of him than I thought possible. My eyes started to water as he fucked my mouth and throat, thrusting up as he pushed my face down. After a few minutes he pulled me off of him, telling me, "Good girl," as I caught my breath. I leaned back as he pulled my panties down to my ankles and pushed my legs apart.
I felt the head of his dick teasing me. Pushing against my lips ever so slightly as I trip to push up towards him. "I need you to fuck me! Please, please fuck me!" I said frantically. He pushed into me harder than I expected. I clutched at his shoulders and felt myself begin to cum almost immediately. My orgasm rippled as he pounded into me, my juices dripping out onto the seat of the car. I felt his cock pulsing inside me, and with a groan he began to cum, spurting deep in me. My pussy clenched around him, trying to milk out every last drop. He rocked within me, hitting my G spot deliciously as I came again. My entire body was shaking with pleasure.
After what seemed like an eternity, I felt him pull out of me and pull my panties back up. Without another word we walked back into the club. Me, feeling our cum leaking out into my panties, and smelling his cologne in my hair. I could feel his eyes on me as I danced wildly on my still shaky legs. This had been a great night out indeed.