A sexy role play game…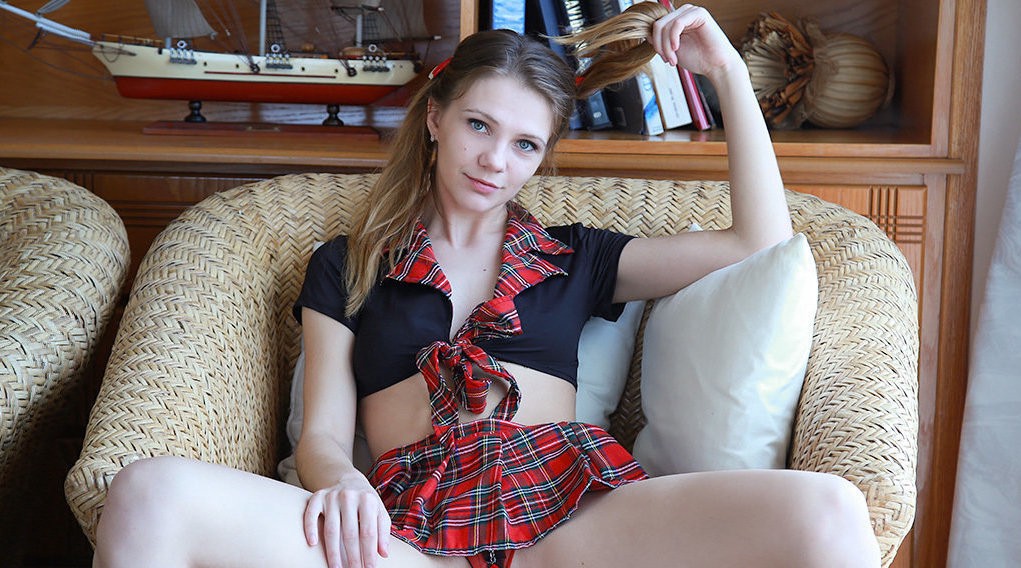 White bobby socks, short – and I mean short show the cheeks of her ass short – Scotch plaid skirt with black shoulder straps, white see through blouse baring fine lace bra holding perfectly rounded B-cup breasts and blonde hair wrapped in two pigtails. Feet strapped into roller blades, and that hot as fuck woman thang was zooming around her custom apartment working up a sweat.
She had a contractor make her a hardwood track around her flat like an old skool roller derby rink. She had rented an old marine factory site down by the docks from a friend and converted the joint into her own nest and playground. 
He sat in the recliner in the center of her place transfixed at this hot scene before his eyes. Mesmerized, almost in a daze, as her body flew past him and the breeze whisked her perfume about him. What a college girl fantasy. Her pear shaped ass would reveal its sexy self as she zoomed by again and that tiny skirt moved up over her lithe body. It looked as if she was not wearing panties either. Her beautiful self, rosy cheeks, invigorated by the movement of her body. Breath strong and heart beating firm, legs shapely and taut from the extension and flexing of the workout on blades. She flew by smiling and bouncing to the Deep House set she found online and was streaming through her stereo. Deep bass, high hat taps and melodic keys of the fine DJ magic as track after track almost imperceptibly melted one into the other.

She had made him wait for what seemed like ages but really was just days. It's like that when the desire feels so overwhelmingly potent it burns. A slow, powerful, desirably delicious ache. And she flew past him yet again. How much of this sweet torture could he stand?  It had already been hours but really just minutes, the feeling of wanting her played out in his soul. She was so damned fine and that hourglass made his cock rage and stand rock hard firm. She caught a glimpse of it bulging in his jeans as she whizzed by yet again. This teasing was fun, she thought. She knew her power and she was firm in her sensuality and played joyfully with it and him now.

Around again, this time though he grabbed her out of mid-air and brought her down on his lap tented by his raging hard on. Breathless and with strength brought on by the workout, she play struggled but he held her tight, as his hands explored her. The scent of her sweat, perfume and her pheromones was creating a wild woman tincture of passion. Knowing she was going nowhere he held her face tenderly in his hands and kissed her hard. She pressed her sweet wet pussy on his firm tent to feel him. Her nipples were hardening with the building pleasure between them. She wiggled some more as if to struggle free, but not really. The dance. That excited him more as he saw a bead of sweat roll into her cleavage. 'Gawd, she is fucking hot, literally,' his mind screamed.

"Oh my fucking gawd I gotta eat you, sweet thang," he growled.

And she, playing the role, giggled like a college girl in heat and responded, "Oh but sir you are too old for me, you could be my daddy for real."

"Oh, protest will you," he smiled, then turned her over, lifted her sweet curved, delicious ass into the air and spanked it red.

"Oh, daddy I'm sorry, I'll be a good girl, I promise."

"Then tell your daddy how you'll make it better."

With eyes of innocence and bewildering sensuality, "Oh daddy can put his cock in my mouth and fuck my face for as long as he likes and if he wants he can fuck my pussy or he can fuck my ass, whatever daddy wants daddy gets." Batting eyelashes at him, expertly playing the part though her real age had her long graduated from college.

He swore his already hardened member grew another inch at the sight and sound of her. "OK, you show daddy and maybe if you do it right daddy will give you a treat."

With the mastery of a vixen, well versed in the art of love, she slithered like a carnal creature over his body down to her knees, unzipped his pants and moved his underwear aside and had that engorged thing in her mouth in seconds. Her nostrils breathed deeply the strong masculine scent of him into her and filled her need for man, for cock, for fucking, for pleasuring.

She gulped his hardness into her salivating, wet mouth and forced herself to make it hit the back of her throat. A fine feeling of making this man hers and enjoying the sensation of a bulbous beautiful, phat cock in her mouth. 'Damned delicious,' she thought. And she took more. And she sucked more. And she gulped more. And she fed her womanly need of hard man meat. And he let her, and he fucked her juicy mouth hard.

Her pussy was soaked and in need of cock attention so she pulled off his length, flipped up her short shirt, bent over the recliner and looked back at him with the most sexy fuck me look she could muster.  And he obliged and slid up into her fully and completely immersed into her wetness. There hadn't been panties there after all. She moaned and sighed. And he reveled in the delights of her. The sight of her. The smell of her. The feel of her heart. The feeling of his member deep inside her. She was in such good shape and was such a fine woman now turned naughty college girl and his cock raged for her and fed her petals and folds with powerful man force. Her absolutely enticing femininity brought out the best of him effortlessly.

They ebbed and flowed together as he slammed her wetness. She moved in unison with his thrusts into her. He was able to master himself through this and not cum too quick. He could have easily but not wanting to be another one of those, like she had spoken of earlier, he slowed himself down. How easy it would have been to continue at this pace and pour his seed into her sweetness. Fortunately, he masturbated before coming over here, knowing full well the rage in his meat would need to be satisfied or else BAM, BOOM, CUM and poor girl would be left wanting. 'No fucking way was that gonna happen,' he thought. 'I wanna enjoy this and stretch this magic out for as long as possible.'

She felt him slow down and focus on her need and in just that moment the head of his cock found the ever elusive spot and she came like a fountain all over him. The long wait between lovers had been so worth it. The build up to this moment was gorgeous, the feeling beyond elevation and potency, absolute desire and now a compatibility on the sexual level. He was sweet and he was focused and he was attentive. This made her heart smile as the waves of her pleasure washed over, around and through her.

"Thank you daddy," she purred like a kitten, pulling off his extension to turn, face him and kiss his powerfully alluring, beautiful, full lips. Her deep sensuality flowed into him through her lips and he gave her his.

"You are fucking amazing woman, fuck WOW!"

Again with the dainty eye action she with head bent ever so slightly and eyelashes fluttering stirred his soul and passion in one full sweep and he needed like the desert needs the rain to be inside her again.

She could feel him boil for her and this thrilled her to the core.

"Top drawer, far back right side you will find my lube baby, get it and you can have my ass."

Without hesitation he did as was suggested and had the slick fluid wrapped on himself and over the fine puckered hole he was about to enter. Sliding a middle finger into her he could feel she had done this before so it would be sweet and easy.

Aiming himself with a hand he eased ever so gently with attention and care into her tight ass. And she groaned like a feline in heat and moved her hips and directed herself to take him into her ass deeper. She loved the feeling of a hard cock in her ass, it had been a while. Slowly at first, ever so gently and with focused thrusts, he pumped her good and he pumped long and slow. Reaching around her beautiful hips he found her clit and rubbed her off as his cock worked her ass. She was in heaven. He could feel her and she him and more than just plain fucking, a deeper more intimate connection than that of flesh and sinew and bones and passion. She was going to cum again, he sensed his attentions working their magic on her body.  Turning around again she begged him to kiss her as her pussy sang high soprano again. Feeling his lips connect with hers as she came was uplifting and beautiful to her.

His cock twitched and built up within the confines of her and she felt him close in on that explosion of explosions. Their lips and tongues played with each other. She bucked back on him fucking her from behind and squeezed her cheeks together and the muscles within her. The feeling within grew to a peak and his seed splattered the insides of her and its warmth pleasured her. He pushed all of himself into her as the warm man juice shot out and the power of his orgasm washed his mind, body and soul.

"Thank you for your gift daddy," she smiled at him and kissed him the way someone who is falling in like and hopefully in love does. And he responded in kind and the magic began.