Part one: sex with my lover while my husband keeps watch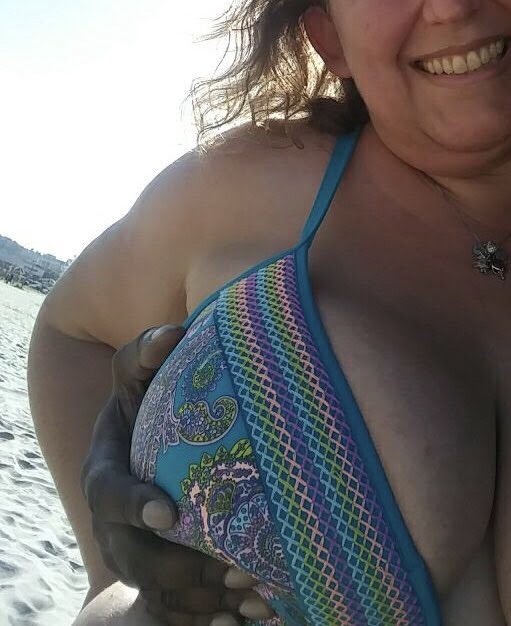 "Okay, honey. Get closer to him . . . closer. Okay, that's better. Now, smile."
My darling husband was up to his usual tricks. I knew what he was doing, and I knew he knew that I knew. But that's the fun part — him directing me to position myself against any capable man he desperately wants me to ensnare.
In this case, it was an islander whom we had met the day we arrived at the hotel resort in St. Lucia. He was handsome, young, and he had a cute accent. To our surprise, he was here on holiday too. John and I were pleased to make his acquaintance at the resort swimming pool and since then we had been on the lookout for him.
You might find this weird, but we weren't the only couples around on the prowl. Ever since John introduced me to the joys and pleasures that come with getting fucked by a black man, my horniness seems always to be one step ahead of myself. But it's hard finding viable lovers back home, especially when you have a houseful of kids, neighbours and a 9–5 job to take over your time. It was a relief when months ago John said we would make this trip, no matter what. I never thought we would ever make it happen, but . . . here we are. And now we're here, I'm free to mingle and free to be whatever sort of wife John demands of me.
"Move closer, Abe," I said to my islander friend. His full name was Abraham, but I preferred calling him Abe; he didn't seem to mind.
His hand slid around my back to stop at my massive jugs. His hands grabbed a handful of my tits behind my swimsuit. It felt good feeling his touch; I couldn't wait to experience what the rest of him felt like though. Naughty me, I know. I can't help myself sometimes.
"Go ahead, darling," I hollered at John, laughing while I did. "Take the fucking picture."
"Are you sure, honey?" John was teasing me, I knew it, and he knew that I knew. Already he was sporting a bulge in his khaki shorts that earlier hadn't been there. "Why don't you two dig in a little closer," he gestured with his hand. "Go ahead, Abe. Grab hold of her tight."
"For sure," Abe agreed.
He turned me half towards him and now had both hands cupping my butt. I raised my knee slightly to his groin region. Yes, like my naughty husband, he too was hard underneath.
"Okay, smile," said John.
We both smiled as he took repeated snapshots of us. Abe never let go of me even when John was supposedly done taking his stupid photos. I knew what he intended doing with them afterwards.
As for me, well, I couldn't resist wanting to get to know Abe more. I was all laughs as I wrapped my arms around his neck and then our lips suddenly met in a kiss. Once we had that first kiss, it was as if the floodgates came open. I kissed him a lot stronger the second time, letting his tongue swirl in my mouth while his hands went on squeezing my ample buttocks. I noticed John taking more snapshots of us; he was so excited I could tell he couldn't restrain himself.
As it turned out, we were high on a sandy bluff overlooking the beach. There were few people around, which was part of why John had suggested we come this way, so in case I had the urge to play with Abe, here would be an excellent place to do it without any person strolling in to interrupt our privacy.
John had brought a blanket with him which he unfurled while Abe and I were still locked in kissing and spread it beside our feet. Abe and I moved onto it, taking our feet out of our sandals. My hand was busy caressing the protruding bulge in his swim trunks. He loosened my bikini panties to grasp his palm upon my soft flesh.
"I'd love to see how big you are," I pleaded.
I dropped to my knees with the sun in my face.
His cock hit my chin, then into my mouth it went.
John went and propped himself on a molehill acting as a look-out for us while simultaneously watching us. Abe was so confident in his stance; all he cared was what I was doing with his cock, rolling my studded tongue over the tip of his prick, moaning as I sucked on his testicles while a strong gust of wind blew around us. He leaned over to slip past my bikini bra to dig out my huge jugs. His thumb and forefinger caressed my nipples to erection, making me gush with wetness.
Abe gently pushed me backwards and my mouth let go of his cock with a 'plop' sound. He knelt beside me and licked his fingers then brought them to my pussy. I hissed from his touch.
Abe's fingers probed my cunt, frantic.
My pussy responded by squirting over his fingers.
He brought his fingers to my lips and I sucked each one.
He lay on his back and I climbed over his face and moaned as he spread my thick ass cheeks apart while sliding his tongue over my perineum. I fell forward and ate his cock. I looked up at my husband. He smiled at me and raised his camera to his face and took more shots.
Afterwards I came to be on my elbows and knees while Abe knelt behind me, rubbing the tip of his prick against my velvet pussy folds. I shut my eyes and gasped when his cock invaded my tight zone. It felt so good; it felt terrific to have a real man enter me. All the months back home that I hadn't had my black cock fix seemed to vanish before my eyes. Feeling that thick, strong shaft inside me made the wait so much better.
"Uuhhhhh," I groaned as I felt a strong shiver race up my spine. Abe didn't seem to let up, thank God for that. His cock was like water over hot sand — milking me hard inside. "Awwhhhhnnn yeah . . . fuck me, babe!"
My blonde hair flopped between my arms as Abe gave me his dick and in response, I shoved my butt backwards at him. At one point he rose on his haunches over my backside, his hands grabbed my waist, and he tore into me harder. I was gasping like I was drowning. Drowning in my cycle of orgasm.
He pulled out of me, and I took a moment to catch my breath. My eyes looked at his cock, awed by how massive it looked against his crotch. The sun's golden hue was all over his body — he looked so beautiful, as masculine as any man I'd known.
I laid on my back and spread my legs for him and slapped my pussy, beckoning him to come and get it.
Abe did just that. He came and fell on top of me and I hugged him tight as his cock found my pussy and rammed its way inside. I locked my feet over his legs, my hands grasped and squeezed his buttocks, my hips rose each time he pulled out of me, wanting more of him back inside me. He kissed me passionately, breathed into my face, and licked the sweat off my cheek.
And like that, he pumped his load of semen inside me.
John waited until he got finished and pulled out of me, his penis dripping semen on my abdomen.
"Now's your turn to perform lookout, Abe," John said to him as he moved onto the blanket.
"Yeah, sure man," Abe replied, gasping as he went and stood watch.
John came and knelt before my legs which stood apart like I was lying in delivery. He probed my cunt with his finger and it came away with my lover's thick clot of semen. John offered it and I licked it clean off his finger.
"Tastes so good," I admitted.
"Let me see for myself," John said.
He lowered his head between my thighs and proceeded to make me cum with his tongue and lips while consuming my lover's copious semen out of me, at least every drop that he could obtain.
When he finished, John helped me to my feet and assisted me with putting my bikini back on. I went and stood beside Abe while John rolled up the blanket and we then headed down the bluff.
This is a work in progress. Thank you for taking time to enjoy it. If you all enjoy it, don't be afraid to show your love by clapping for it, and maybe that might inspire me to see where the story ends.