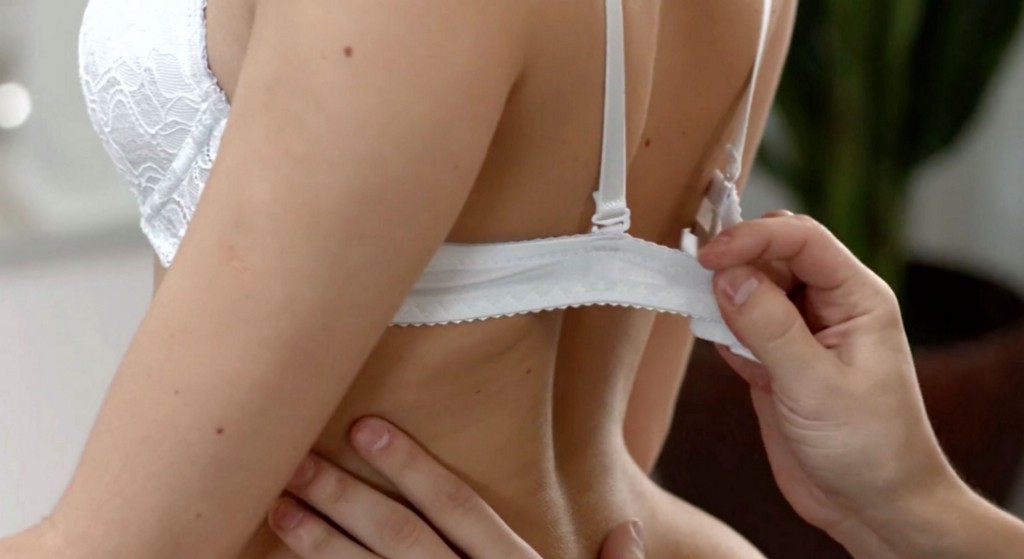 Part two: Going deeper
There are many ways Amanda touches me which show me her deepest devotion. I love being teased and she loves to find new ways to tease me. With the sensual movements of her firm hands — or eager flicking of her wet tongue — I always respond to Amanda's love. Even during the most desperate denials in exchange for my obedience, my body will frantically want to fit my hard cock inside Amanda.
Amanda loves to keep me twisting on edge until her cherry lips have me squirming. I'm able to submerge myself inside slithery gowns and smooth silky underwear while I endure her efforts to keep me at the peak of arousal. Her coaxing lips, slender fingers, sharp nails, hot breath, and agile tongue each work to keep me as hard as possible, as close to coming, and as eager to fuck her, as she possible can. I submit my sexual longing to her care while she rewards me with near endless teasing until I cannot stand it any more.
Sometimes, when I'm working from home, I like pretending I'm a naughty teenager who must be dealt with once the adult returns home. I love having my arms restrained while my lover takes control of my orgasm. I also thrill to soft whispers and sweet words from my mistress. Her soft commands, along with the feel of her hands in my hair, drive me to lick her more fiercely. When her arms are wrapped around my body draped in luscious silks and satin, murmuring words in my ear and cuddling, I know there is no safer place for me. When I feel her lips sliding down my chest heading to the source of her passion, I know this pleasure is what she wants me to feel. The more I encourage Amanda to take control of my body, the more I know my reward will be worth every blissful moment.
Sometimes, when she wants to suck me slowly until I come in her mouth, she will make me declare each swirl of her tongue by counting them like someone measuring his arousal. Each circle of her tongue around the head of my cock requires me to speak the number before the next delicious swirl will be delivered. Once I reach one hundred she demands the same from me.
Crouching over me in a tight leotard, she demands I put my tongue deep inside her pussy, so I can taste her juices flowing from between her honey lips. The counting resumes as my licking begins. Once she has been licked a hundred times, Amanda starts sucking my throbbing cock from the opening in my teddy.
I was ready for her mouth since she appeared in her ballet student costume. Whenever Amanda gets dressed like this it makes her seem younger and smaller, with her hair tied up tight behind her head. Her ass feels like smooth curves of heaven under my fingers. Once I have a firm hold of her I slither my tongue all around her cunt. The feel of my cock being stroked while Amanda only sucks the head puts my brain in a total fog. I love when she makes me wait to make sure I truly have earned it.
Amanda's tongue leaves feathery licks until I'm dripping with anticipation. But I like the anticipation. I respond by drawing long strokes with the tip of my pointed tongue along her pussy from clit to opening. I like the delay along with the release; our give and take. She is unable to hide the telltale flinch whenever my tongue begins its journey at her lovely nubbin. Where before she was only slowly slurping the head she begins taking nearly all of my cock. I like that more than anything else. I love the feel of my lips pressed against her pussy when my cock is firmly fitted between her lips while our bodies slip against each other encased in glossy satin or flowing lycra.
It's a total body experience only slightly more exciting than fucking her. I slowly kiss her pussy until my cock finally bursts in her mouth. My shuddering orgasm becomes her triumph. Each pulsing gush from my cock is a victory of her mouth over my steamy desires. She loves to "edge" me to the peak of my arousal before my carnal need explodes. I'm careful not to make her come too early or else she will demand another and another. She'll suck me more and more until I'm raw, if I push too quickly to her first orgasm. I am forever grateful for the feeling of pure ecstatic joy our mutual stimulation creates each time we are together.
Even as our relationship deepened, our personal explorations did not stop. Amanda was being given more significant responsibilities at work which she balanced with regular visits to my house to be licked and fucked. I encouraged her to play with herself more, to use a dildo, I gave her a vibrator, and made sure our time together was both mellow and satisfying. She was not threatened by my wandering about in silky outfits all day. She didn't need to control me all of the time. I didn't need her pussy to invite me inside all the time either. I could get off just as happily as I did before my world expanded. I would still stroke my cock to my favourite porn video or lingerie mags when I felt I wanted some release. When Amanda was at the office I might enjoy being alone with my best slips shimmering in the daylight. But we both knew when we needed to be with each other for a marathon of sucking and fucking.
Sometimes I encouraged her to tie me up. Amanda became a skilled Mistress taunting me about everything I couldn't have, until I begged for it. So, even when I was fully aroused, still on my knees in my latest lingerie, I would be soaring to heights unimaginable without any effort to escape from her restraints. She loved hearing me beg for release. I loved the way she shivered whenever I asked for permission to do some crazy thing to her. Being made to earn things which were already mine drove her to distraction. Amanda got off on hearing me say please and thank you while dressed in my silky pleasures. I loved being emotionally exposed and stripped of control. I played with her mind as she stimulated my body because she loved the way it made her feel.
These games gave us both sexual nourishment. These were the thrills we shared within the safety of our supportive relationship. These adventures were used to satisfy our deepest feelings. Whenever I got attention from Amanda it turned me on like nothing else. My full attention would always be on her needs before my own.
If we had been playing outside the bedroom she would give me a signal for us to move to the sumptuous world of our bedroom. Once our mutual stroking and fondling got me fully hard she would move her hand behind my neck to stand me up. When she was ready for me I would lift her in my arms to carry her to our bed so we might demonstrate how much we mean to each other. She showered me with affection and I fucked her until she was bursting with joy. She loved to be penetrated by my super-hard cock. Her mouth learned how to bring me up to total hardness whenever she felt like it was time to fuck. I always thrust into her constantly because my cock desperately needed the friction from her slippery walls. I wanted her to feel me throbbing each time I went in.
We always fucked like two crazy people swathed in shimmering fabrics and colourful intimates. Once she learned how much I liked fucking her while covered in silky lingerie she let me fuck her any way I liked. My favourite was face-to-face with me on top and us both covered in slithery underthings. I loved to bend her forward and lift her slip to fuck her from behind. Holding her hips gave me a special thrill because my fingers would be stimulated as much as my cock was. She loved riding me cowboy style while I lay back to enjoy the view. She also liked to scissor sometimes so I could penetrate her more deeply. In the end she desperately needed me to hold her after making her come for her final time.
Read part one here: