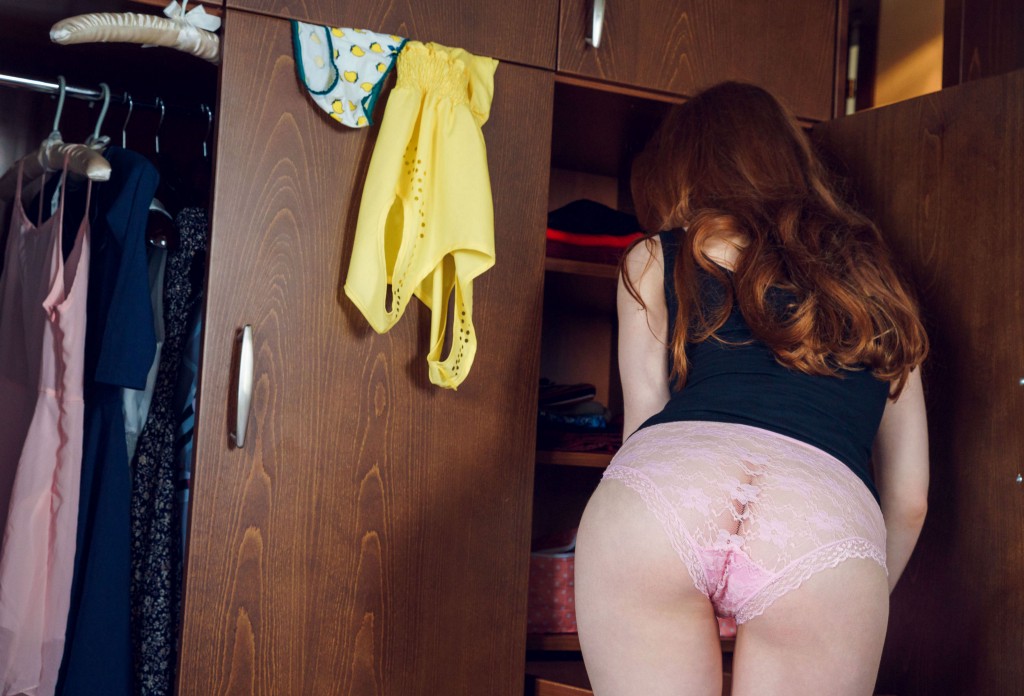 Part six: Everything I desire
The day it arrived I couldn't just open it. I had to wait until Amanda came home before I could cut open the shipping box. Once I saw it I knew we had to have it. Amanda was keen to find out what it was like when I showed it to her. Buying it was her way of allowing me to add a little more spice to our sex play.
Gone are the days of shoving batteries into a plastic or metal tube to stimulate a woman's vagina. This is the modern age. Neoprene and soft coatings have changed the design for the better. This particular design was meant to be shared. The experience of using it was not for just one person to service the other or for them to service themselves. This design was meant to bring dual stimulation into the equation.
After changing out of our day clothes and picking out some very sexy lounge wear we sat together on the couch to open the box. Once all the packaging was strewn around us we went over the instructions, then installed the app onto each of our phones. Then we got ready to enjoy our new toy. First I gave Amanda a truly passionate licking in gratitude for this new addition to our repertoire of fun. Then she sucked my very ready cock to prepare it for proper penetration.
I helped her fit the toy into her pussy. It has one part which curves under to be inserted while the other part bends to press down against the upper part of her pussy. One part is meant to stimulate her clit while the other is meant to stimulate her insides. But it is also designed to stimulate my cock once I have entered her. After it is properly fitted I am supposed to guide my cock into the somewhat tighter opening of her slick vagina.
Once I was comfortably inside, with the arch of the toy pressed against the top of my shaft, she reached for her phone and tapped some settings on the app. Neither of us moved much as we both explored the controls in the app. Have I mentioned before how much I just love to have my hard cock fully inside her?
Once we were both connected to it, the vibrator came to life. The vibrations seemed strange at first, with a kind of undulating buzz which was smoother, then sharper, then smooth again. Amanda was eager to try out all the different combinations. I dropped my phone on the arm of the couch then held her around the waist so I could lift her up off the couch with her legs wrapped tightly around my waist. I was as deep as I usually get so the sensation of our new toy pressing on the base of my cock felt quite delightful.
The swishing of her gown under my arms felt amazing. My own robe was open to allow us this joining together and was sliding across my back as we moved. My length was embedded to the hilt, helping press the inner portion firmly against her G-spot. I reached for my phone to join in on our fun. To say this was a new experience would be an understatement. It took our mutual sexual adventures to a whole new level.
Amanda learned how to increase and decrease the intensity, then how to switch between harsh pulsing patterns and soft rolling waves of pleasure. But then she learned the difference between the intensity and pattern of the inside buzzer and the intensity of the outside buzzer. Eventually she found she could take a much stronger vibration inside her pussy than outside. For me the inside buzzing was making me lightheaded. Of course the effects of our shared stoned condition may have contributed to my slight dizziness.
Once Amanda settled on the strength of the vibrations between her two areas of intense stimulation I was ready to fuck her standing up. Still holding her phone in one hand she leaned her head against my silk covered chest. I bounced her ass up and down slowly while she helped by using her thighs. Together we stroked my rock solid cock in and out, feeling a new kind of urgency filling our stoned bodies.
Our new toy presented somewhat of a problem in that direct stimulation of our joined genitals was not only wonderful and new, but it was so concentrated it made Amanda come much sooner than expected. I'm always completely comfortable letting Amanda get off before I do. In fact, it's a point of personal pride how I'm able to delay my own satisfaction long enough for her to enjoy repeated orgasms before my own needs become undeniable. The first time she came with our toy inside her I was suddenly struck with a strong need to come myself. It wasn't long after Amanda began to build up to a second orgasm, nearly as soon as the first passed away, that my cock blasted my load up into her convulsing pussy. Once I stopped coming I quickly put her down to pull my erection out into the cool air.
"What the hell happened?" she gasped.
Later than evening Amanda gave the toy a solitary workout while I stroked my second erection through four layers of shimmering nylon in my fist. Watching her get off never looked so good. I'd fingered her pussy plenty in the time we lived together. She'd pumped my cock more nights than I could count. We usually stimulated each other with the intention of preparing our bodies for a tremendous fuck. It was always intended to get us in the mood more than it was an act of individual release for the other person.
With this toy in her pussy Amanda virtually left the room. She was in a world of her own sexual excitement. The machine was giving her a singularly special kind of orgasm and, for a short moment, I feared she was in danger of getting hooked on the stimulation. After watching her come three more times in rapid succession I saw her holding out her phone for me to take. I stopped stroking my cock long enough to take the hand-off she was offering.
Now I was in control of her next orgasm. She removed the vibrator and laid it on the coffee table. I quickly saved the setting she had been using before she gave it to me then scrolled through all the other patterns until I found one I felt like exploring. I waited for Amanda to calm down, breathe normally, and cool off from her previous excitement. I was able to build the same vibe pattern on my phone as she had created for herself. I stored it for future consideration.
Sitting at her feet as she stretched across the couch, Amanda lounged in a totally relaxed state. We talked for a long time, shared some dope, drank some wine, and tried to stave off the urge to try it again. She asked me if I liked how it buzzed my cock at the same time as it buzzed her cunt. I told her it was marvellous. We talked about how amazing the design was. We were both very impressed with the accuracy of the controller app. After what seemed an eternity of trying to ignore it, but was really only an hour later, I could tell Amanda was getting herself ready for another go. I helped her fit the toy back into her pussy. Then I had her use her magic hands on my cock to bring me up to full hardness.
Amanda helped me slide my cock firmly inside her before I was allowed to switch the toy on. With the intensity set as low as possible I began alternating the stimulation back and forth between her clit and her pussy. I set it so a rolling wave of buzzing would go inside followed by a rolling wave to the outside. Once I had it going about the same rate as I usually fuck Amanda, I could see her eyes narrow from the effect it was having. I love just having my cock inside her, throbbing and warm. But now I was enjoying the way her pussy responded to the vibrator as well as the way it made my erection oscillate. I'm sure the sensation of my hard length carrying those vibrations farther inside must have given her a whole new perspective on sex with a toy.
But then I slowly raised the intensity — little by little — until it was about halfway to full strength. As I was increasing the levels she moved her hands up and down her legs, distracted by the center of her pleasure. She didn't seem to care whether I was actually fucking her. She was totally absorbed in feeling the pleasure of her clit and pussy being alternately stimulated while my cock was thrust entirely inside her.
I let her enjoy this new game for as long as I figured we could without her coming again. I kept the levels very low and the intensity very soft. This was as much for me as it was to prevent her from coming too soon. My hard length enjoyed the way her pussy would spasm or clutch tightly around it in response to various changes to the vibration. Having found a nice level of stimulation for Amanda I decided I wanted a different kind of stimulation so I gently slid my cock out of its happy home. I asked Amanda to sit up. She struggled to find the strength to be more upright, but eventually was propped up by some throw pillows nearby.
With my cock waving in front of me I got up to approach her. Amanda opened her mouth and waited, lips trembling. It was the first time I saw her mouth actually fighting to get those lips around my hard length. I could barely wait to feel the soft pressure of her lips around the head of my cock.
"Put out your tongue," I said.
Amanda was rewarded with the heavy weight of my erection resting fully on her tongue. By this time in my scenarios I usually had my hands in her hair to guide her head up and down. Today they were on my hips as I stood over her, expecting her best work. She squirmed again, waiting for her next order. I wasn't in any hurry.
After three orgasms from this toy I stood over my best friend and lover wearing a satin robe over my favourite teddy with the modified opening for my cock and balls to get through. The feeling of having this teddy stretched all around my torso drove me wild every time I wore it. I even began wearing the teddy under my street clothes when I shopped in the neighbourhood.
Leaning slightly forward she let me guide my hard wet cock deeper into her mouth. Being stimulated by a vibe was fun but having her sucking my cock was even more fun for me. Her breath was rising and falling with each stroke I took. I had all the time in the world to enjoy this. I spent much of each week planning what kind of fun the two of us might have with this toy. Amanda was so familiar with my cock I was sure every vein, every ridge and fold of skin flashed vividly in her mind from the effect the toy was having on her. I was so familiar with her pussy I could lick her with my eyes closed, as I often did.
Recently we had discovered a new balance between her being the submissive and me being the submissive. After discovering how much we both liked to receive each other's orders we came up with this new arrangement between us. Tonight the toy had put me in charge of her orgasms.
"Both hands now," I commanded as I lowered the intensity of her vaginal stimulation.
With the head of my cock firmly held in her greasy red lips she carefully, somewhat hesitantly fitted the fingers of each hand around my stiff shaft. But she didn't stroke me or move them. She just waited while her joy toy sent waves of tingling arousal through her body. If she was ready to come she didn't show it. She stayed attentive to my needs and responded efficiently to each request.
"Lick me, baby," I hoarsely directed. This new game of ours had me more excited than I ever expected it to.
Amanda lapped at the tip eagerly. She savored it, running her tongue around and around before pressing the head against the roof of her mouth. Back and forth her tongue slashed at the head. Then she tightened her fingers every time I changed the intensity as if she was trying to extract more drops with her eager sucking.
"Yes, yes, good girl," I encouraged. "Suck the head just like that.."
She moaned her understanding with her lips clamped firmly around it. Getting just the head of my cock sucked is one of my favorite things in the whole world. So smooth and stimulating. It is almost as exciting as feeling layers of soft nylon against my body or clutched tightly around my cock. The head of my cock is shaped for a perfect fit in Amanda's mouth.
She snaked her tongue under the ridge and found the puckered skin underneath the slit. She was building a rhythm with her sucking and stroking. We were both moaning now. My body swayed against the beat of the waves I was sending directly into her pussy while her head bobbed along my length. One of my hands went into her hair, moving her mouth the way I liked. When I changed the pattern to a pulsing set of stabbing jolts her pussy immediately gushed in response.
I was in control in a completely new way. This remote control allowed me to bring her closer and closer, like I usually did with my tongue, until I was ready for her to come. Then I could instantly get her off. The feeling of power which washed over me nearly had me gushing my come into her mouth. The effects of her toy-generated orgasm translated into various tongue and jaw movements which made me wild.
Then I pushed my cock into her mouth a little further until she was sucking, in and out, with loud slurps. Spit dropped onto her thigh. After I turned down the strength of the vibrations in her cunt Amanda suddenly relaxed her throat enough to let my erection gently glide full length into it. Moans and groans filled the room as my hand tightened in her hair. She mumbled around the cock in her throat, sending echoes of her vibrations directly to my arousal center. Being stimulated by the vibe, she told me later, made her acutely aware of every twitch, throb, and catch in my breath.
She pulled my cock back enough for her to breathe but kept most of it stiffly inside. I smiled down to watch her sliding my warm, sticky shaft through those lovely lips. Amanda stroked my cock repeatedly as she tried to take me all the way.
"That felt wonderful, honey," I whispered. "Can you do that again?"
Holding my wet stalk just outside her lips she replied, "Yes, Sir." Then she gulped from the sudden jolt my remote gave her pussy. I started to get delirious. She pulled my cock closer so she could get her lips back around it.
"You need it, don't you?" I said, as if reading her thoughts.
"Yes… please…"
"Good girl," I said, softly into her ear. "Don't take it out again."
After saying that I flipped to another pattern then made it grow in strength until I was enjoying her response to the intense vibrations directed to her center. Amanda clamped down on me with her most vigorous sucking. I moved my hips away a bit, as if to test her, but her head followed to keep me deep. A loud groan sounded below me as she started stroking and sucking to drive me out of my mind using only her mouth.
"Suck… me… baby!" I shouted.
We built up a nice rhythm. Sometimes I moved in and out, sometimes I stood still as she went after my cock. I'm not sure how long she kept me there but I do know the only thing that mattered to me was the harsh buzzing sound muffled by her pussy. Amanda breathed around my shaft while she worked me into a shuddering mass of desire. I wanted to own this moment for just a little bit longer.
After some deeply determined sucking I swiped the remote to get her favourite pattern going in the vibe. She immediately responded with a deep intake of breath. She needed a moment to adjust to this new, smooth, rolling vibration against her clit. It was the one she had been using when my cock was embedded deep within her pussy. It was the one which caused her to come quickly so many times in a row. Her body adjusted to this new vibration for a moment with my cock half in her mouth. I didn't know it at the time but Amanda was preparing herself for the final act. She sensed the need for me to come again.
I set down the remote beside her on the couch. She quickly reached over to slide the setting to a vibration level she would most enjoy. Then she tilted her head back slightly before opening her mouth in a gesture of invitation.
Seeing Amanda this way produced an emotional response in me which caught in my throat. I was unable to speak while the moment passed. I felt like I might weep at the realization she was giving me permission to enjoy her mouth while she enjoyed the constantly changing vibrations in her cunt.
I reached forward with both hands as I stepped closer. When I was finally feeling those lips close around the head of my erection I gave out a soft sigh. I kept her head still as I gently moved in and out of her mouth. I went in far enough sometimes to reach the back of her throat. She curled her back to stay with me, up and down, in an effort to keep her mouth where I wanted each time I thrust forward. She was surrendering to all the sensations her body was receiving. I was desperately searching for my own release.
"Tell me what you want," I asked after I pulled away from her wet lips. I waited for her to answer. I still had my hands in her hair.
"I want you to come," she said in a shaking voice.
I waited only a heartbeat before I replied, "Good girl."
Suddenly I felt bigger than before. Her breathing was harsher, her strokes shorter and quicker. She moaned around my cock each time the rolling vibrations reached their highest intensity against her clit. I watched her struggling to accommodate each approaching wave of glorious urgency while repeatedly sliding my hard cock through the back of her mouth. The head of my cock going into her throat was the source of my pleasure. I kept pumping her mouth while my brain brought out an endless string of memories to stimulate me further. I was not forcing myself deep. My shaft was sliding in and out only about an inch or two. Because I was holding her head it allowed me to maintain smooth movements of my cock in and out.
I could feel her body begin to squirm below me. Amanda desperately worked to stay ready for each of my slow thrusts, but I could tell a battle raged inside her. The vibe was giving her just enough stimulation to keep her near her orgasm, but not enough to tip her over the edge. Both of us knew it was going to happen pretty soon. It was only a matter of how close we were. This feeling of unbridled power lasted only a few more strokes before her hand reached up to take hold of my shaft.
My own hands fell away from her hair when I realized my orgasm was just about to arrive. I tried to reach for the remote with the notion I might be able to contribute to her efforts but it was out of reach. I stayed in her mouth with the head of my cock firmly against her tongue as it tickled me until I finally let go. The first spurt jetted my load across her tongue, quickly followed by more spasms of joy delivering the rest of my come. She held on for dear life, holding all of it in her mouth. I groaned and shuddered, bent almost completely over as I filled her mouth with what seemed like a week of come.
Amanda kept my flood in her mouth until she was sure I was done. Then she let it drip seductively onto her breasts and thighs. I managed enough awareness to slide the intensity of her toy much higher to help her enjoy her own orgasm while mine was fading away. She reclined, shaking and shivering from the strength of her release.
My cock was softer now as it returned to between those lips, quietly relaxing on her tongue. My spurts were gone now. But her next orgasm was building since the toy was still sending her into heavenly flights of satisfying joy. She lazily sucked the head of my softening cock. My breathing gradually slowed, while her hands roamed over me tenderly. Finally I pulled out and touched her lips with my trembling fingers. She panted quietly, coming down from her own delirious high.
"Good girl," I said. After stopping the vibrations I put the remote to the side table so I could climb over her to kiss and hold her body as we slowly returned to reality. My lips were warm and gentle against her face. Like so many times before, she had given me everything I wanted.
Catch up with the story here