Dominate me in ways I've never imagined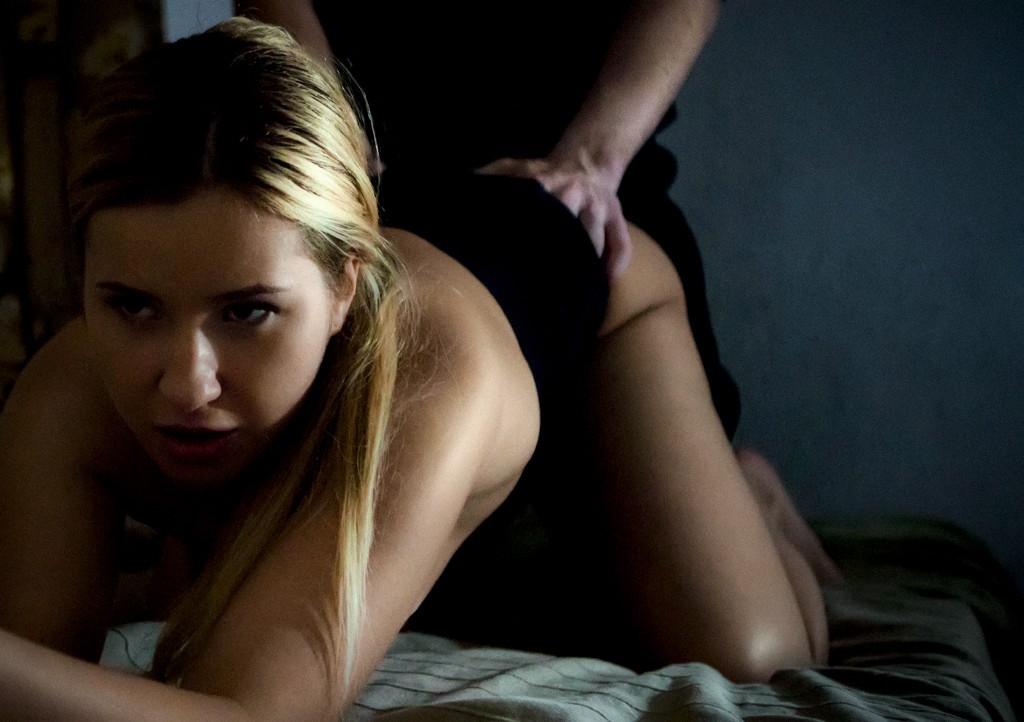 Our combined breath echoes within the vacant space. I've never quite given myself over to being dominated and thrown wherever he pleases. The rough wood is abrasive against my soft skin but I don't mind. I slide my elbows past the wooden posts. My body moves to a slow descent in the position he wants.
My hands touch my feet as I bend fully over. Isle stands behind me and I can feel his erection pressing into my wet entrance. My breath sucks in as he pierces through my tight pussy. It slices through every one of my senses.
I'm consumed in this moment, with the absolute ownership he has of me. My body will bend to his will in every which way he chooses to have me. I wonder if his extreme ability to sense things knows this fact already.
"Just a few strokes," he whispers lustfully.
"Yeah, right, you know you and I can fuck for hours."
He's the only man who can outlast me. Our first pursuit of each other lasted three hours, the second was nearly two hours of him fucking me in positions I didn't think were possible.
I know how 'a few' ends up being endless. We wind up pounding each other against walls, the washer drier, the bathtub. The empty space of the stripped down apartment we snuck into echoes every scuffle we make.
He slides out of my pussy since this position doesn't help. I straighten up. My feet move to try to put that space between us. He grabs me — lightly at first — by the hair. I continue my movements and he increases the pressure, to force my head where he wants it. Isle smacks my ass suddenly and forcibly.
It's about one of the hottest things and I let out a sound of laughter mixed with a groan.
"Where do you think you're going?"
"You said a few strokes so…"
My voice trails off. He causes my head to turn whichever way he chooses. I can't think with his firm grip at my scalp. This is how I've always wanted a man to have me, with that dominant persona. His oversized, bear sized paws push me back into my position draped over the raw wooden railing.
I reach back down to my ankles and his dick nearly slides into my ass. My hips tilt upwards and he guides himself back inside me. He stretches me around him like the most perfect fit. Like a glove wrapped around him tightly. There's this pressure I feel, of my G-spot being activated by his perfect thrusts.
I'm rendered into whimpering, with guttural and high pitched noises exploding from my lips.
"What do you want, MD?"
He keeps fucking me like an animal on a mission to break me. To split me in two from the inside out with his substantial dick. His voice is steady, controlled just so but dripping with desire. He asks me the question again and makes a point of smacking my ass to accentuate me answering him.
I want to rear up against him again to make him punish me. I want to give in to his question, and then I don't because I'm just as stubborn willed as him. The resounding smack of him hitting my ass again makes me gasp.
"I can't think right now with your huge dick in me. It feels amazing and I can't think," I admit as my voice comes out in shaky breaths. I'm just trying to stand upright as my body starts the ritual of building up a G-spot orgasm. It's this intense, pleasure inducing pressure that builds inside my core. I feel like the overwhelming sensations are going to suffocate and kill me with this amount of pleasure.
"I don't want you to think," he growls out the words.
He slides out and I try to move again. Isle holds me steadfast by grabbing my hair again. I moan louder as he drapes me back next to the splintered wood that was stripped to its bare essentials. He pummels me again and again. I feel my body releasing an orgasm as he continues to thrust into me.
It's a cascading sensation that feels like every inch of me is on fire, tingling, overwhelming, consumed by pleasure. My mouth can merely stay half open as my eyes stay closed and I submit to it. I'm aware of hearing noises that are high pitched squeals, as I pant and my heart races.
Isle comes out of my pussy and I finally leap away from him. I back away with my legs shaking and a grin on my face.
"That was more than enough strokes there."
"Hmmm, alright, that I can admit this time. Are you going to help me clean this off?" he asks me.
I thought he'd never ask me and I jump at the opportunity to have him in my mouth. My knees touch the rough concrete as I kneel before him. He stands above me like a strange Greek god waiting for worship.
I withhold a wince at my bruised knees protesting. There isn't a table for him to lie on like the last time and I know he said I didn't need to be on my knees. My teeth grit and I place my hand at the base. Fingers grip and massage his balls lightly as I impale myself on his manhood.
My mouth moans around the edges of his iron hard member and I worship it like it's my job. It's been an incredibly long span of time where I wasn't doing this most favorite act of mine because the man I was with didn't enjoy it. Isle's intense brown eyes watch me as I service him.
There's the sensation of fingers in my hair again. He pulls me up from my kneeling position and moves me next to the railing again. This time I face him and his arms slide underneath my hips. He picks me up off the ground and I repress a squeal of surprise.
This isn't the first time he's picked me up and he does it as if I weigh nothing. I've never been a small woman with nearly hitting six feet and mainly made out of muscle. My thighs are tree trunks of mass and hidden power. My waist tapers down into that classical hourglass with full hips and full, perky breasts.
His hand grips his dick and he slides it inside of me with me balanced precariously on top. Isle bounces my weight up and down on his dick. I feel like he might bust me open by the intensity of his incredible length and girth fully within me. My teeth bite into the base of his neck trying to repress the noises I need to release. Ecstasy induced screams escape my lips as he continues his pursuit of fully possessing me.
Something tells me that this will be the-first time, ever, that a man will get me to call out Uncle during sex.