All the way from Dark to Light… Undressed, in the Middle of the Night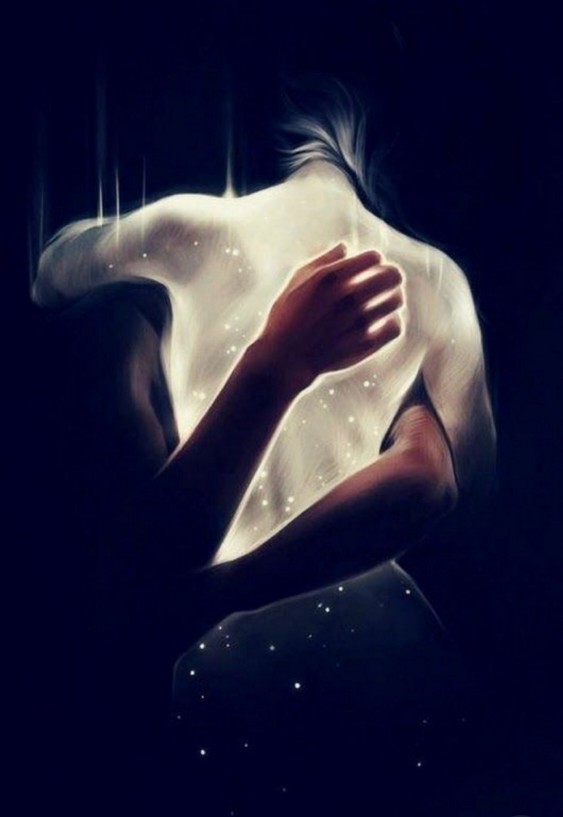 I was drowning in the weight of my own heavy thoughts
Digging into the depths of my soul, dying to get out of my head
Wind blew every speck of dirt my way, filling my throat as I opened my mouth to scream. But no sound could come out, no tears either, I had a drought.
Stuck inside me, my cries would not leave. And I prayed so hard for a reprieve from this sheer pain, that was driving me insane.
Constant sorrow, consuming me. Everything in question. I melted to the ground, the hell dripping down on top of me, pushing me down further.
Emotions hurling and swirling around, I couldn't get out. My self-worth drained. Not really; I know my worth. But the betrayal of my best friend cheating on me with my very own friend and mutual client weighed heavy on me and messed with my mind. Lost. So very lost in grief. All I wished was for a chance to breathe. Stuck in a corner on the floor, fetal in the closet, behind the door.
Grateful my eyes started to get wet. Finally my inner self was able to turn on the jets. I cried it out then I went for a run. Pulling myself out. I needed some fun. I felt less panicked after some sweat. And after depths of despair I thought I might have a little hope just yet.
I knew I didn't have long, to come up for air, before the heartbreak devil would catapult me down there, back to hell. While in labor, contractions are so brutal that in the space in between lies total bliss. A reprieve, if you will. Then one feels God's kiss. That's what it's like, to be stuck in this. Grief is brutal, and this space is brief, where occasionally, I get a chance to breathe.
And that's when I took a right turn for the night, giving me hope, and giving me light. When very late, when all was quiet and dark, you walked in, feels like sin. To be so excited, when hell has been surrounding me uninvited. I took a slow draw of your scent, so ready for you, leaned over, so bent.
It was very dark with just the two candles, the glow showing the outline of my new smaller body, which feels amazing for me to touch. Where did my big thighs go? Seriously I've lost so much. Is this really me? Not getting all fucked up by booze and sugar and flour and vices? My heart got messed with but not my anchors, and now I reap the benefits of my hard work. My body in this new sexy outfit feels like artwork. Discipline is Freedom. I felt so damn sexy, and chiseled. Anticipating your touch. Getting centered and fantasizing so much. I lay there in leather that was new and super hot. The bra? Lacy with leather. The panties? Literally short boy shorts with a zipper all the way through the crotch. Top to bottom. Just purchased and shockingly a size small, thank you very much!
You lay down on my bed and placed me on you, planting me on your cock to dry hump you while you drank me in. These leather boy shorts. This zipper! So hot! I'm on you. Riding you. You pierce my eyes. You have me. Present. I arch my back with my nipples peeping over my bra. Two peachy white lights in my silhouette, in the glow of the candles amidst the darkness. This IS my light. Us. Right here right now. You waited for me. You missed me. I was too blind to see. But I'm here again. Now. I'm gushing a river down there. You slowly pull the zipper down to put your finger inside my lips. My pussy, my mariposa, my posa is so. fucking. awake. for. you.
And I realize, I am not in hell anymore. I am present. All knowing, all begging, all showing up for you. In ways I never did before. Because now, I am more clear. Like way, way more clean in my head, as I stare at you, and ride you on the bed. Not altered by vices. Solamente intoxicated by your spices. Meaning, of course, intoxicated by you. By us. By what we create.
Rubbing my clit, she is so awake, I know you want to take…
Me.
So you unzip my panties right off of me. And pull me back onto you, I am your palette, you see. You took me into you, you drive us together, I am moving through you. Digging into you, pulling you in tighter, you hold me, console me, by the way you control me. I hand myself over to you, all of me, ever so here. Present amongst our souls. Our souls that are consumed by this session, a mirror of each other, each move in succession, to allow us to fall into each other more. I am melting in you, and you me.
Dripping…
Sipping, a river runs through it, my dew, turned on by you. Making me feel so safe. I know you are true. I'm sorry I stayed away. But I knew, if I ever came back to you, I owed you presence. I owed you showing up, no distractions. Not in fractions. And here I am, 100 percent in. And here now, we begin.
It's the most incredible compassion, we hold nothing back, there are no rations.
Your cock was swimming in the flow of my mariposa, dripping so much pussy dew. I was so turned on by the look of you. Lying underneath the depths of us two. We were so into each other on my bed. Over and over I gave you head.
My double D's stuffed your throat as you opened my mouth as wide as you could. With a beeline to my control center while I held my vibrating bullet to my clit, I screamed as you took me over my edge. Your tongue in control of my control center, as you licked and flicked my nipple. All my stuck cries could finally come out. You helped me walk out of my doubt. I could moan and pant in your ear. Walking away from fear. Your love making was driving me insane. In such a sane way. Oh God! This moment! I wanted it so badly to stay. This feeling was all consuming me.You pounded me, with intensity. You gave me fully all that was you. Cumming inside all my dew. Your knees got weak. This is what everyone seeks. You practically fell to the ground. It got quiet. We didn't make a sound, except for our breathing. This session had so much meaning. Freedom in my den. In a complete state of zen. Hiding behind the door. The darkness was no more.
We lay there in bliss.
But then, you wanted a kiss. And we began. Again. And Again.
We were drowning in heat of our own heavy tapping. Digging into the depths of our souls, I was relieved to get so out of my head. Your growing cock I got to meet with my mouth again, this time more slowly with my wet tongue tantalizing you, you filled my throat as I opened my mouth to swallow you whole. No limitations on tonight. No nerves, no apologies, no weight. Together we were limitless at what we could create. Stuck inside me, my emotions could finally have release. And I was finally able to breathe. I had been praying so hard for a reprieve. Fucking you is so hot. Amazing to feel this way, I thought. From that sheer pain that was driving me insane, to this, natural feelings. A form of healing, to be so desired. You woke up my dormant fire. You dipped into all my amenities. This bubble was our serenity. Experiencing US that night was all consuming. Nothing in question. I melted to the Earth, my mariposa dew dripping down on top of you as you pulled me down on you further.
Chemistry, intensity, swirling around, we couldn't get out. And we didn't want to. We wanted to go on forever. Our bodies drained. Found. So very found in each other. I locked eyes with you again while the music played. This filled me with oxygen. Like an I.V. on life. Stuck no more. Open. Receiving. Not grieving. Unblocked. Even after you left. Air passageway relief. I truly was able to breathe.
Undressed
— -you opened me up.
My chest, this air is moving. Finally free!
I can't even explain this bliss, for a hot second, to feel like this.