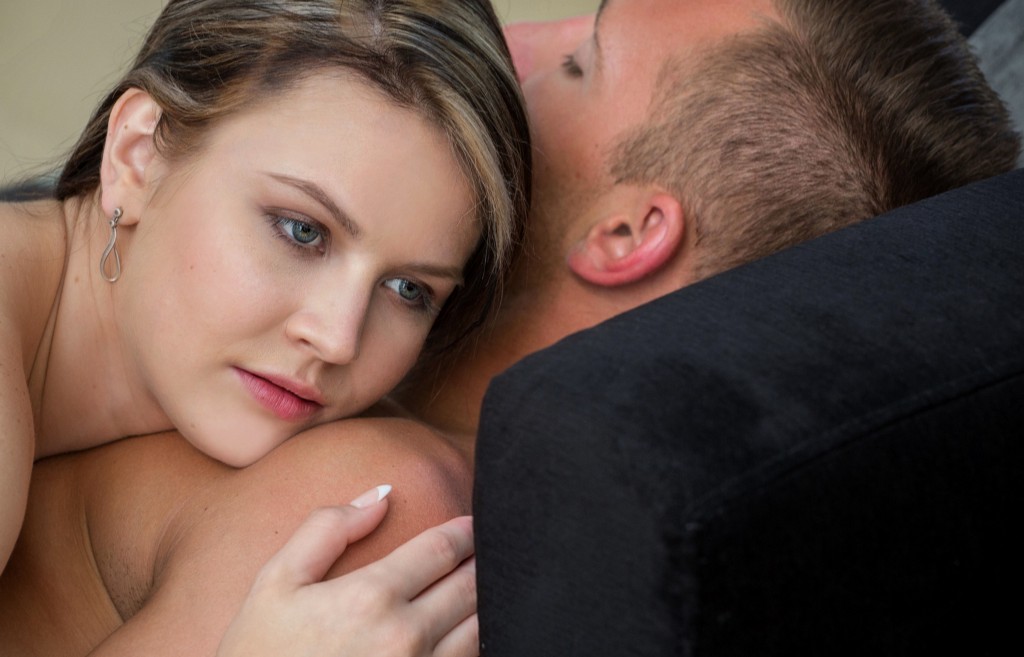 Part three: Oral experimentation
I was literally shaking with desire when I arrived at the back door. I was starting to really develop a buzz from smoking a joint earlier, intended to help me calm down, but it did the opposite.
I didn't want anyone to know where I was so I had turned off my phone the moment I received her invitation. Jenny bounded into view to open the door, wearing a robe over a bra and bikini panties. My cock got harder as we travelled upstairs to her room. As we covered her bed in a shiny sheet, which I thought might be satin, I admired her perfect body beneath the robe. The previous day, this lovely woman had confessed a desire to enjoy the full spectrum of sexual delights. She'd given me a quick handjob after catching me jerking off, then demanded I fuck her. We both lost our virginity in what was the most wonderful and thrilling day either of us had ever experienced.
Her promise to continue the next day had kept me up half the night. I spent the entire evening mentally replaying moments from the afternoon. The feel of her breasts and the shape of her ass were recurring highlights. But it was the unforgettable feeling of my hard length sliding deep into her wet channel for the first time which I returned to again and again. In my mind I fucked her over and over.
With the bed prepared, Jenny waited for me to get out of my clothes. Her robe fell away which helped bring my eager erection up to full hardness by the time I was naked. I got to pick two pair of Jenny's sexy nylon panties to be sacrificed for my cock and balls to fit through. The feel of all those silky underthings in her drawer had me reeling from the sensation. Eventually I picked two which seemed the best ones. She was keen to make me happy as much as she was obsessed with trying every sexual variation. After quickly snipping each pair of silky panties I followed her back into her room where she waited while I fitted my butt into them. My cock grew to a solid stalk of flesh in the short time it took to get into those panties, which pleased Jenny.
I loved the way she casually held my cock as we sat together. Jenny had heard other girls talk about this thing called 'blowing a guy'. I told her guys talked a lot about that too. I never believed girls would ever let a guy put his cock into their mouth until I listened to Jenny's curiosity about how to do it. Then she let go of my cock to signal she was waiting for some sort of answer. I told her I could probably show her on her computer. I signed us into my porn account and picked a video of a woman getting her man ready with her hands before slowly sucking his giant cock while he stood over her.
As we watched I felt myself growing impatient for us to get started. I was so wound up at the prospect of getting my cock back inside her I was not paying any attention to the anxious tone of her voice. After she stopped watching she asked how it worked. Realizing she felt uncertain about trying this, I tried to reassure her nothing bad was going to happen if she did not want to. I promised I would help her after confessing that I'd never had someone blow me so I wasn't even sure how helpful I could be. As a way of giving her some reassurance I suggested we might work on it together. I had as much to learn as she did.
I'm not sure what compelled me to ask but as soon as my request echoed into silence her immediate reaction had me grinning from ear to ear. She changed out of her underwear into a teddy which put her nipples on display. I was hoping to get some time with those fairly soon. Then she unwrapped a pair of thigh high stockings from a package before putting them on. I'd never watched a woman dressing up this way so I slowly fondled my hardness while I watched. The crotch of the white teddy had snaps to open it up and I noticed she was already leaking a little wetness. The light grey stockings were fantastic but it was the black satin gloves which did it for me. A minute later her shiny gloved hand gripped my stiffness while I stood over her.
Standing next to Jenny, as she sat stroking my length, felt like a dream. The excitement coursing through me was generated by her fixation on getting me as hard as stone before attempting to fit the tip between her lips. Those lips were not plump or full but somewhat thin. Once she closed them around the valley behind the head of my cock it felt like rockets were going off in my head. Nothing could have prepared me for what it felt like for a tongue to press against my cock or for lips to firmly slide along an inch or two of the shaft. Each new movement was a revelation. I would not have understood these sensations until I felt them for myself with this wonderful young woman. Even with all the tingling and fantastic sensations I had no urge to come. It was incredibly sexy to look down at her mouth working my hard length while feeling it taking me along her tongue. My heart was starting to race as I stood there getting sucked for the first time.
It was a great experience for me, with unusually intense sensations centered around my cock, but I was pretty sure Jenny was just going through the motions. She had not yet found the source of her deep need to explore. We were following the map but not enjoying the journey. When Jenny slipped me out to ask if she was doing it right I had to admit I had no idea. I did tell her how much I enjoyed it, but also made sure she knew she wasn't obligated to continue if it wasn't turning her on. She leaned back and rested on her elbows before asking, "What would you like to do?"
The ends of the crotch straps dangled at her belly while Jenny rode up and down. I lay under her with my full length being engulfed by her slippery opening, feeling like we could go on like this forever. It did not take long for my hands on her tits to drive her to ecstasy while her whole body shook with orgasm until she could no longer hold herself up. She collapsed on top of me gasping for air and thanking me for letting her do this. For my part I was just pleased to be fucking this lovely visitor so soon after our first encounter. We had most of the day to ourselves and there was no hurry for me to demonstrate my lust as quickly as we did before.
After a short rest Jenny showed me the way she used her fingers on herself. She also guided my fingers through her labia to help me explore all the parts of her pussy. I was an eager student. I did not yet have a reading on how her body might respond to a man's touch but I hoped to be schooled in that area very soon. Her touch, however, became even more familiar. She felt obligated to begin each new adventure by stroking my cock to full hardness. I added some of my newfound fingering to our overture to share the experience more fully. Jenny even attempted a second blowjob but, as with the first, her heart was not in it. She was very happy to hear how much I loved shoving my slick cock into her while she knelt on all fours on the shiny bed.
The panties I wore were soaking wet but that didn't bother me a bit. I just loved humping against her ass while drilling myself as far as possible into her center of delight. Not only could I feel her breasts while hunched over her back, I could also feel my shaft rubbing against her clit. This previously secret part of a woman's body was being stimulated by the movements of my hard cock, driving her wild with desire. Then I felt myself coming inside her. I wailed through my orgasm with a new voice and a new appreciation for what having sex really meant. It wasn't until after her third orgasm that she decided we'd had enough fun for one day.
We would always end our time together lying in bed talking about each other's body, sharing questions and answers about what things felt like, and generally examining the exciting details of our adventure. Jenny taught me so much about myself and herself in such a short time that I started seeing her less as an object of youthful lust and more as a complex person discovering a strangely fascinating body. Our needs were met through a mutual understanding of simply sharing this immensely personal journey between us.
Catch up with the story here