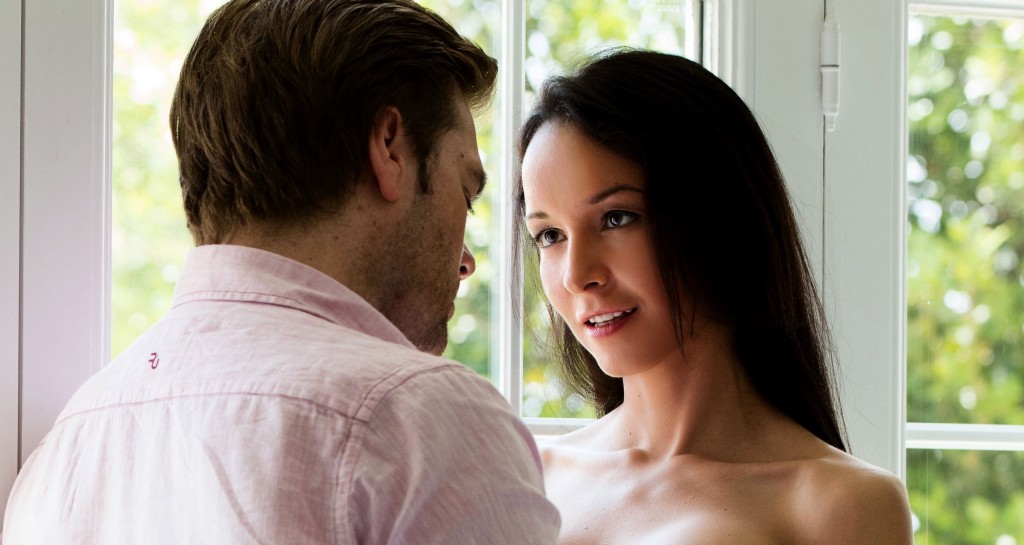 My girlfriend's daughter, Alexis, was lying out by the pool. She had just graduated from college and was enjoying her last, lazy summer of freedom. I looked at her from the window and couldn't help but take in her incredible, lusty curves. Her tight body glistened in the sun.
Alexis was tan with brunette, sun-kissed hair. Her tits were natural and perky, and she seemed to be perpetually happy. I remembered longingly to that magical time in my life. 22 years old, with my whole life ahead of me, and full of optimism.
Being with Alexis took me back to those days. Her optimism and happiness were infectious. Of course, she was forbidden. There was no way I could cheat on my girlfriend with her. It was a forbidden desire, one that I would never be able to quench.
I never contemplated straying until I overheard Alexis on the phone one night. She referred to me as "DILF" as she giggled with her best friend. She actually thought I was attractive and talked about how her mother was lucky for having me. I couldn't believe my ears, but I also knew that I had to resist this. Nothing good could ever come from hooking up with her.
I walked away from the window, frustrated, knowing I could never have her, as much as I desired her. I went to the kitchen and opened up an ice-cold beer. The glass doors then opened, and Alexis looked at me, with a mischievous smile on her face.
"Hi David," she said flirtatiously.
"Hi Alexis," I said nervously. "How is your summer going?"
"Oh, just great," she said as if she was holding something back. "Did you get a good look at me by the pool?" she asked.
I fumbled with my beer, and my face reddened. "Um, what are you talking about?" I said nervously.
"I saw you were looking at me. It's okay. You know, I've always thought you are hot. I can hear you fuck my mom at night."
"I don't know what to say," I told her.
"You really make her scream." Alexis entered my personal space and went in for a kiss. The kiss was magical. It was delicious. It was forbidden. I felt the primal part of my brain become activated, and logic and reason were about to go out of the window.
"I masturbated to you two the other night," she told me.
"Alexis, we can't do this," I told her, trying to regain control of the situation.
"Just go with it," she smiled. "You only live once." She held my hand and guided me into the living room. She laid down on the couch and spread her legs. She gave me the "come hither" signal with her finger. I went over to her and touched her flesh, which ignited something deep and forbidden within me.
I slid my fingers down her one-piece bathing suit. A look of excitement went across her face as she looked me directly in the eyes and nodded. I slowly reached for her pussy and pushed aside the one-piece, inserting my fingers into her dampness. With locked eyes, our heads moved forward and we began to kiss.
As I caressed her glistening vagina, our tongues intermingled. As the kiss climaxed, she looked me in the eyes and said, "This is going to be complicated."
"I don't fucking care," I told her affirmatively.
She gazed upon me in lustful hunger. This culminated in a long and sensual kiss. She began to writhe on my fingers, fucking me back and longing for something more.
I pulled aside her bathing suit and wrapped my lips around her nipple. She moaned as I flicked my tongue on her nipples, hardening them. Her pussy grew wetter. She looked at me with surrender and simply said, "Yes."
As I finger fucked her pussy, I could hear the sounds of the flickering wetness fill the room.
"I want this pussy," I told her.
I stood up and pulled her to the edge of the couch. I pushed her legs apart and began pleasuring her with my tongue. The taste of her was indescribable. I only knew one thing: I hungered for it, and I wanted more. I slid my tongue deep within her, and she began humping my face. She squirmed and moaned, feeling her breasts as I feasted on her.
I stood up and kissed her, letting her taste my lips that were covered in her pussy juice. Alexis licked her luscious, full, lips and rubbed her taut nipples.
She smirked while gazing at my girth, filling out my swim trunks. I rubbed my cock through them while looking her in the eye. Her eyes widened as she realized how big it was. "That looks . . . fun," she said as she giggled.
I took my cock out and began stroking it. Alexis bit her lip in pleasure and started touching herself.
"I want it," Alexis implored me while she finger fucked her hungry pussy.
"Come and get it," I commanded her.
Her hand rubbed my cock through the swim trunks. "It's so FUCKING BIG!" she screamed out. When she took it out, her eyes widened, and a massive smile went across her face. "Oh my God, no wonder you make my Mom scream."
She stroked it up and down and smiled. "I've never seen a dick this big before. This is going to be fun."
She widened her lips and wrapped them around my engorged cock. She took it in as far as she could while she looked me in the eyes. She removed her mouth and jerked it off, using her spit as lubrication.
"I bet my Mom isn't as dirty as me," she said as she giggled.
She began bobbing up and down, as the loud sucking noises fueled my hunger for her. As she jerked me off, she said, "I want this big cock inside of me."
I pulled her up and kissed her. She bit my lip and smiled. "Fuck me, David."
I threw her down onto the couch. I spread her legs, pushed the bathing suit aside and thrust into her.
"Yes, fuck yes," she whimpered as her tight pussy was stretched out by my thick cock. Her head tilted back in surrender, and she bit her lip. I started fucking her harder. I watched her perky, bubbly tits bounce, and my cock grew even harder at the sight of it. "Ohhhhhhhh, yes," she screamed out as I fucked her.
I inserted myself fully into her, and she grunted unintelligibly. Her pussy moistened with each thrust. She began aggressively rubbing her clit as I pounded her.
I kissed her. As I pulled away, she ground her teeth together aggressively.
"Fuck me like I'm your little slut," she commanded me. I plunged into her and fucked her harder as she screamed out, filling the house with her moans. I worried the neighbors would hear, but I stopped caring when I looked at her incredible body.
I ripped apart her bathing suit and grappled her thighs, fucking her with wild abandon.
"Fuck, that cock is so fucking big," she cried out. "I want to ride you."
She positioned her bubbly, perfect, onion-shaped ass on top of my cock and slowly slid down the shaft. She looked me in the eyes and smiled as her pussy accommodated my girth.
"Is my pussy tighter than my Mom's?" she asked me.
I just smiled and looked as her tits began to jiggle while her ass started bouncing on my cock.
She leaned in and whispered in my ear, "I asked you a question. Is my pussy tighter than my Mom's? I want to hear it."
"Your pussy is tighter!" I yelled out while she bounced on my cock. She started bouncing more aggressively with those words. My hands caressed her hard nipples while she fucked me. I smacked her ass hard while she rode me.
"Fuck! Do that again! Fucking spank me!" she screamed out.
I started slapping her ass hard enough to leave an imprint with each aggressive thrust onto my cock. Her pussy juice dripped down her cunt onto my balls. She flicked her head back, her hair going everywhere like fireworks as she screamed and fucked me. I could feel her body began to tingle. I felt her goosebumps. I held her tighter so I could feel her heartbeat while she creamed all over my cock. She kept me tight and wrapped her hands around my biceps. "You fuck me so fucking good," she said. We held each other close as she bit into my neck, wiggling in pleasure.
As she calmed down, she whispered into my ear, "Where do you want to cum?"
"I want to cum on your fucking ass," I told her.
"I thought so, I've noticed the way you look at my tight ass," she told me.
She bent over on the couch and rubbed her clit. She wiggled her ass.
"It's all yours, come and take it," she told me.
I plunged into her dampness. I gripped my calloused hands around her tight waist and began fucking her pussy without reason, letting my instincts completely override any capacity for rational thought.
"Ugggggggggggggh," she screamed. I started fucking her harder. I spanked her again, her ass still red from before. She started rubbing her pussy quickly, aggressively. "Oh my God, don't stop fucking me."
I looked down at that perfect ass ripple, watching it consume my cock. I let Alexis take control and fuck me back. I gazed in joy as she slid up and down. It was long enough that it was a total body workout. I liked the sound of her wet pussy, descending up and down on my cock. As she controlled the tempo, she began softly moaning in pleasure.
I knew I was about to cum. "Stop fucking, I'm about to cum in your pussy."
"I don't fucking care," she cried. "Just do it. Cum in my pussy!"
A wave of ecstasy overtook me as I unleashed my load into her. She continued to fuck me back, as my cum lubricated the thrusts.
I had no idea where this would go, but I didn't care. I only knew I wanted more.