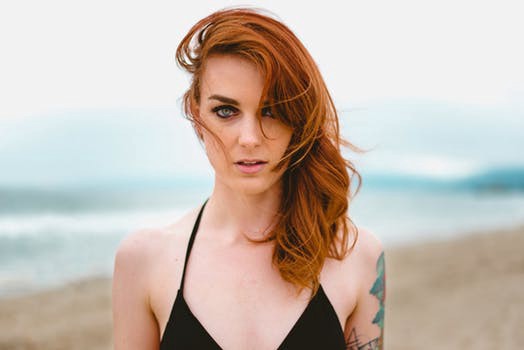 Have you noticed there's a redheaded revolution taking place? That the frisson of red has become the new blonde, be it lowlights, highlights or neon? Red hair rocks and rules. So if you're seeing red virtually everywhere, whether online or realtime, it's because being a redhead is far more than having that legendary temper or fair, freckle-prone skin. (Not that we natural reds don't enjoy having those attributes — or using them to our advantage!)
Maybe it's our supersensitivity to heat and cold (as when my fuck buddy pounds my G). Maybe it's our lightening quick responses to tongues, fingers and cocks — pumping us the harder the better — that drive us to our O's with Olympian speed and intensity. Maybe it's our unique brand of lust-promoting pheromones.* Whatever the means, the world has finally discovered what we natural redheads have always known. Red hair is hot AF and sex with a natural redhead is about the hottest. Our erotic mystique is certainly as apparent on Medium as anywhere.
Redheads talk the dirtiest.
We may resemble Pre-Raphaelite princesses but get our flame-framed pussies searing hot and soaking wet. Then you'll hear something like what the girl named Red shouted while riding mimi_bordeaux's face.
"Fuck me, you motherfucking demon!"
Redheads' pussies are the tightest.
You'd think we had hot sauce in our veins given all that heat we gingers and titians naturally generate, and that as a result our pussies would be delirously dilated all the fucking time. More likely it's that our perpetual fire in the hole causes us to get that much more swollen when aroused. Lola Down made that discovery in her sexplorations with Erin, as HH reveals.
"Lo slid off Erin's panties to reveal her completely bare body and Lo gently glided her index finger into Erin's puss. It was the tightest pussy she had ever encountered and she didn't dare try more than one finger."
Rose of MyErotica.com discovers much the same in her sizzling session with her costume designer friend, the copper tressed Cherry. Though lusciously wet and invitingly open at first, her contrastingly shaded, deep auburn adorned hole clamps down on Rose's two fingers in a vixen vise like the burning bush it is.
" When I reach her pussy, I tug the damp red curls gently, teasing my fingers through them, breathing in her womanly aroma. Licking my fingers, I spread her pussy lips open, the vivid, moist pink interior contrasting deliciously with her pale, creamy skin…. She's so hot inside, so tight, every twitch of my fingers against her sugar walls and every stroke of my tongue on her clit eliciting a reaction."
Their session is a veritable primer in how to take a redhead over the edge.
"Spreading her thighs wider, I rub the rounded tip of the [hair]brush handle between her parted pussy lips, pressing it over her clit, then easing it inside her, a fraction at a time. It's not too big but it opens her up nicely, and I can tell how good it's making her feel as she starts to hump up, wanting to take it deeper."
Redheads squirt the tsunamiest.
As the auburn pornstar Audrey Lords amply demonstrates, it just looks dramatic AF when exuding from her pale pussy and splashing all over the camera lens. Though we redheads have no monopoly on squirting copiously, there's something freakin je ne sais quoi about our brand of secret sauce hitting the air — and everything else in its path. Like Cherry's squirt when it makes a full frontal, simmering spritz right onto Rose straight down to her cleavage.
Speaking of such saucy redheaded squirtathons, my fuck buddy and I take a shower in my squirt in my upcumming story, "Welcome Back." I'd better get back to typing it up. And that's gonna take both hands.
Sources:
"3 Proven reasons that sex with redheads is simply better," Kacie McCoy in sheknows.com.
"Redheads feel a different kind of pain." sciencenordic.com.