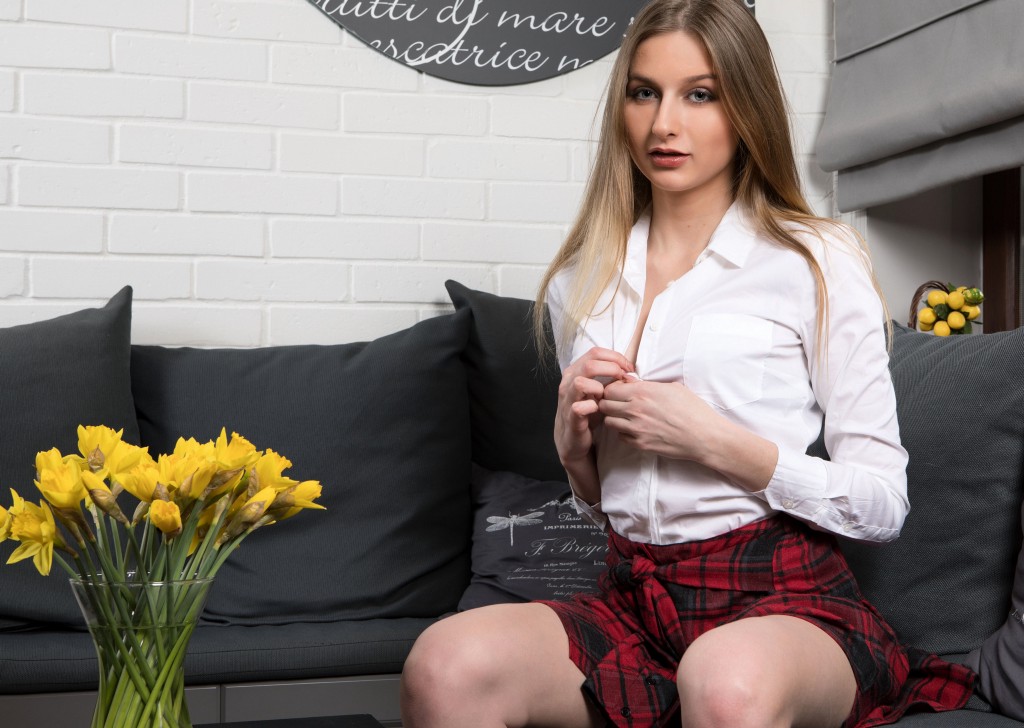 "Are you ready, Puppy?"
"Yes, my Angel."
"What is your safe word?"
"Homework, my Angel."
My loving sub, Jonathan, who I call Puppy, is ready for us to perform our favorite roleplay. Our pleasure dungeon looks like a classroom. I'm wearing a slutty school uniform: a white blouse tied in the front that shows my lace bra with a tie-shaped necklace, plaid miniskirt, thigh-high white stockings, Mary Jane heels. No panties.
Puppy is wearing his uniform too. His is correctly put together, the nerdy boy that gets to be the mean girl's secret sex toy. Seated in a school desk chair, he trembles in anticipation, his erection trying to burst through his trousers.
"Did you get me what I wanted? I was very specific with my request. You only get what you want if I get what I want," I say, leaning in so he can take a whiff of my scent and feel the heat of my tits close to his face. He knows he cannot touch them yet.
"Yes, my Angel, I have your request here," he says, passing me the folded notebook note that I made sure he got with plenty of time before we started. I take the note and smile, satisfied. It reads:
Get me a nice thick cock. I'll make you watch me fuck.
"Where is this nice cock you got me, sweet, sweet Puppy?"
"He's waiting upstairs, Angel."
"Bring him to me. Does he know that tonight his name is Cock?"
"Yes, my Angel."
Puppy goes upstairs and comes back with a naked, delicious man with dark skin and a magnificent cock that is already rock hard.
"Fuck yeah, she's hot," the man speaks out.
"Shut up, Cock. If you want to fuck you stay quiet," I reprimand.
"Fuck yeah, I want to fuck. I'll keep quiet, Miss. Sorry, Miss."
"My name is Madam Angel. You may call me Madam."
"Yes, Madam. Sorry, Madam."
"Good boy. Now sit. You may play with your dick, but don't come."
The man sits and grabs his balls, squeezing, then gives his cock a few strokes. Puppy shakes even more. The anticipation is making him burn.
"Time to eat, Puppy," I command, sitting on the teacher's desk and spreading my legs wide, my pussy glistening with juices. I can hear Cock mutter fucking hot, so fucking hot.
Puppy falls on his knees in front of me and grabs onto my thighs. He devours my cunt, licking and sucking desperately, rubbing his face, so it's covered in my wetness. He adores me, and it is his privilege to get my ambrosia all over him. I'm very close, but I want to feel filled up. I can see Cock squeeze his dick; he is trying not to come. I call:
"Come here, Cock. You may fuck me. Puppy will move aside."
I can see Puppy is anguished at the loss. I pet his hair.
"You may play with my tits, sweet boy." I lean back on the desk and add, "Make sure to suck them good."
Cock plunges inside me just like I want: hard, fast, desperate. His sounds are almost feral; grunts, howls, and curses fill the room. Meanwhile, Puppy almost whimpers, sucking and massaging my tits as he looks yearningly at my pussy, now stretched by a thick prick. The sensation of both men makes me come, my walls convulsing in pleasure, and I get one extra push when I feel Cock come inside of me.
After he comes down from his high I order:
"Go sit, Cock. You may get another go later. Puppy, stand between my legs."
Puppy obeys, staring at my dripping pussy with longing. I'm sure his dick hurts, pushing inside the trousers.
"You are such a good boy," I say, as I feel the wetness run down to my buttcrack. "You get to claim your prize." I spread my buttcheeks with my hands.
Puppy gasps in excitement, quickly undoing his fly.
"Thank you, my Angel, I adore you, my beautiful goddess."
He aligns his cock with my asshole and pokes slowly, stretching the entrance. Fuck, that feels good. He is going in slowly, and I can't take it anymore.
"Fuck me hard, puppy. Plunge inside me like I'm a wanton whore."
He obliges, pounding relentlessly. I grab his hands and bring them to my tits, making him pinch my nipples hard. I scream like a banshee as I come again; the feeling of my asshole tightening around his dick makes Puppy spill and fill me up with his seed.
As I recover, I see that Cock is ready for round two. I smirk.
"Detention starts in five minutes."