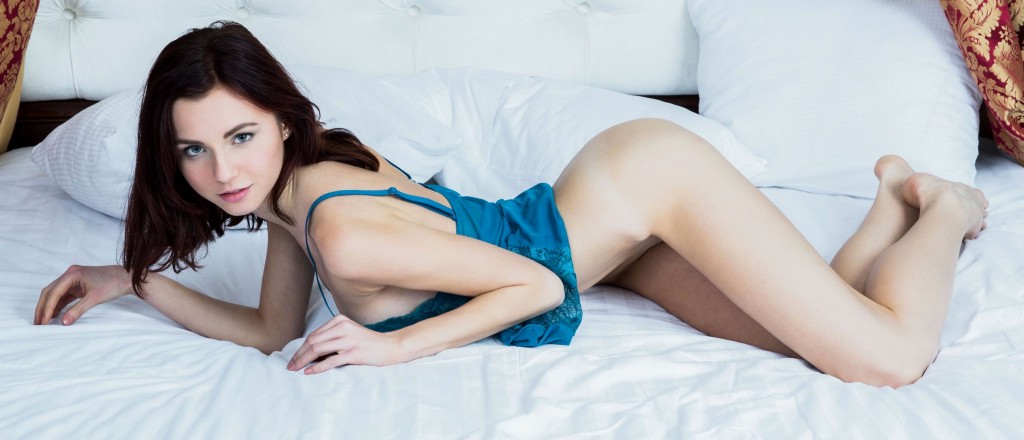 It was a Saturday afternoon and my girlfriend and I were busy doing chores in our apartment. I had been outside taking out the garbage from our storage boxes, and when I entered the house, I didn't hear the radio on. I walked around and didn't see her busy as she had been earlier, so I was curious.
As I walked into our bedroom, I saw her on the bed playing with herself. She had her legs spread out on the bed with her panties around one ankle. Her tank top was still on and she was propped up on some pillows, touching and tasting herself.
I started to laugh, but immediately became aroused. Emma is beautiful — she has a tight body, soft skin, full pink lips and a plump, firm ass. She has these expressive brown eyes that I love to arouse because they narrow and that signals that she was feeling my energy.
I sat on the bed next to her, watching her immersed in her own pleasure. I whispered, "Can I taste?"
"No," she replied curtly. "I've already gotten started."
I didn't know how to respond for a split second, but then I asked, "Can I watch you?"
She looked up at me, smiling, and purred, "Yessss."
I got up and went to the door, getting into my voyeuristic role. The rest of the house was quiet so I could hear her fingers passing through her pussy lips. I closed my eyes and let my senses picture it. I could hear her sucking on her fingers and moaning at the taste. I felt like such a dirty pervert as I listened to her and all the desires I've ever had as a voyeur came out. I started to feel as if I were a "Peeping Tom" watching my unsuspecting girlfriend pleasuring herself like no one else could.
I peeked through the door and looked at her body in full arousal. She was circling her finger on her clit, making it swell, grabbing her tits. She was cooing and softly moaning, then sliding her finger between her pussy lips, bringing it up to her mouth and drenching it in spit. She was all alone in her vibe and I loved it.
She would slip her finger into her pussy, then moan louder, digging the ecstatic feeling. After a bit, she started to stick in two fingers and penetrate herself, working her wrist, and settled into a steady, deliberate pounding. It made a thudding sound as she hit the target directly, forcefully.
My dick was erect and throbbing, bulging out of my shorts. My heart was pounding, and my mouth was salivating. Emma looked up at me and smiled a dirty, slutty smile, then leaned back, continuing to fuck herself. She stopped for a second and grabbed a dildo out of her drawer. She turned over and I exhaled with pleasure. Her ass popped up in the air, perfectly sculpted, with her pink pussy ready for penetration.
She started to grab her ass cheeks and slap them. She took off her tank top and squeezed her tits. She sat on the dildo and began to ride it. Every so often she'd look over at me, enjoying that I was hooked. I went from peeking around the door frame to standing in the doorway. Then, I couldn't take it anymore and I walked in the room. I stood in the corner still, as if we had a dirty agreement to look but not touch.
I took off my shorts slowly in front of her as she was slipping up and down on the dildo. I wrapped my fingers around my dick and started to stroke myself. She was watching me and cooing. I spat on to my hand and looked at her, eliciting a grunt and more gyrating. I then turned to the so she could see how I thrust into my hand. She let out a breath, her mouth dropping open.
"Ohhhh yeahhh, look at those fucking hips," she gasped. "Take out the pocket pussy, please. Fuck the pocket pussy."
I grabbed it from the bathroom. I got a little closer to the bed and started to tease her, "Look at this, look!" as I inserted the head of my cock into the pocket pussy.
"Yesssss!" she moaned. I slipped deep into the pussy and started to pick up the pace of my thrusting. "Fuck it. Fuck it good baby," she whined. I started to pound the pussy and she picked up her pace riding the dildo. She was pushing out moans but her eyes were closed, enraptured.
She began to yelp as she came hard. She convulsed on the bed and I loved it. I didn't last much longer and I exploded into the pocket pussy. I collapsed beside the bed. After a few minutes, I felt her fingers tapping on my forearm and caressing me. I put my hand over hers, interlocking our fingers. I pulled myself up to her and we smiled drunkenly at each other.
"That was sooooo hot," she slurred. She pulled me up onto the bed with her. She got up and walked to the bathroom. The sunlight from the window made her body glisten.
She got a towel and brought it over. She sat on the bed next to me and started to kiss my belly. She licked up some of the cum, kissing it off me. She wiped up the rest softly and walked back to the bathroom. I looked at her perfect ass and got aroused again.
I sat up in bed and she walked to me, placing her hands on my head. I pressed my lips onto her midriff and started to kiss her. I brushed my hands along her body and grabbed her ass. My dick grew erect again. I started to bite her skin gently and brushed the back of my fingers over her clit lightly. We teased each other into further hot sex.