A Fantasy Girl Worth Breaking the Speed Limit For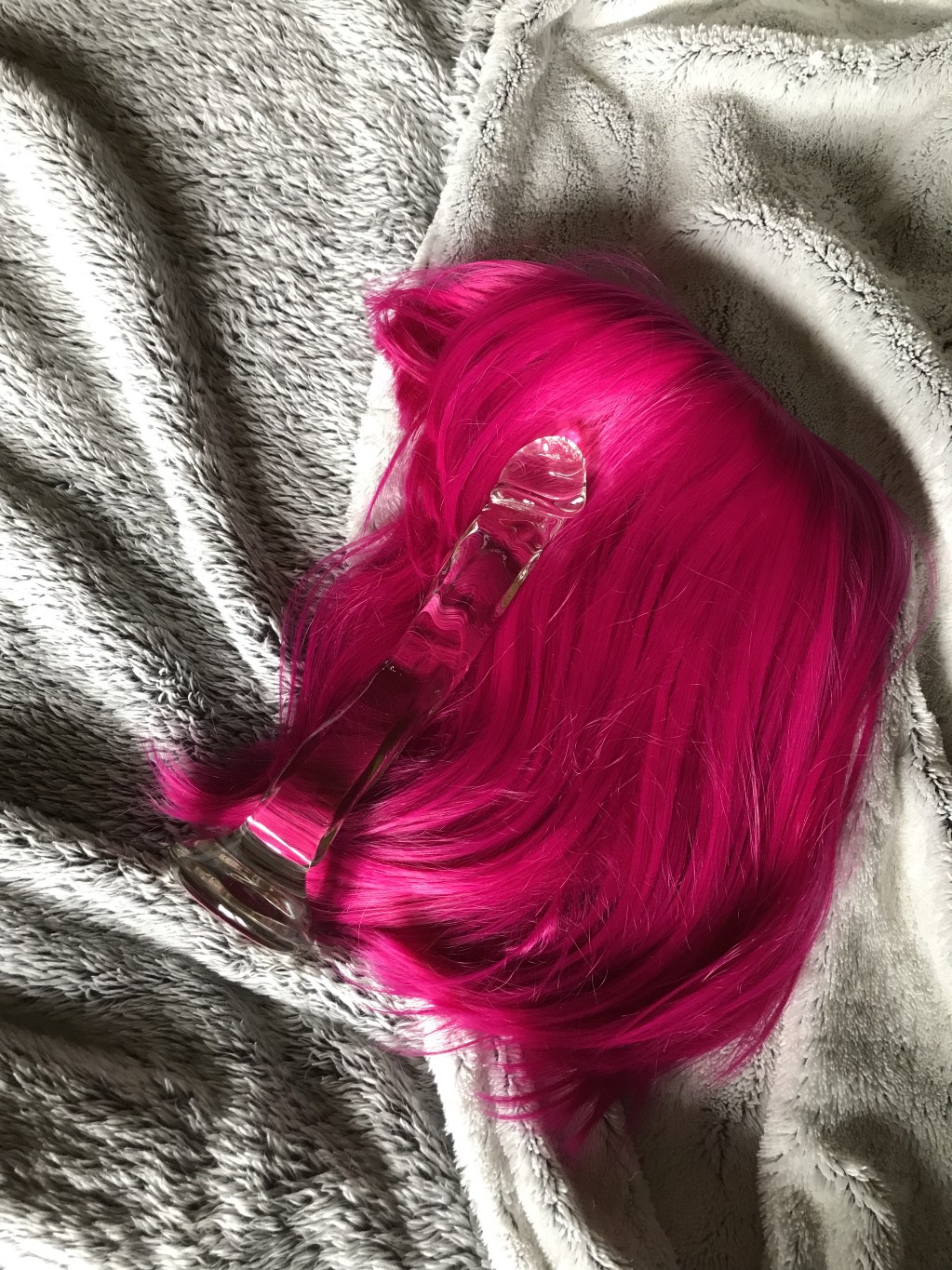 It was late afternoon when my phone rang. I wouldn't have answered it, but the ringtone told me it was James. I wiped some of the lube off my fingers, picked up the phone, and said, "Hi, baby!"
"Hi," said James. "I was able to get away early today, so I'm heading home."
"Great," I purred, "but you might want to hurry up. I've got Dr. Glass buried in my pussy right now, and I don't know how much longer I can last."
"Oh really," he replied, laughing but not sounding particularly surprised, "well then I guess I'd better hurry up. But do what you need to do. I'll catch up when I get there."
Late afternoon before everyone else gets home is sometimes an opportunity to have a little "me time," and an appointment with the doctor is a favorite part of that. Dr. Glass is a large and beautifully handcrafted anatomically correct dildo made out of glass that James had given to me as a gift several years ago. It's incredibly sexy looking and feels wonderful. It stimulates my G-spot just exactly right. We gave it that name, because if it were a guy, he'd be "the love doctor."
After we hung up I went back to fucking myself with the good doctor and rubbing my clit with the fingers of my other hand. I love the way that the shaft reaches all the way up to my cervix and how the glass spreads me open with every thrust. Dr. Glass is always a little bit cool when I first put him in, but after he's been in my hot-box for a while, he gets amazingly warm. I squirt pretty much every time that I use him.
The towel underneath me was already getting pretty damp even before the friction on my love button had me ready to spill the rest. I really wanted to wait for James to get there but my G-spot was throbbing and I was pretty close to orgasm already when he'd called. I knew I wouldn't last too much longer, so I didn't even try. James loves to hear me moan and watch as my whole body convulses in pleasure, and he loves to fuck me immediately afterwards. He just wasn't going to be able to get here in time today. A minute or so later the waves of pleasure began to hit. I pulled Dr. Glass out and felt the warm gush that followed now that my pussy had been unstoppered. The towel beneath me had gotten completely soaked.
By then I figured I had about five more minutes before James walked through the door so I quickly hatched a plan to welcome him home properly and make up for him missing his favorite show. A few days earlier James had bought me a magenta wig. I often have pink highlights in my blonde hair, but I've never had a full head of such a deep color before and he really wanted to see what that might be like. It had a bit of a hentai feel to it. I'd briefly tried it on, but he'd never really gotten the full effect before, so I slipped into a sexy negligee, put on some eyeliner and the black lipstick I've been wanting to try out. Then I carefully put on the wig, brushing it smooth with my fingers and straightening out the bangs. I'd no sooner finished than I heard the door open.
"I hauled ass to get here," James said as he came into the bedroom, "but I see I'm too late." Just then I came around the corner and went to kiss him hello. "Well, look at you," he said, smiling widely. "That pink hair looks so hot on you! I knew that it would." He kissed me hungrily while he began to take off his clothes. The black lipstick smeared all over his mouth and I laughingly rubbed it off while I took his cock into my hand.
"How about you put some of that black lipstick around my cock?" he said teasingly, as I bent down to put it into my mouth. I sucked it for a while, bent over like that, but it just wasn't the optimal angle, although he was hardly complaining. After a while James went over to the bed and stood up on it while I sat down, leaning back against the headboard. Now we were at the perfect angle for me to take his cock in deeply, and I slurped and licked it, alternately taking all of him in and sucking the head. I played with his balls with my hand while he groaned in pleasure. I loved looking up at him standing there above me, while his thick cock pulsed in and out of my mouth. I'm grateful to the man who introduced us to this position. It's crazy hot. I knew James would want to fuck me soon.
"Turn over," he told me, and I got on all fours so that he could fuck me from behind. The pink hair fell around my face so that I could barely see as my pussy took him all in, and he began to bang me forcefully. I drove my hips back to meet him, as his cock impaled me, again and again. With the pink wig on I felt almost incognito, at the very least not like my usual self. It was 3:45pm on a weekday afternoon and here I was dressed for a Saturday night at a sex club. It's not as if I'm normally sexually shy or demure, but the woman in the magenta wig and black lipstick was completely unleashed in pleasure and enjoying every minute with her afternoon hookup.
"You look so fucking hot with that pink hair," James said as he gave my ass a spank, and took a firm hold of my hips, plunging his cock even deeper into me. He was giving me long, hard strokes and his fingers pressed into my ass, grinding us together until he finally came deep inside me. We both collapsed on the bed.
"Thanks for being such a great fantasy girl," James said as we kissed. "That was certainly worth rushing home for!"