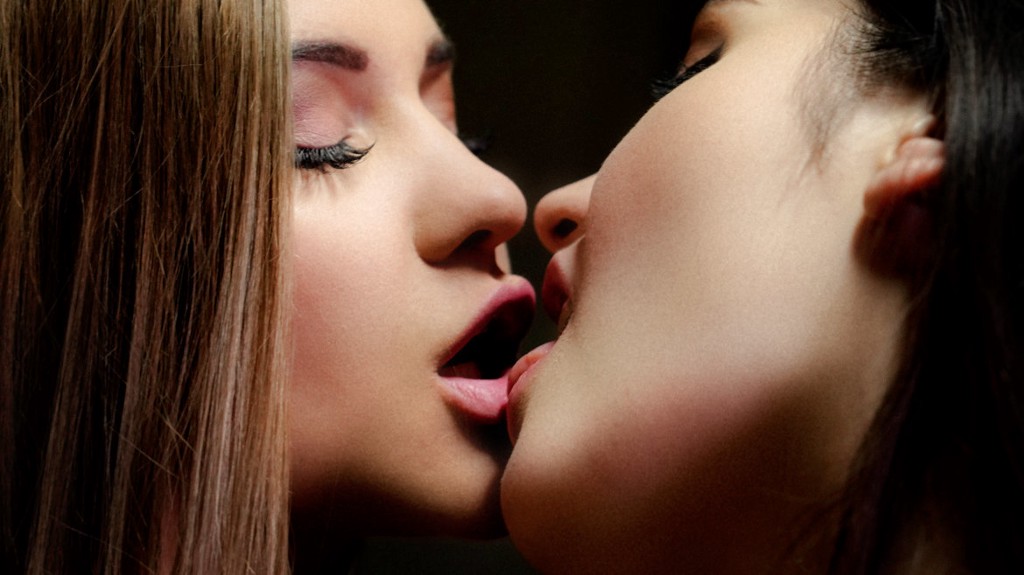 Not long ago, I got a DM from the lovely Sorcha Rowan. We decided to collaborate on a fantasy story together and things got a little heated.
It all started with a simple sultry compliment…
Kat: You have a very beautiful set of lips. (There. I'm breaking the ice.)
Sorcha: All the better to kiss you with my dead.
*dear. You also have a nice mouth.
Kat: Uh oh… what in the world are your fingers doing that you would misspell dear? Thank you! I moisturize.
Sorcha: I'm not one handed typing I promise! So your lips would be extra soft to kiss?
Kat: Yes they would. I've been told they feel amazing in other places as well. And that's a shame… what would it take to get you "one hand typing?"
Sorcha: Allowing me to pin you against a wall while I explore your mouth.
Kat: Go on…
What would you do to my mouth?
Sorcha: My tongue would explore its contours as one hand wraps around your throat. Slowly, my tongue would find its way between parted lips painted with moisture, slick and wanting. Our panted breaths messengers leading tongue to tongue and tooth to tooth.
Kat: If this is so, you would not have me pinned for long. I would make you chase my lips or hold my throat with both hands to keep me still. Your body has to press mine as firmly as possible. Your thighs crossed between to keep me in my place. Please? I want you to tell me more. I like where this is going.
Sorcha: I put both hands around your neck and press my thigh between your legs, using it to hike up your skirt. My teeth bite your bottom lip. My elbows press your shoulders to the wall. My tongue slides between your lips again, plunging in and out. My eyes are locked with yours.
Kat: My hips would squirm beneath you and slowly thrust on your thigh. I give in to your kiss and moan in your mouth as you devour my lips in splendid suctions.
Sorcha: I reach down with one hand and hike up your skirt further.
Then I press my fingers against each side of your neck, watching your eyes so I don't squeeze too hard.
Are you wearing panties?
Kat: Nope, none. I am already one handing lol
Sorcha: My bare leg sliding against your wet skin, pressing harder.
One hand moves from your neck to your breast.
Kat: I'm helpless…
Sorcha: My other hand moves from your neck to gather your wrists and pin them above your head. You're pinned by hands, breast, and molten pussy. I grind harder against you growling into your mouth.
Three hours later…
Kat: Mmm… my goodness. I'm such a cheap date lol I believe I passed out a little after I came.
Sorcha: I love helping pretty girls orgasm. But I didn't even get to go down on you.
Kat: Well, I'm certainly not stopping you. If you can make me cum like this just by kissing me against the wall… I can only imagine the damage done by your lips to my pussy.
Sorcha: I need some data about what your pussy looks like though.
Kat: [Picture Redacted]
Sorcha: Well that was certainly more than I expected or hoped for.
Kat: I figured it was easier than describing it.
Sorcha: I'd love to run my tongue up and down your slit like I was licking my favorite hard candy.
Kat: Yesss! I can feel you.
Sorcha: Long slow licks pushing harder and harder as I go. Sucking when I reach the top. Swirling around your clit.
Kat: My thighs would shake around your neck, approaching an immeasurable height…
Sorcha: I slide one long middle finger in and caress your G-spot lightly. To prolong you, I kiss the hollows of your thighs and lick the top of your cheeks. "You taste so delightful," I whisper against your flesh.
Kat: My goodness, you are a tease! I'd be dripping…possibly begging by then.
Sorcha: I like begging. I like begging a lot.
Kat: I'd ask in my most desperate voice for you to kiss my pussy again.
Saying please in a way that you can hear a magnitude of a life or death matter for me to cum.
Sorcha: I slide in a second finger, sooooo slowly and bite one of your outer lips. Tugging on it with my teeth. I want you wordless.
Kat: I would be. I would hold back my first instinct to scream. Then spread myself as wide as I can, silently praying for your lips to touch me.
Sorcha: I gradually speed my fingers up and put my lips to your clit sealing around it. I suck hard and then start pistoning my fingers in and out, adding a third if it will fit.
Kat: I'm wet enough for a third.
Sorcha: And I slide one finger through the wetness trickling down your crack to massage your rear entrance.
Kat: Oh yes!!! By then, I'd be gripping my thighs open for dear life, taking in every sensation.
Sorcha: I slowly press against the tight hole with my pinky.
Kat: Damn…
Sorcha: My hand is slapping your pussy as my fingers plunge in and out and I'm sucking your clit out as far as it will go. I want you to scream my name until you're hoarse.
Kat: Fuck! You made me cum so hard just now… Again!
Sorcha: For real?
Kat: Yes lol
Sorcha: I'm so glad. If that's the case, then clear your whole day if you ever want to read my stories. You won't be able to walk after.
Kat: We've been playing for a few hours now… and I am stuck in bed at the moment, thanks to you. I assume though, your panties are still on?
Sorcha: I'm at work. So yeah.
Kat: Oh lol So unfair… for both of us.
Sorcha: But I'm definitely feeling the effects. There's an extra swing in my step. Can I see more of you? Or is that greedy?
Kat: No, I don't mind.
[Picture Redacted]
I was just about to shower and remake this bed lol I've tangled my blanket 😂
Sorcha: Good God you're gorgeous. I'm glad I got you all tangled up.
Kat: Thank you 😘
Sorcha: Seeing you like that makes me want to wrap your hair around my hand and…Never mind.
Kat: So do you have a desk? Somewhere I could possibly crawl under on my knees and tease you?
Sorcha: I do indeed. How tall are you?
Kat: Not very. 5'3" maybe?
Sorcha: So you'd come up to just under my breasts. I could easily fit you between my legs.
Kat: Mmm… I would like that. With your hands wound around my hair, I hope?
Sorcha: Of course. They make wonderful handlebars.
Kat: Fuck me…
Sorcha: Tugging on them. Maybe pinning some under my thigh so you can't move away from my cunt.
Kat: I wouldn't dare…I'm not as bad a tease as you are.
Sorcha: Teasing leads to better pleasing.
Kat: Very true. I'm so wound up right now, I'd tongue fuck you right under the desk. I want you to suffocate me with your cunt. Until I can't breathe or speak. Just my lips suckling your clit in slow hard circles.
Sorcha: My long legs over either shoulder.
Kat: Yes please!
Sorcha: Having to keep quiet as you tongue me.
Kat: I can slurp silently.
Sorcha: Your eye spies a dildo in my purse. It's long and thick.
Kat: Indeed I do….I just have to keep my lips pressed tight to your pussy while I slowly ease it inside you. But you're gonna have to grip my hair tighter.
Sorcha: I do and my feet drum lightly against your ass.
Kat: Speaking of… my tongue would be drumming your clit as well. Just lightly at first, then gradually whirling it harder and faster. Your dildo slides deeper, catching your G-spot as I suck your clit firmly. I want your hips thrusting on my face until you cum.
Sorcha: Finally my body locks up, squeezing you between my thighs as I paint your lips and chin. I'm grunting quietly. And I'm in the bathroom right now. Touching myself.
Kat: Mmm… really now?
Sorcha: Really.
Kat: Imagine me there too…
Kneeling before you on the floor…
My tongue out as far as possible for you to slide your pussy on.
Sorcha: [Picture Redacted]
Kat: Goodness, you are wet as fuck!
Sorcha: You have that effect on me.
Kat: Very glad to hear it. I'd suck your wetness right off your fingers.
Sorcha: I taste so good!
Kat: I'd bury my face between your legs until my lips are soaked with your lovely juices.
Sorcha: It wouldn't take long.
Kat: As wet as you are…that would be the best and worst time to tease you. I'd kiss your pussy so softly until you came.
Sorcha: I'd be a keening drooling mess.
Kat: I'd slide the back of my tongue slowly up and down your swollen clit, then suck it softly until it swells. I want it hard as a pearl, gleaming and shining. Then, I'd twist my tongue back and forth rapidly on it until you explode in my mouth. Are you gonna cum for me, beautiful? Please….?
Sorcha: I'll be walking funny back to my desk.
Kat: Yes!!! Fuck… am I gonna make it to my own bathroom, I wonder? Good Lord! I stood up just now and my pussy is leaking…you are dangerous.
Sorcha: Well, feel free to spread the word about how gifted my fingers are.
Kat: Oh, I will.
Sorcha: And allow me to catch any of that in my mouth.
Kat: I am lying back down… not gonna make it to the shower.
Sorcha: No? More orgasms or rest?
Kat: Both, I'm sure.
Another few hours later…
Sorcha: Did I break you? Sorry. Not sorry.
Kat: I'm literally leaking. [Picture Redacted] Look what you did to my pussy…
Sorcha: Oh, so tender and juicy.
Kat: It's everywhere lol
Sorcha: Mmmmm, so thirsty.
Kat: I am. I taste so sweet today… mmm…
Sorcha: Can I see you lick your fingers clean?
Kat: Like this? 😁 [Picture Redacted]
Sorcha: *moans* Such a sweet mouth. Oh to fuck that mouth with my favorite strap on.
Kat: Mmm… I'd love that! When it's nice and wet, I want you to fuck me with it. Any way you like!
Sorcha: Do you like being fucked in the ass?
Kat: Yesss I love it!
Sorcha: I turn you over on your stomach and pull your hips up. I run my tongue from your clit up to the small of your back, over and over. While I lube up my strap on. Fuck…
Kat: The anticipation is driving me crazy.
Sorcha: I hook my fingers into your pussy up against your back wall. I fuck you until you beg me to get in your tight ass.
Kat: Well I am. Please put it in my ass. I'll bend back as far as I can to take it.
Sorcha: I put the head of it up against your pucker. I rotate my hips slowly, barely pushing it in and pulling it out.
Kat: Omg you're killing me.
Sorcha: It gradually eases you open. Let me know if it's too much.
Kat: Ahh… not too deep please. Just be gentle.
Sorcha: I ease in the first half an inch and let it rest there as I stroke your labia. Then I ease it out and back in just a little deeper.
Kat: Yes baby, just like that.
Sorcha: I move my hand down further rubbing either side of your clit.
Kat: My wetness leaks through your fingers.
Sorcha: I ease in a little deeper. My other hand grabs your long, lustrous hair.
Kat: I gasp and push my ass back firmly to your hips.
Sorcha: I pull your hair and keep stroking either side of your clit letting you impale yourself at your own pace.
Kat: I get it as deep as I can and rock back slowly. My pussy quivers on your fingers. As I get close to bursting, I lean forward and beg you to fuck me harder.
Sorcha: I try and get to your G-spot as I rock my hips against you. I let your hair fall away and slap your ass lightly, testing the waters.
Kat: I ease my fingers inside my pussy, along with yours… I want you to spank me more. Until my cheeks glow red.
Sorcha: I forehand and backhand each cheek. Harder as I pick up my pace.
Kat: Yes, please! Fuck… you're gonna make me cum again. Omg
Sorcha: Pumping and slapping. Pumping and slapping. Then I scratch your reddened skin. Are you my little slut?
Kat: Yes I am!
Sorcha: Come for me.
Kat: Yes Master… Jesus… I think I just peed a little lol
Later…
Kat: You have quite an effect on me.
Sorcha: Good!
Kat: So, are you finally off work?
Sorcha: Yes! I'm home.
Kat: Oh ok cool! I'm happy to say, I was off today. You would've ruined all my plans. Would it be ok with you if I tweeted a little something? Or would you prefer I was discreet?
Sorcha: Tweet away. Fuck!
Kat: Fuck is right… damn. What are you doing to me?
Sorcha: My fuck was "fuck she's gorgeous — how did I get so fortunate to have this beauty in my DMs?"
Kat: Mmm… thank you!
Sorcha: Are you still wet?
Kat: Yes… very much! I had to step out a moment and grab a beer. I look crazy as fuck right now.
Sorcha: How so?
Kat: Well, I'm just in the corner. Not drinking the beer I bought… in a ragged hoody and house shoes. My bartender is looking at me like she knows I just came in my pants.
Sorcha: Literally you just came?
Kat: Mayyyybe lol
Sorcha: *blows in your ear* Licks your earlobe while slipping a hand between your thighs. Pressing into the seam at your crotch. Rubbing where I know your clit is. Nibbling at that cord of muscle under and behind your ear.
Kat: I'm putting my purse on my lap and playing with my pussy underneath. Jesus…
Sorcha: Mmmmmm… I crawl under the table and push my nose between your legs. Massaging your thighs. I can smell you.
Kat: I am spread out wide… pulling your face closer. I put my fingers in your mouth… would you suck them for me?
Sorcha: I treat each one like a mini cock. I run one hand under your hoodie. And fondle your breasts.
Kat: Damn… I'm moaning. I think I'm gonna need to go home.
Sorcha: Pulling two fingers in my mouth. I don't want to spoil your evening.
Kat: I'm taking your ass to this bathroom lol you're not. It's a sausage fest and bad karaoke night. Fuck fuck fuck…
Sorcha: Now three fingers my tongue swirling between them. Deep throating your fingers.
Kat: Yes! I am getting even wetter feeling your tongue on my fingers. Come up here and kiss me. Pin me up against this wall. Please?
Sorcha: I crawl up your body and straddle your hips. Taking your breath. Kissing you hard!
Kat: I'm gripping the hair above your nape…
Sorcha: I grab your hair with my other hand, controlling your face. Biting and sucking your tongue.
Kat: I have no control left. I give in to your lips and surrender.
Sorcha: I press against your arteries.
Kat: I'm gripping your ass, grinding my pussy on yours as you straddle me closer.
Sorcha: I pull my face away. "Whose mouth is this?" I thumb your lips…
Kat: It's yours baby.
Sorcha: Damn right. I kiss you again like I'm starving.
Kat: You have me trapped, whimpering helplessly in your mouth.
I feel your luscious breasts squashing mine.
Sorcha: I lift up your hoodie with one hand and pull down your bra. I hear stitches pop…
Kat: Mmm… are you exposing me right here? In front of all these people?
Sorcha: I am. Kneading your tits My body blocking you from most onlookers.
Kat: Jesus…
Sorcha: Tweaking your nipple.
Kat: I have no composure left. I let you rip off my clothes right here in the dark corner. My breasts out for you to play with.
Sorcha: I pull your hoodie up far enough so I can lean down and take your nipple between my teeth. Warm flesh in a hot mouth.
Kat: I am melting, feeling your teeth graze my nipple.
Sorcha: A crowd is gathering. They're cheering us on. I suck your nipple and most of the flesh around it into my mouth. Still pulling your hair.
Kat: I take your hand and push it beneath the seam of my pants. Can you feel how wet you've made me?
Sorcha: Yes! I hiss around your nipple… I unsnap your jeans. Shall we give them a show?
Kat: Yessss…
Sorcha: I slide off you, push the table back, and tug down your jeans. The crowd goes silent. A woman somewhere whimpers.
Kat: Shall we bring her closer? She's right behind the crowd, watching us. She comes behind you and pins you between us. Shy at first… but she smiles as I pull her closer.
Sorcha: I bury my face between your thighs.
Kat: And you lick me softly while this horny girl behind you rams her tongue down my throat.
Sorcha: I massage your ass cheeks with my thumbs while holding your thighs open. Some burly guy pulls down my jeans and soaked panties and pushes his thick fingers into me. I whimper into your pussy.
Kat: Mmm… this is getting even more interesting. I rock my hips into your mouth, feeling your tongue slide inside me.
Sorcha: The woman stands in the booth and raises her skirt, offering her pussy to you. The man pulls out his cock and rolls a condom onto it.
Kat: I softly kiss the girl's pussy, my hands out over the bar. My legs flexing up and down as I eat her harder. My pussy is begging to cum.
Sorcha: I suck hard on your clit as he pushes into me. My fingers fuck you as he fucks me. The woman grabs your hair and fucks your face.
Kat: My pussy splashes on your fingers, feeling your body pushed back and forth from getting fucked from behind. I ease my fingers inside the girl on the bar. I suck her pussy hard, flicking and whirling my tongue on her clit until she cums on my lips and fingers. Then, I turn around and kiss you…With the same hot wet fingers, I plunge them into you as you're getting fucked. And pull your face close as I suck your tongue.
Sorcha: I come screaming and the guy behind me explodes, spanking my ass.
Fuck
Fuuuuuuuuuuuuuuuuuuuuuuck
[END]
For more of Sorcha's sexy work, please check out her wordpress at https://sorcharowanauthor.wordpress.com