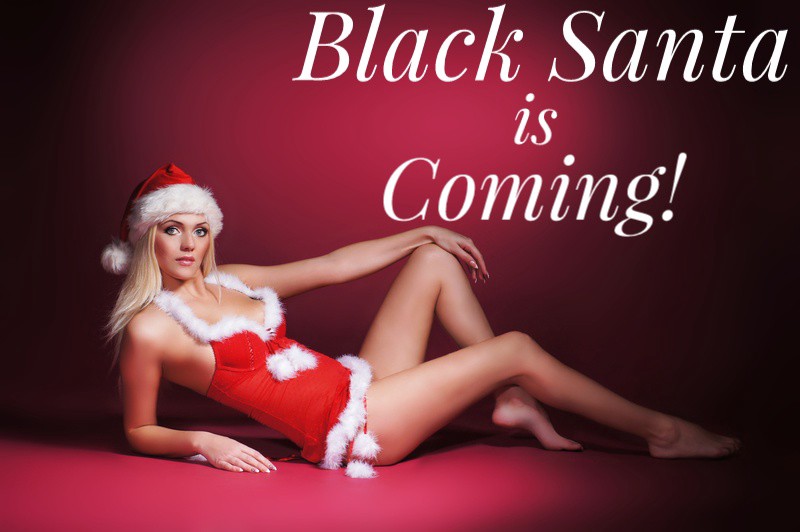 It was the night before Christmas and I was feeling naughty and horny at the same time. We sat on the floor beside the glowing Christmas tree, my husband and I, and we kissed and exchanged gifts. A Tony Bennett CD was playing on the stereo. Outside our driveway and much of the neighborhood were covered in snow and holiday festivity.
My gift to Andy had come in a small package compared to his which came in a bigger box; I couldn't help speculating what was inside, and I was dying to find out.
"You go ahead and open yours first," I said to him.
He tore through the wrapping but stopped to read what was on the box. He had this peculiar look on his face that went from mild curiosity to overblown surprise as he looked up at me.
"My God, Lauren. You shouldn't have."
"But I did, darling," I laughed, touched by the happiness I saw reflected in his eyes. For a moment my husband looked like a kid instead of the 39-year-old I've always loved. We have been married for going on six years and every year of our marriage has been a blessing. With such blessings comes some kinky forms of excitement. The sort we seldom have enough time to enjoy, what with work and so on, but we strive to make time for behind closed doors.
Andy ripped the seal off the box then opened the lid to take out the stainless steel cock cage chastity device packaged inside; it came with two sets of keys. Andy was agog behind his glasses. He blushed as he held the device before his face as if it were an Olympic gold medal.
"I've always wanted one of these," he said. "I'm surprised you remembered. We haven't talked about this since — "
"Last June," I said. "Yes, honey. I remember, and I've wanted to surprise you since. Tonight seems like the perfect night."
"You really knocked out my breath with this, darling." He leaned towards me and we kissed. "You really are my best friend ever."
"Aw, thank you, babe. Now, how about I see what you bought me," I gestured at his gift box.
"Actually I bought you two things," he said, pushing his glasses up his nose. "This is the first; the second one is on its way here. But go ahead, open it."
I did as he wanted and tore off the wrapping to find what was inside. It was a pink box with a card taped on it. I opened the card and it simply said: HAPPY BIRTHDAY, DARLING! in Andy's familiar cursive writing.
"Happy birthday, babe," Andy kissed me again.
It was my turn to blush. I turned 36 today, and it amazed me that between setting up the Christmas tree and decorating the house, I'd been so absent-minded and forgetful about a most important day in my life. Lucky for me Andy had remembered.
"Oh, my God, darling . . . I don't know what to say."
"Well, don't stop. Open the box and see what's inside."
I opened the box and uttered a gasp. Inside was snuggled a red Christmas babydoll chemise; it came with a set of red panties too. I unfolded it and held it in front of my face like I was inspecting a treasure. I appraised the outfit in awe — I couldn't have wanted anything sexier for Christmas.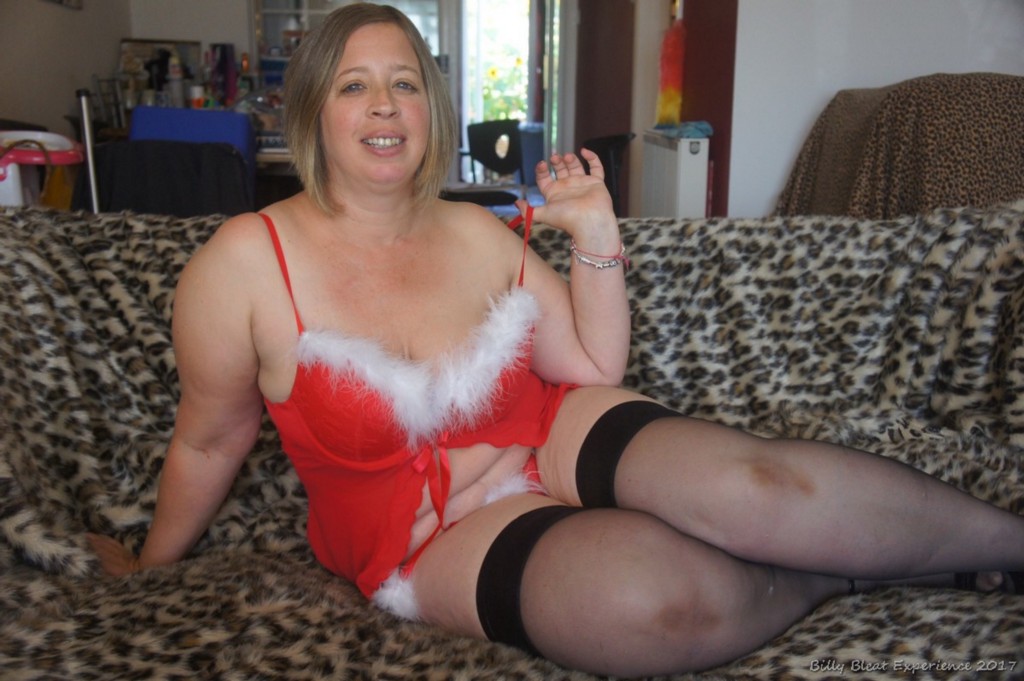 "Go ahead and try it on," Andy said.
I stood up and got out of my shorts and tank top and started slipping on the red panties and babydoll. I tied the top but left the rest open to showcase the bottom of my tits and my abdomen.
"Hold on," Andy rose to his feet. "Something's missing. Just a sec."
He rushed upstairs and came back a minute later with a red stocking cap which he gave me to wear. I laughed but did as he wanted.
"What do you think, honey?" I asked in a coquettish voice. "Don't I look sexy enough?"
Andy came behind me and wrapped me in his arms; his hard-on pressed against my butt. "You're more than sexy, darling. You're the most beautiful thing I've ever seen. Merry Christmas, darling."
He kissed my neck and nibbled on my earlobe, giving me the giggles. I pressed my back against him, loving the feel of his erection.
I reached back and dug into his shorts and grasped his cock.
He gasped into my ear and caressed my tits.
My pussy was soaking wet — I wanted sex.
"Also want to let you know that Black Santa is coming tonight, babe," he said.
I turned around to face him. "Really? When? How did you set it up?"
"Wasn't easy, but I finally got to track down the outfit sponsoring them. I went over there yesterday and placed a booking."
"How much?"
"Two hundred. The rate goes higher when the holiday season gets near. Had I waited until tomorrow, it would have been three."
"My God, Andy. That's expensive."
"It's okay. Anything for my darling. He should be here any minute — I've left the front door open for whenever he shows. Do you think we can have a little fun ourselves till he shows up?"
"Are you thinking what I think you're thinking, darling?"
"Yes, I'm definitely thinking that." His penis nudged against my crotch. "Let's go upstairs and get the toy."
We held hands and went upstairs to the bedroom.
The toy Andy referred to was a six-inch dildo strap-on, a gift he had purchased a year ago to further spice up our sex life. This was around the time he suggested the idea of me becoming a hotwife. Back then, I knew zero about the word 'cuckold', or what it stood for. Andy spent days explaining everything to me. Then he hit me with the bombshell that he was actually bisexual. He had been bisexual before we even got married, but was too afraid to share that secret with me until now. For some reason I stuck with him and we've explored the lifestyle together. He loves serving my string of lovers whenever they come to fuck me, as well as submitting to them however they want for their pleasure.
I got the strap-on dildo from the closet and wore it around my waist, then took out a bottle of lube. Andy had discarded his shorts and was on all fours on the bed waiting on me.
I poured lube over Andy's buttocks and rubbed it all over. He had taught me how to go about it; the student had since become a pro. He winced as I deliberately thrust my finger into his rectum, followed by another two. I probed his asshole just to loosen him up, after which I rubbed lube on the bulbous tip of my purple-colored dildo, then gripped the shaft and eased the tip into my husband's rectum.
Andy gripped the bedsheets and groaned as I thrust deep into him. His body shook as I dildo-fucked his ass, ramming him hard. Andy loved it this way. Often we drove to discreet adult shops located in the city outskirts and there I would have him blow other men and watch him get fucked by them. Always it stunned me how aroused I would become just watching other men screw my husband's ass.
I was grunting hard and until then I had no idea we weren't alone anymore. Someone had paid us a visit . . . and he hadn't bothered coming down the chimney.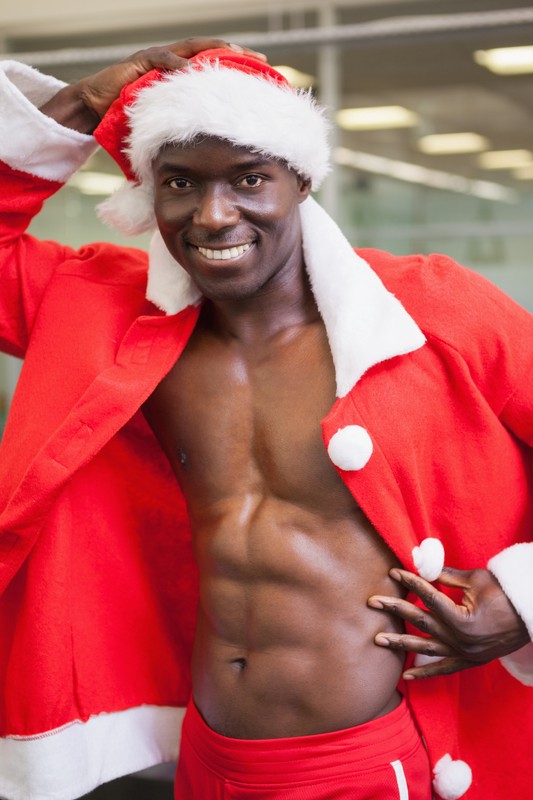 I heard a noise and turned my head and nearly jumped when I saw a black man standing there at the doorway dressed in Santa Claus garb. He wore a red jacket and red baggy pants and white socks — he must have left his boots downstairs, hence why I never heard him.
"Excuse me?" I asked.
"Good evening," the man in the Santa outfit stepped further into the room. "I'm your requested Black Santa."
"Glad you made it over, Santa," said Andy with my dildo still stuck in his ass. "Thought you weren't going to make it."
"I had a couple stops on the way first. But here I am."
He took off his jacket then said to me: "Keep doing what you're doing, Miss. I'll be done here in a second."
I resumed shoving my dildo into Andy and listened to him groan in response. I stilled when I felt a pair of hands come from behind to grasp my tits. It was Black Santa. He had relieved himself of his jacket and baggy pants but retained his socks; his cock squirted pre-cum on my butt, further exciting me. He bent me over Andy's backside and pulled my panties down my thighs to my ankles. He spread my ass cheeks apart and I gasped when I felt his tongue slather up my crack. He lolled his lips on my vulva and licked his way up. I could barely contain myself. My body broke into a tremor as he ate my pussy with relish.
He came to his feet, still pressing me down on top my husband's back. I felt his cock rub against my inner thigh. His hand worked his cock between my buttocks, squeezing its way past my ass cheeks to get at my vulva. I held my breath for a second and let it out in a deep exhale as he penetrated my pussy and slipped inside me.
The three of us became glued to each other in a weird threesome action. I had my dildo stuck inside my husband's rectum, and I had Black Santa's shaft stretching me from behind. We found ourselves a rhythm and we grooved along. I jerked my hips to thrust my dildo into Andy, and simultaneously thrust backward to get more of Black Santa's cock in me. In no time I, too, was moaning along with my husband.
Black Santa pulled out and then got me to get on the bed and make like Andy. I took off my lingerie first, not wanting to ruin it, before getting on the bed on my elbows and knees. Black Santa came forward and plugged my pussy. His cock stretched me out big time — I gasped so loud, I feared afterwards the neighbours might have heard. He grabbed my hips and fucked me hard.
He smacked my butt.
He yanked at my hair.
He pounded me hard till I begged him to stop.
Eventually he did stop. He pulled out of me and I fell on my face, gasping out of breath, and then he moved over to Andy and got to fucking him too. Andy groaned louder than I expected. I kissed his face and slapped him and told him to quit being a bitch and take that black dick.
Black Santa came back to me and I was happy he did — my pussy was getting lonesome already. I spread my legs for him and he propped my feet on his shoulders and thrust into me hard. I remember screaming and that was it. I must have passed out from pleasure as he fucked me. When I came to, he was still fucking me, while Andy played with my tits.
We got on our knees and he went back and forth shoving his cock down our throats, wanting to see which of us was going to make him cum first. As much as I love sucking cocks, I'm no match for Andy's proficiency. He's had experience of sucking different types of cocks since way before I lost my virginity. Black Santa exploded in his mouth. I leaned over and shared some of his cum with Andy. When done, we fell on the bed kissing and tasting cum out of each other's mouth.
Christmas has never been so much fun as this.
To all my esteemed followers, thank you for sticking with me through the year. I look forward to seeing you in 2018. Until then, stay in good health, love, and have a pleasant holiday!