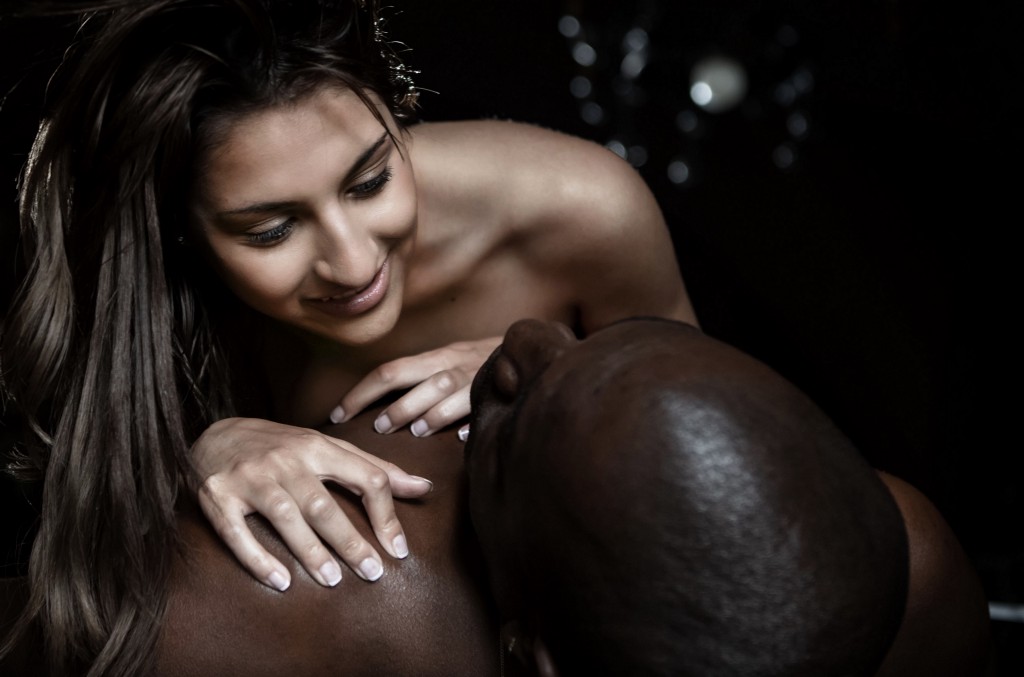 Agnes turned up outside the Ethiopian restaurant in Brixton Market Village, wearing one of the shortest and skimpiest summer dresses I'd ever seen. She also had one of the perkiest arses I'd ever laid eyes on in my life. She was Polish, visiting London with her friend Anna.
My friend Keith and a bunch of drummers were jamming outside Habesha, a new vegan eatery that had just opened in Brixton Village, when the two Polish women made their presence known. And known certainly they made their presence because almost every single man's head span in their direction. I had just finished dancing my head off when I noticed Agnes checking me out. I returned the favour and from that moment we both knew that it was game on.
Keith and his mates turned the volume up a couple of notches. The conga drums were going crazy. Passersby stopped and joined us on the improvised dance floor, right there outside the restaurant. I grabbed Agnes by the waist and pulled her into the circle. She immediately brought my body closer to hers. I stuck my almost bare right leg — I was wearing very short denim cutoffs — in between her thighs. She was moist and I don't think it was just from the temperature. Together we made up our own dance routine. She felt light, swaying her body to and fro with feline movements. I caught a glimpse of her friend Anna. She was dancing but I could see a mix of lust, jealousy and desire in her eyes.
Agnes and I started drifting slowly and imperceptibly from the crowd. The drums carried on. More people joined in.
"Are you hungry?" I asked her. Our faces were ever so close. I knew that if I reached out and tried to kiss her she would respond in the same way. But I also wanted to make this moment last a bit longer. It was all part of the game.
"Yes, I'm starving," she said. She had a beautiful accent, almost a singsong pronunciation. In my denim shorts my cock stiffened. She felt the bulge and held me closer. I could smell and feel her sweaty arms, thighs and neck. Gently, I breathed down her right ear.
"C'mon," I replied. I led her inside Habesha. We had a gorgeous, savoury vegan stew on a bed of injera, the bread used to scoop up the food. In our case, our injera was the preamble to our first kiss.
Agnes asked me what the bread was for and I said, "To feed your lover, or the person you're taking home tonight." This athletically built, beautiful Polish woman, wiped part of her food on the injera and fed it to me. I made a show of licking the food being offered, moving my tongue around not only the bread but also her fingers. Almost in unison we both moved forward and kissed passionately.
We left the restaurant fully satisfied and looking forward to more enjoyment. Agnes signaled to Anna that she was heading back to their place. She was staying in a flat on Gresham Road, near Brixton police station. Anna's look was a mix of disappointment and frustration. Although equally beautiful as Agnes she had only attracted a couple of douchebags. Little did I know that there was a surprise on the cards.
We had barely gone into her flat when Agnes's lips locked onto mine. There was such ferocity in this Polish woman. With foreplay left behind at the restaurant and on our way to her place, we moved onto the next stage quickly. She threw me onto the floor of her lounge, rolled down my denim cutoffs and freed up my cock.
My dick was as hard as it had ever been. Agnes hoisted her summer dress over her head. She was gorgeous. Her pale, milk-white skin, in beautiful contrast to my dark skin, glowed in the semi-lit corridor.
"Wait," she said. She disappeared into one of the rooms at the end of the hall, coming back almost immediately with a condom in her hand. She slid it down my cock and pushing aside her minuscule G-string, stuck my shaft inside. I thought she was only going to dip the tip of my fat tool inside her, but no, she took the whole dick in one go and started grinding.
Her eyes were closed, her head up, her grip firm. I could feel her beginning to come. In her Polish-accented English, she cried out, "Don't stop, keep fucking me, don't stop, baby, don't fucking stop." She looked magnificent, on top of me, in charge, riding my thick, hard, black cock.
Agnes came within minutes. Both her hands pressed down firmly onto my chest as she convulsed wildly. She let out a loud scream. I, on the other hand, was just getting warmed up. I lifted her up and carried her to the same room she'd come out of a few minutes before. With my cock inside her all along I laid her down on her bed and got on top. I plunged my rock-hard shaft all the way in. Another sigh, followed by another scream. I had her! I contracted my stomach muscles and began pushing down. Agnes, under me, welcomed every thrust. Less than a minute later, she let out another wild scream.
I realised that I had carried with me the rhythm of the drums from Brixton Village to Agnes's place. Her pussy became an instrument for my dick to play on. Agnes also caught on, grabbed both her legs and pulled them back even more. My thrusts became more percussive. At one point, I plunged my dick as far as it could go and moved my pelvis up and down. Orgasm number four happened within seconds.
Agnes was in her own little big-O-after-O-rich world, so she didn't hear the door opening. I did. And I knew it could only be one person. Agnes was facing me, eyes semi-closed, exhausted from her latest orgasm. I could feel mine coming, but I wanted to do it in full view of Anna.
I spotted Anna's shadow before she reached the bedroom. I turned my head around and, shamelessly, stared at her as she played with herself outside. Under other circumstances I would have motioned her to come inside, but not knowing the type of friendship these two women had, I did not want to risk anything. Besides, I could feel my cock beginning to tighten and ready to shoot my hot load. Agnes bit me on my lips. I came almost instantly. My body jerked and shook. Agnes brought both her legs down and squeezed me tight in between her thighs. Her thin lips locked onto the thickness of mine. Our tongues touched each other's tip.
I raised my head. To my surprise, Anna was already inside Agnes' bedroom, completely naked. Despite coming heavily, my dick was still very hard. I knew that the night was just beginning.