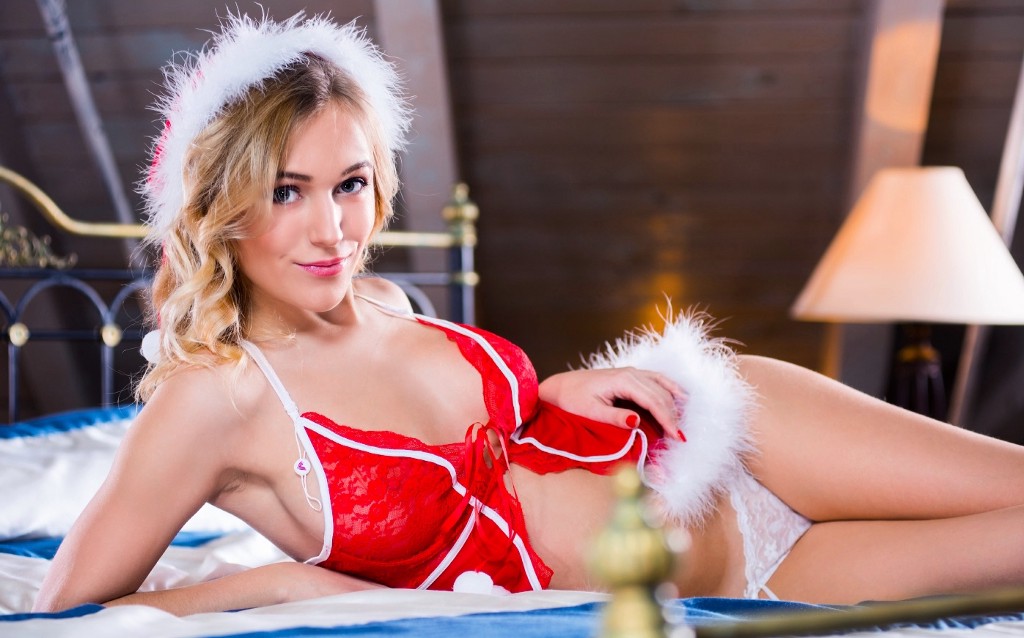 I was the only white guy on the basketball team at a small midwestern college that must remain nameless. In my senior year, we started doing really well, going undefeated for our first twelve games. And it looked like we had a real chance of making it to March Madness for the first time in our school's history. I guess our coach wanted to reward and inspire us, so he told the top ten players to meet him at a hotel downtown for a Christmas surprise.
"Guys, I just want to emphasize, no cameras, and what happens tonight stays between us," he said. "I just want you guys to know how much I love you. And, have fun. I'm leaving. Merry Christmas."
He walked out and we were confused. In a second, this girl walked in. I guess she was a stripper or a porn star or something. Anyway, she was gorgeous. She was wearing thigh boots and sexy red lingerie, that really showed off her big breasts. And on her head she had a Santa hat.
"Hi, I'm Heather," she said. "And you must be the lucky team I'm going to fuck tonight."
We all cheered.
The whole team? I wondered. Jeez. That would be kinda interesting. Our captain, LeDerrick (obviously I've changed all names) went up to her and said, "I'm LeDerrick. Baby, don't bother with the rest of these chumps, I'm all you need. Come here, feel that."
He put her hand on his crotch. We all knew he had a big shlong, from the showers. In fact, as the only white guy, I probably had the smallest dick on the team. But I was one of the best three point shooters, so there's that.
"Don't bother with Kevin," shouted Jaysohn, looking at me. "You won't feel that tiny thing."
"Oh really!" I said, gamely. "You mighta seen me in the shower, Jaysohn, but when it gets hard, it's a lot bigger, trust me."
They all hooted and hollered.
"Well, let's see," said the girl, Heather. She came over and she pulled my pants down and started rubbing my cock through my briefs. The guys were all screaming. I was a little nervous, but I managed to get hard. Her hand felt good.
"Not bad!" said Heather, impressed. "I might want to put my mouth on that."
She pulled down my briefs and started blowing me.
"Oh, right," joked Jaysohn, coming over. "Of course the white boy gets sucked first. What about me, girl?"
He put his dick in there next to mine and soon she was alternating between my dick and his dick. Meanwhile, the other guys came up behind her and started grabbing at her clothes. Before long she was naked except for the Santa hat, and everybody was touching her as she sucked me and Jaysahn off.
"As Captain," said LeDerrick, "It is my right to first fuck, you guys do realize that?"
Everybody yelled and laughed at him, but Heather liked the idea.
"OK, Captain, let's get it going."
She lay down on the couch and LeDerrick pulled his pants down and started fucking her.
"Yes, yes yes," we all chanted, in rhythm as he pounded her. Our rebounding forward Les went over to the couch and put his dick in her mouth as LeDerrick fucked her. Then somehow little Danny, our point guard, squirmed underneath her and tried to get his dick into her ass.
"Come on boys, help him out down there," said Heather. "He can't find his way in the dark."
"No!" we all screamed. But Jaysohn didn't mind. "I'll help him out," he said, and he got down there underneath Heather's butt as LeDerrick was fucking her and he guided Danny's cock into her ass.
"Oh yeah, oh yeah!" we all shouted. "Jaysohn how'd his cock feel? Did it turn you on."
"Yeah I want him to fuck my ass next," he joked.
Another guy, Marshall, started putting his dick between Heather's boobs and tit fucking her. She was really enjoying this, by the look of it. As LeDerrick pulled out and came all over Marshall's naked back, we all started screaming again.
"Nooooooo! Marshall, take a shower, quick."
It was my turn to fuck her, I decided. I took LeDerrick's place, and I put my dick in her pussy and started fucking as hard as I could. Meanwhile, Danny was cumming in her ass, and I think that really turned her on, or maybe she liked the way I was fucking her, because she started screaming and saying she was cumming.
"Yes, yes, yes!"
When she pulled her mouth off his dick, Les started cumming all over her face, to another round of hooting and hollering from the guys. Seeing her with her face all covered with cum really got me excited, and I guess I ejaculated about three minutes into the whole affair, which was embarrassing. I came on her tits and then MichaelJohn, our back up center, a big guy of six foot nine inches, took my place and put his long dick inside her. She felt the difference right away between his dick and mine.
"Holy shit," she said. "Holy shit!"
Now a couple other guys were putting their dicks in her mouth. I stood up there near where she was blowing them and I started jerking off. I wanted to cum again. As those two guys getting the blowjobs eventually came, I was able to bring myself to another orgasm and I added my sperm to the mix that was now drenching her face.
"Oh yeah, lick it up," we all chanted.
"You guys are so sexy," she said, through a mouthful of sperm. "I want to make sure everybody comes either in me or on me. Who hasn't cum yet?"
"I haven't," said a voice.
We looked over at Edwin, our equipment manager. I didn't even notice he was there. Who invited him? He must have heard about it from the coach and decided to crash the party.
"Edwin!" we all laughed. "Get in here buddy."
Edwin was a little slow but super sweet. I don't think he had ever had a girlfriend. We all got Heather ready for him, by cleaning off the cum with towels. Edwin came over and she started kissing him and really treating him well. Soon she was on top of his dick fucking him cowgirl style so we could all enjoy the sight. It was a beautiful thing to see her taking Edwin's virginity like that. He lasted an even shorter time than me. About two minutes of her sexy bod jumping on that cock and he was cumming in her.
Soon she cleaned herself up in the bathroom and left, but not until she gave us all a nice goodnight smooch. She was the sexiest sweetest slut any of us had ever seen. We were all in love.
"Damn," we said, looking at each other in disbelief after she left. "Did that just happen?"
"Yeah, I think so," joked Donny, holding up a pillow from the couch that was covered in our sperm.
We all high fived and drank a few beers and told each other how much we loved each other and our coach and the team, and how we were going to make it all the way to the final four and be the miracle team and all that.
A few weeks later we lost LeDerrick to an ankle injury and the rest of our season went down the toilet. We never made it to the March Madness tournament. But for a while there, we were contenders. We were kings.
Every Christmas I think back on those glory days and I'm grateful for all that craziness. And I'm grateful to our Coach for everything he did for us. But most of all, I'm grateful to Heather.
She really had the generous spirit of Christmas in all her body and her soul.
May you have a very Merry Christmas.
Read full length Colt Stevens here.