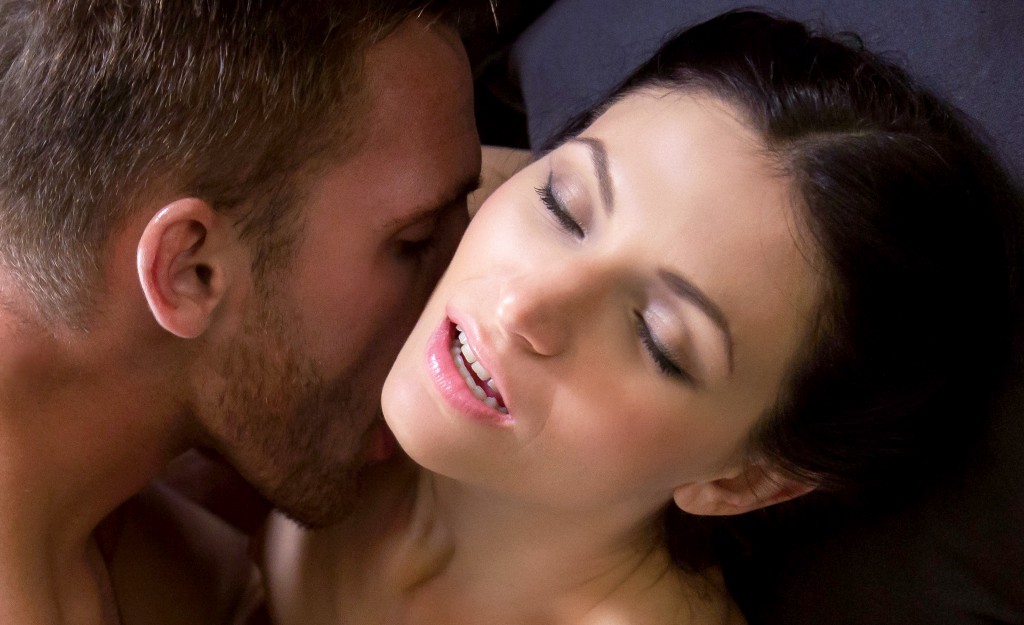 I can't take it anymore. I need to taste him. To know how his mouth feels against mine. To taste his salty breath with my tongue. Smell his testosterone and manliness. Look into those eyes up close, lips locked together, consuming each other.
He's been teasing me for well over a year now. Showing me small glimpses of interest. The occasional lustful glance here, and the odd pervy comment there. I think he wants me but he's so guarded and stubborn he will never ever admit it or do anything about it. The fact that we're both married might also play a small part in our predicament. Loyalty and guilt. A longing to be a good human and to live an honest life. But the deep desire to fuck each other's brains out. And the knowledge that maybe we like each other too. The danger of crossing the line. Will it just be sex? Could we keep it "no strings attached"? Us humans are complicated beasts.
But I want him. I want him like I've never wanted anyone or anything in my life before. And I'm not sure I can dance around him and pretend I'm okay with how things are anymore. I need to take action.
I send him a message and await his reply. There aren't any words in this message. Just a picture of a woman lying on a bed wearing a black lace bodysuit. Her nipples poke out of the flimsy material and her hand sits suggestively under the material between her thighs. The very thighs that straddle her wet, pulsating clit. Her eyes are full of desire. They're my eyes and they're telling him everything he needs to know. That I need him inside me. That I need him to hurt me then caress me and look into my eyes and make me feel like the woman I want to be. The whore that I know I am.
A whole hour passes and nothing. No reply. I've blown it. I put my jeans and hoodie back on and head down to the kitchen to prepare some lunch. I'm devastated. I'd been so worked up. So horny. So ready for him to reply instantly with a picture of his hard cock and a message saying he would love to ride me into a frenzy. But nothing. Not even an acknowledgement that I exist. That I've taken the time to send him such an intimate picture. I'm nobody to him.
The doorbell goes just as I'm about to take a bite out of my salad sandwich. I'm starving and the unexpected interruption pisses me off. I briskly walk along the hall and abruptly open the door to be confronted by a man. The man is him. He is here.
He doesn't speak. He doesn't smile. He pushes me to the side and walks past me. I close the door quickly and turn to see him standing there, in my hallway, with his hard hungry cock in his hand. He looks ravenous. Like a wild animal. I am instantly wet, and without warning he steps forward, grabs my hair, pulls my head back and thrusts his face into mine. "Suck him."
I instantly obey him and drop to my knees. He's leaking and I lick the salty liquid from his helmet and groan at the taste. He is delicious. I open my mouth and consume all of him. Every inch of his hard on is in my mouth — the tip hits the back of my throat and I gag. He's not massive but it's a good size. And he has a nice fat helmet which my mouth instantly tightens around with every suck.
We still haven't spoken and I can tell by his breathing and the way his hands are tangled in my hair, thrusting me deeper into his crotch, that he's enjoying it. My head is spinning. I'm sucking his cock in my home. The home I share with my husband and our dog. All I can think is — fuck he feels so good in my mouth; and, thank god I live in the country. Nobody will disturb us.
A few minutes pass and my clit feels like if might erupt so I stand up and I look at him. He's smiling now. He looks pleased with himself. Like he's been planning this for a long time and his little surprise has been executed exactly the way he had wanted it to.
I ask him if he liked my picture. He doesn't speak. He grunts, grabs my wrist and marches me through to the kitchen. My heart is racing and I'm second guessing what he's about to do. The table? The worktop? The floor? What's it going to be?
He pushes me back against the wall and removes my top. He kisses me hard and stands back to look at my full tits covered only by a sheer black bra. His hands reach forward and yank the bra off. It breaks and my tits spill out of the material and stare at him in all their hard nippled glory. His cock is still poking out of his fly and is twitching at the view. His mouth envelops my nipple and he gets to work with his tongue, flicking and sucking at the pink wrinkled skin. His left hand thrusts down my jeans and before I can catch my breath his hard middle finger is inside me, rubbing and poking as deep as it can reach. I'm on fire.
I push him back and wriggle out of my jeans. I forgot to put my knickers back on and my freshly waxed pussy is exposed to his eyes. It's his turn to drop to his knees and I open my legs slightly so his tongue and fingers can get right in. Explore all of me. He likes the taste of me. His noises tell me so. He's rough and gentle and just… perfect. I'm going to cum. My breathing quickens and my heart feels like it might burst out of my chest. He takes my clit in between his lips and applies just enough sucking pressure for me to burst. A steady stream of my juices flows out of my lips, into his mouth, and down his chin. He drinks me and I can hear the slapping noise of balls meeting hand — he's wanking himself nice and hard.
I'm still reeling from my orgasm but I'm ready for more. I ask him what he's going to do with me and he replies, "Something I've wanted to do since the day we first met." He takes my hand and leads me to the table and turns me around so I'm facing away from him. Without warning he pushes my body down hard, slams my face against the cold wood and fills my pussy with his veiny cock. The helmet feels so good as it squeezes in through the opening to my hole. He fills me perfectly. His hands are gripping my womanly hips and he is thrusting into me like his life depended on it. It doesn't take long for him cum and as he does so, his hands come up to my neck and lock round my throat.
"This is for you," he grunts in my ear. "This is what you do to me." And I feel his body stiffen and slow. The liquid is pumping out of him and filling me up. My clit tingles and I climax once more. Both our bodily fluids pour down my thighs as he withdraws and collapses on the floor at my feet.
I steady myself against the table, aware of the cum dripping from me onto the polished tiles below. I spy my salad sandwich on the other side of the table and say, "Hungry?"