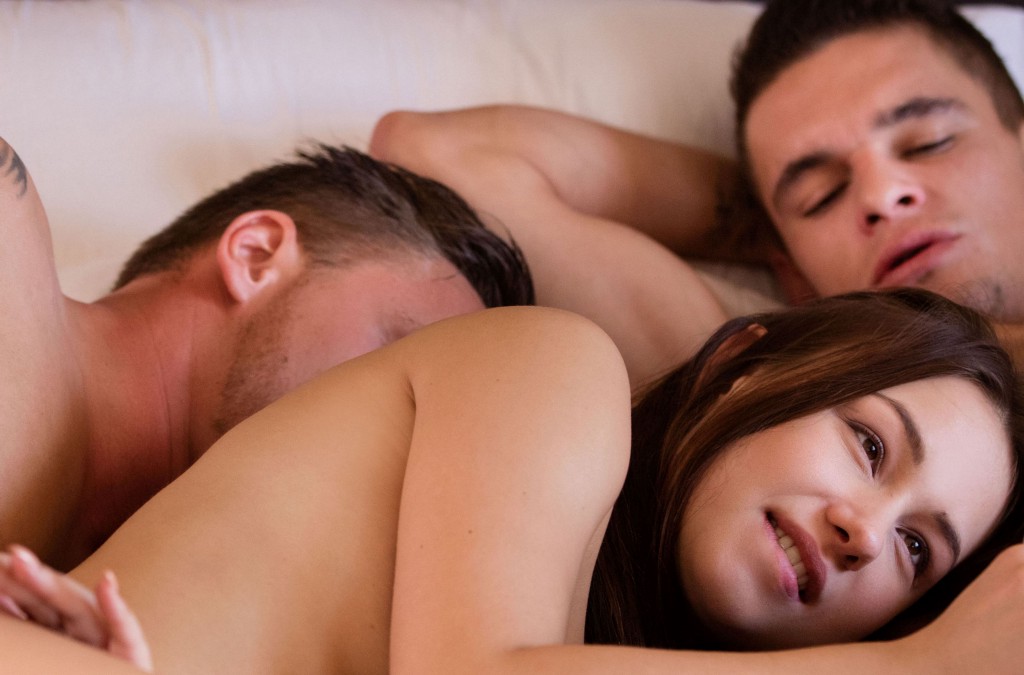 It didn't take long for her first orgasm and another and another. I'd shot my load on her before he did, and she reached her hands out to kiss me deeply. I asked later if that was what she wanted; she said hugging me, "It was the best fuck ever."
Funny actually, it was my first threesome experience. While it was undeniably hot, I don't think I've ever been naked with another man before. We got a hotel apartment with a large master suite, a spa and an impressive walk-in shower. All of which she organised, as part of our adult playground.
"Sorry baby, he said he might take a while." She walked in from the other room and sat on the ottoman in the middle of the apartment. "But," she quirked while juggling her breast, "Maybe we could…"
That's when I set my drink down, missing the coaster by an inch, and eagerly moved towards her. I'd been so nervous about adding a third person to our sexcapades, that I had trouble staying hard last night. It was starting to throb. Fucking doggy usually got me going and made me bust pretty quickly too. But it wasn't for that. We needed to make sure I wasn't too nervous to fuck.
"I won't do it without you," she assured me, murmuring against my cheek.
Bent across the red ottoman, she let me grab onto her shoulders and hold her down to make sure I was going as deep as possible. Even in between long strokes, I thrust against her a few times to really get it in there. She gasped out her pleasure. Usually nothing made her happier than making me cum, but because we had bigger plans for the night, we stopped. Such great timing, as just then, the doorbell rang.
"You think you can keep that going?" She was completely unfazed at how deep she'd taken me. I nodded. "Okay, good, let's do it."
Right away, she didn't seem nervous. We sat in the living room, where she took every opportunity to close the distance between her and Jason. There was a warmth to her smile. What I didn't realise immediately was that she'd been flirting with him to pick up the conversation.
"I'll have one too, babe." She was quick to accept my offer of another drink. "Oh, sorry," flicking back to him, "scotch or tequila?"
By the end of the hour, Jason was a whole different person from when he first shook my hand. I relaxed some more and she sat down next to me, while we teased him about his comical life choices. Some sex stories later, she lay her head on my shoulder and said, "I like that idea, can we do that?"
I was taken aback. She's usually not that easy going. But like any lover I said the words she needed to hear, "I don't see why we can't," and tapped her chin.
He lifted her left ankle and finished chaining her to the legs of the ottoman. She wanted to be bent over again. Said it was a good fucking height for all three of us; her mouth and pussy were more accessible — but I knew what she meant was manageable. Jason blindfolded her then stepped back, and joined me in front of my completely naked fiancee.
Just as she wanted, we didn't let her know who went where.
I had quietly reached out and brushed my hand against her perfectly shaped cheekbones; then continued down to her breasts. It seemed that being blindfolded meant even the most gentle caress could break her delicate form. She rested her arms over her head and made room on the ottoman. Jason waited for me to finish picking my position. I took in every moment for my memory before bestriding at her waist; my arms held my torso up while I kissed her chest. As a result, Jason waited by her feet to push a slightly curled finger in, with slow and luxurious motions.
Her body became a part of the rhythm and stretched out to either end of the ottoman, brushing lightly past my dick. As it happened I shifted around to get more comfortable, and she lay completely still dangled over the edge — waiting to see if I'd come back far enough. Relaxing back onto my knees my dick followed behind me, and skipped along her every crevice. I crept in, close against her breath, and pushed until I was greeted by a tongue that showed me down her throat.
Her knees knocked together… For me. Because of me, or was it…
Jason quickly pulled himself out of the way. His eyes told me I needed to show less if I wanted more. With that, I shifted out of her throat and she responded by relaxing back into position. So I thought of it as good manners to fuck this way.
If he could open his mouth any wider, he would have sucked her up in one go. I imagined her pussy beginning to bead with moisture when his tongue separated her; probably dousing it in juice — even though he wasn't a noisy eater.
Rather than withdrawing her attention, she took one massive stuffing into her mouth: an ambitious suck of my dick. I felt warm edges fray until the reward of Jason's effort was nothing but loose ends; drawing me into some obscene sexual split.
We could both feel she was about to come.
I caught Jason staring from the haze of her mound, and didn't know whether he was trying to compliment me or had been thinking about something more naughty…
Her body unexpectedly derailed from the ottoman as she threw her head to the ceiling before coming back down. Even though we'd discussed it earlier, it didn't stop my body flushing with jealousy: the very image of someone else fucking my fiancee pulled at my core.
I stared at Jason, wide-eyed and blank, as he drove his hips forward and slipped into my stretched out, gaping, leg-split pussy. He alone caused her body to twist at an angle against his cock.
Before I could dwell on it further she kicked closer to me and grabbed around my shaft deep into her mouth. There was something different about her, a new confidence and inflated ego. I blushed uncontrollably to the hairs standing on the back of my neck, and tried to relearn what I could from each swallow. The more I was exposed to her, the more I wanted to drink her in. Veering forward, I ran my tongue all over her olive skin and fucked her throat, while Jason made strokes able to stop anyone from moaning or breathing. He and I, thrown into the real gold of competition.
When Jason's chest and shoulder muscles broadened to the brim, the tension spread down to his abs. At that point, he was shaking. I knew the face when I saw it — the one all men make when they have to decide whether to prolong the feeling, or just let it go. I smirked quietly at his plight, but as that happened I felt a pulse surge from deep inside me. The sensation slid off the scales when she shook the base of my dick like a bottle of champagne. About two seconds before I was about to cum, she popped me out of her mouth and furiously licked the underside with her tongue. I arched my neck backwards and ended up shooting onto her chin, splattering far enough onto her chest. While this happened in slow motion, I found that he had just caught up and shot under her belly button.
The dampened feeling of something wet against her skin snapped her eyes open behind the blindfold. I strained out in time and she recognised me by my noodled limbs. Nothing was said when she curled up at my side, because we knew we hadn't even reached the bedroom yet.