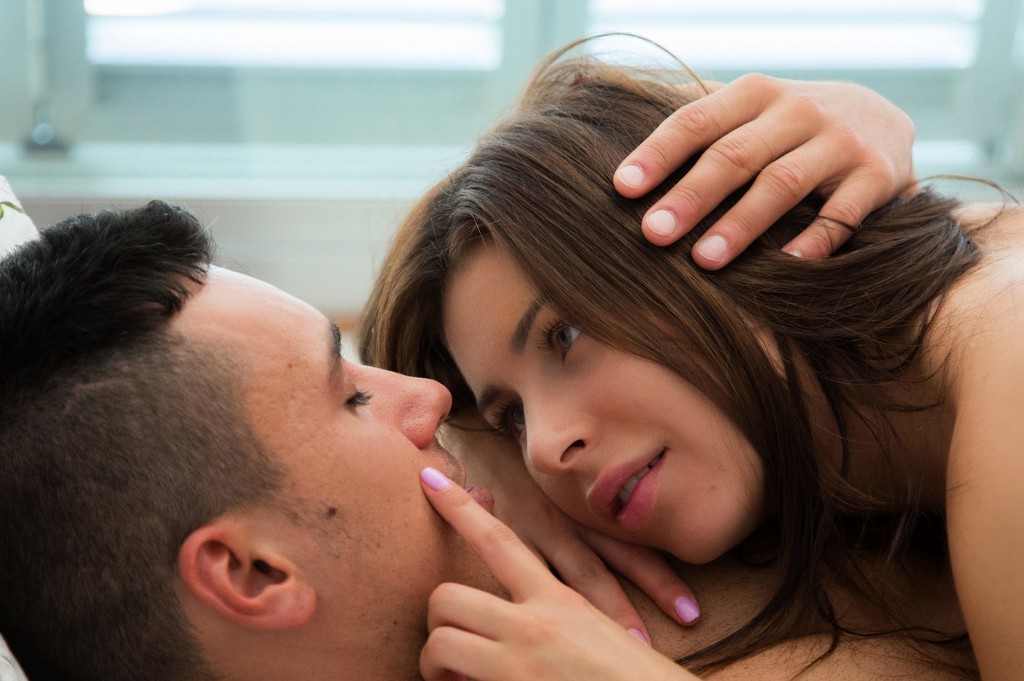 It was so dark in the bedroom, she could barely see the familiar details of his face. But she didn't need the light for her hand to find its way.
He grabbed at it, stopping her movement. Against her neck, where he had buried his head, she felt, rather than saw, the smile that spread across his face.
"Hey," he admonished, in a low, teasing voice. "I haven't finished with you, yet."
She felt his face search for hers, their mouths coming together in a series of deep kisses.
"Let me do this for you," she whispered, when they broke apart.
His eyes were heavy on her for a long moment, then he let go of her hand, relaxed against the pillow, his fingers sliding up the curve of her hip.
"Wait…" She turned suddenly, leaning back to switch on the small lamp next to the bed, bathing their bodies in a soft, golden light.
She slid back into the pocket of warmth they had made, her hand returning to its previous position. As soon as she began moving it, he groaned, pressing his face hard against hers.
With the others, she had done this to calm them down, distract them, cool their hot temper, or spend them before they could enter her a fourth or fifth time. Now she had no other motive than to please the man next to her. She wanted to see his face, to watch him, to take pleasure in the sight of his knotted brow, the grimace deepening over his features. Undistracted by the receipt of her own pleasure, it felt almost obscene to focus all her attention on watching his response to her touch.
And yet, she couldn't look away, watching his stomach clenching, straining, his hips pushing closer. She couldn't stop herself from observing his face, etched with what looked like overwhelming pain. It struck her how odd it was that the pleasure of touch outwardly looked so much like distress.
She squeezed again, running her hand up and down, feeling the weight of him, the hard, smooth skin, blazing with heat, thick with blood. He grabbed at her face, pulling her into an aching kiss, then groaned again, louder this time, into her mouth, a groan that sounded like it came from a wounded man.
He ran his hand down her arm, grasping at it, digging his fingers into her all the way to her bone, then moved it up again, taking a hank of hair into his fist, crumpling it with yet another groan.
She was used to losing control when he touched her, when he was in her. She often had little memory of their encounters, only of those moments of exquisite sensitivity, when his lips slid off her nipple, or when he broke out of her with a gentle popping sound, only to press back into the flesh that ached and stretched for him.
But now he was the one who had lost control. He grabbed at her skin, her breast, her hair, with such strength, such insistence, though he was at the mercy of her touch, her rhythm. She could feel his impatience, his longing, the strength he tempered, the desire he kept restrained. She knew he could turn her on her back with barely any effort, sliding into her, moving at his own pace to get what he wanted.
But he didn't.
He let her continue moving her hand up and down, still digging his fingers into her, stifling the sounds emerging from deep in his throat. He whispered her name, laid his open mouth against her jaw, his teeth gently biting into the hard bone as if they were a pair of tussling puppies. Then moving his mouth down, landing at the crook of her neck and shoulder, his mouth wider this time, the bite harder, making Molly ache between her legs. She could feel his tongue, wide and wet, against her skin between the pressure of his teeth.
She groaned, then, Sam immediately mimicking the sound even louder, as if any evidence of her desire tormented him even further.
He grabbed the back of her head, pressing his forehead against hers, hard enough to hurt. He breathed out her name, then, "Harder."
She did as he asked, responding with more strength as he nodded against her face, made a grunting mmmm sound, their noses touching, pressing hard against one another.
His mouth opened, his tongue touching her lips, her own tongue emerging to meet it; but just as their lips came together, he made another grunting sound, his fingers digging into her hair, his mouth and nose pressing so hard against her, his breath coming out in a gasp into her mouth, his body shuddering. She felt the straining flesh in her hand, her body aching for it inside her, even as it spilled its liquid into her palm.
He pressed his hips against her, as if desiring the same thing, her thighs growing wet. He cupped her bottom in one hand, whispered, "God," then resumed the kiss he had abandoned, deep and gaping.
When his hand slid between her legs, his fingers smoothing straight down the slippery flesh, curling up and inside her, she let go of him, letting her head fall back, looking up at him in complete submission.
For more information on my upcoming erotica projects, click here.