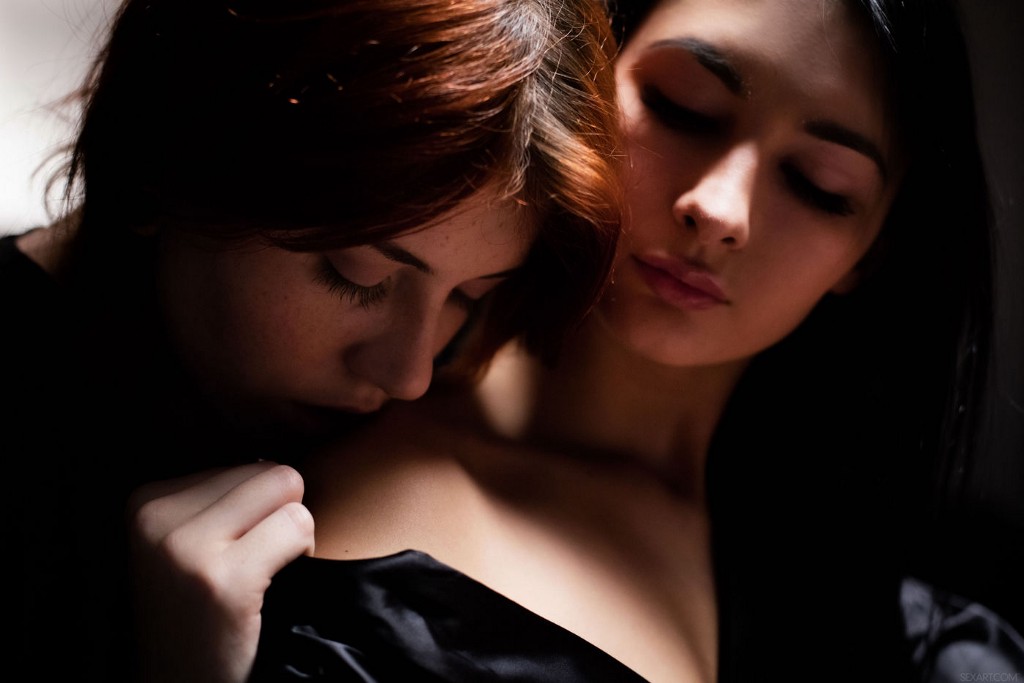 After the conference finished she invited a friend to come to the hotel bar for a drink. My girl likes whiskey, straight, on the rocks. I ordered my beer and her friend joined her in tasting the Scottish brands. Twenty minutes and four rounds later we decided to go up to our room.
After we got our shoes and coats off, my girl headed straight for the bathroom and our friend sat on the desk. As we were trying to get some chitchat going my girlfriend came out of the bathroom totally naked and with that mischievous smile on her face. I knew it meant trouble the moment she got close to me and started unbuttoning my shirt and removing my pants.
I could taste the whiskey in her kiss and see the fire in her eyes. She wanted me right there, no questions asked. Our friend let out a sigh of surprise which made us aware that we were not alone in the room. My girl took my hand and we walked towards the desk where she told our friend in a low, cheeky tone:
I need you to hold me while we my boy monkey fucks me!
to monkey hug verb ​ /tuːˈmʌŋ.ki hʌɡ/ ​
When someone hugs you, also wrapping their legs around your waist, usually to show that they like, love or belong to you.
Our friend made space for my girl and accomodated for her in a hug from the back. Obediently, I walked up to her and went to taste that whiskey from her kisses again. My girl grabbed my shaft and starting stroking it. We had been flirting with each other all day at the event, but nonetheless, as she directed my tip to her sexuality, her wetness surprised me.
The slow dance began. I was moving in slowly and getting just a little bit deeper with each stroke. There were many hands around. Our friend was holding my girlfriend by her waistline, my girlfriend was holding onto my shoulders, and I was trying to hold on to the combination of bodies in front of me. My girl had her legs wrapped around my back and would from time to time push me deeper inside of her with the help of her soles placed on my butt.
Her hair was all over the place and our kissing was wet and passionate. As I opened my eyes I saw the third pair of eyes in the room looking at us in awe. By now it was extremely wet down there and I started building the rhythm that I knew my girl needed to get to her first orgasm. Not too fast, but not too slow. Her breathing was giving her away, and as she stopped kissing me I knew she needed to concentrate on herself.
Meanwhile our friend started removing her blouse and her bra. As she realised I had been relieved from kissing, she took over where my girlfriend left off. Now I was caressing the back of our friend with one hand, and my girlfriend's with the other, and our friend had one of her hands wrapped around me too. Lost in a new kiss, the nails of my girlfriend dug into my skin and I knew she had reached her highest point.
I stood still with my shaft all the way in her, completely still, to feel her contractions around me. My girl turned her head to the side searching for the lips of our friend, and found an eager kissing partner in her. She noticed me watching and my jaw must've dropped at some point, so she paused and told me:
I want to see you do doggy together.
dog·gie noun /daw-gee, dog-ee/
Type of sexual style that involves a man engaging in intercourse while on his knees behind a woman who is on her hands and knees.
By now our friend was turned on and wanting a piece of the action. She removed her skirt, stockings and underwear, but as she went to get on the bed my girl was already lying there on her back.
Oh, I want to see you from below…
…was her answer accompanied by an innocent smile.
Our friend proceeded to get on top of my girl in a 69 position. The whole scene was just burning hot. My girl was holding our friend by her waist, and her tongue was exploring the lips of her vulva and her clit. Our friend was also plunging into my girl's sexuality. I looked at them in awe for a few seconds until my girlfriend waved to remind me to get into action.
I don't know if it had been the show from earlier, or the licking and kissing of my girlfriend, but our friend was wet and ready for me as I moved in, no friction at all. I started to carefully rock the constellation of womanhood underneath, I did not want them to disconnect the unity of their dance.
But then I felt my girl licking my balls, just as our friend started pushing herself into me faster. What is a man to do?
I grabbed our friend by her hips and started building a momentum. I knew I was getting somewhere as I saw her raise her face and heard her breathing accelerate. My girlfriend was busy with her fingers on her clit and I could feel an explosion coming our way. As our friend starting shaking I pulled out and into the open mouth of my girlfriend.
The whole thing had pushed me over the edge and it took a few strokes and slurps from my girl to make me discharge all my loving into her. I groaned helplessly and almost fell on top of them.
I had never thought much of whiskey tasting until today, when it turned into a mouth and pussy tasting…
Liked our story? Read more in our kindle book: