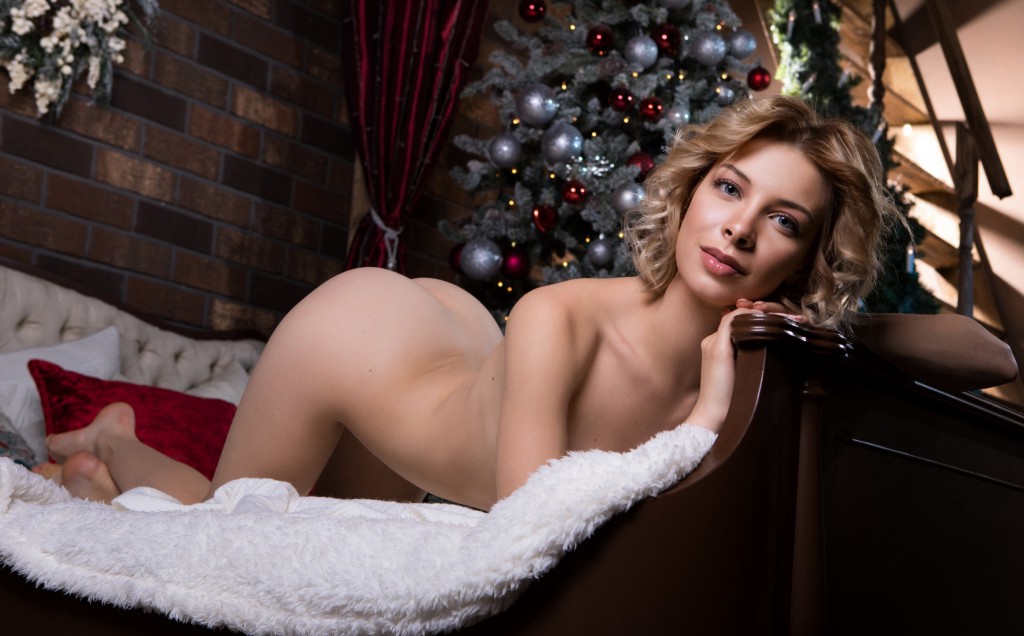 Part 1: Santa brings toys on Christmas Eve
It had been over a month since Matt and I had sex or even time for a quick makeout session. My ex was out of town for business, so I had my kids on my own for several weeks, which also happened to be during my winter finals. Adding to the joyful Christmas chaos were the shopping trips, Santa pics, and holiday pageants.
Like most single parents, this time of year was so jam-packed that finding space for anything besides sleep seemed impossible. I still managed to work all my night shifts at the Big House, but I was so exhausted that it was all I could do to work and stumble home for a few hours of much-needed rest.
It's funny how life can switch up your priorities. The month before all I could think of was sitting on Matt's gorgeous cock or how the swirl of his tongue felt on my clit. Now, I was trimming the tree and making the endless gift and grocery lists: eggnog, sugar cookies, and candy canes.
The one thing that kept me going was that the kiddos' father would be coming home on Christmas Eve, so they'd be spending the night and following day with him. Don't get me wrong, I live for my children, but I was running ragged. My big plans were to get off of work, take a hot bubble bath and sleep for 12 hours. I couldn't wait!
After their Dad picked them up, I showered, brewed a latte and plopped on the couch. Exactly 30 minutes before go time; not enough for a catnap but at least some quiet alone time. The heavy diner-style mug warmed my hands as my thoughts drifted back to November. Strip poker, fingers inside me in the storage room, and Matt's silky cock on my lips by the fireplace. Ohhh, and the time he bent me over the couch and fucked me from behind while I fingered my clit. My pussy pulsed and jumped as if it had a life of its own.
I slid my hand under my leather skirt. How did I have the energy to be so turned on and wet? Twenty minutes to work, was there enough time? I remembered the Christmas gift I'd bought for myself: a hands-free clit and G-spot toy. I ran to the bedroom to pull it down from its hiding spot on the top shelf. The pink U shaped toy was velvet soft and brand new.
Back on the couch, I slid one side of the curve into my wet pussy and positioned the vibrating end on my clit. Head back, eyes closed, I let the buzz and bumble of the toy quiver on my G-spot and tickle my clit. Oh, Goddess, what bliss. It didn't take long to cum, thank goodness, as it was almost time for work. I made a quick change into dry panties and headed to the Big House.
When I got there, the Christmas Eve crew was just getting started. There were several corporate work parties set up around the sprawling bar. Holiday music was piping through the air. Matt trotted over with a sprig of ribboned mistletoe, a mug of eggnog, and a Santa hat.
"Please kiss me beautiful, it's Christmas Eve!" He slid the hat over my hair and I stood on my tiptoes to give his lower lip a quick nibble.
"Merry money Christmas! Let's do this!" We clinked mugs and waded into one of the busiest nights of the year. Although I was tired, I soon got a second wind from all of the energetic partiers. It was hard not to get caught up in the festivities, and my specialty white cranberry cosmo was a huge hit with one group in particular.
They had several tables pushed together in the back of the bar and were all dressed in red cashmere cardigans; the men wore black slacks and the women wore knee-length leather skirts with candy cane striped stockings. From a distance, they looked like a wild bunch as they danced and cheered, but up close they were clearly polished professionals. Matt told me that most of them were surgeons, judges, and entrepreneurs from a local private club called the Velvet Room. It was their yearly tradition to stop at the Big House before heading there for their holiday shindig.
They returned often to the bar for my specialty cocktails, and although they were all getting pretty tipsy I was assured by management that none were driving, as several limos waited in the parking lot to take them to their club.
Right around midnight, the whole group trouped up to my service well and one by one each handed me a hundred dollar bill. I couldn't believe my luck and kept stammering: "Thank you, thanks, thank you."
The last one in line was a beautiful brunette with shining shoulder-length hair and pouty red lips.
"Merry Christmas, you all were wonderful. The gang and I were wondering if you and that cute bartender could join us for dinner?" She looked pleadingly at Dave, the GM, who'd come up to say goodnight.
The bar was slowing down and although it was still a bit busy, he wanted to keep them happy. After all, their tab was massive as they'd bought several cases of limited edition Dom Perignon as well as a few bottles of Don Julio 1942; talk about expensive margaritas!
"I can hop behind the bar if you two wanna go." He nodded towards Matt and me.
I was still exhausted but they'd been so kind to me, and by my rough estimate, they'd just handed me about $5,000 in hundred dollar bills. It felt rude to not at least join them for a drink or two.
"Matt? Wanna go?"
"You don't have to twist my arm, let's do it."
Most of the group was already leaving the building when the brunette said, "We're definitely not listed on google maps but you can ride over in my limo."
"Ok, sure, thank you." I figured she was joking but while Matt was settling out our drawers and grabbing our jackets, I googled it and, yup, no sign of the Velvet Club anywhere.
When we climbed into her Humvee limo, she handed us each a glass of Dom and an NDA. "Okay darlings, I'll need you to sign this nondisclosure form. You're totally safe, so don't worry. You may not tell anyone about anything you see or hear at the party. It's all perfectly legal but if this makes you uncomfortable in any way, I totally understand and we can drop you off wherever you like."
Normally, I would've been weirded out but she had such an honest good vibe. Plus, now I was very intrigued, so we both took a sip and signed on the dotted line.
She took the forms and handed them to her driver, and as soon as he started to drive, I understood why we signed. She spread her legs and pulled up her leather skirt and I swear to god there was the most beautiful smooth cunt peeking out; no panties. Her clit was like a luminous pearl and her delicate lips glistened in the soft light of the limo. She slid her well-manicured fingers over her clit in circles.
Despite my surprise, I found myself wanting to run my tongue over her juicy pussy and felt a wet heat between my legs. I looked at Matt and saw that he was turned on as well. She laid back on the seat with her legs parted as a handsome grey-haired man opened a studded case and pulled out a white vibrator. The shaft was filled with pearls that rolled when he clicked it on. He plumped a pillow under her ass to tilt her cunt higher as he rhythmically slid the swirling dildo in and out of her.
I squirmed in my seat and whispered to Matt, "Holy fuck, are you as turned on as I am?"
He nodded wordlessly.
The man pushed the vibrator deep inside her pussy as she played with her nipples through the silk camisole she wore under her sweater. When it was in as far as it would go, he tapped the switch on the bottom and sat back to watch as the pearly toy vibrated between her wet cunt lips. I couldn't stop staring at her hard silky clit and the lips of her pussy as the pearls in the dildo undulated in her wet opening. I squirmed, softly grinding into the leather seat as she arched back and gasped as she came. I'd never seen a woman's pussy during orgasm before. It was pulsing and beautiful.
Just then, the limo pulled up to a windowless building. Two burly security guards stood by a red door. The handsome man slid the pearly vibrator from between her legs and she sat up to check her hair and makeup in the mirror.
"You ready for an adventure?"
We both nodded and clambered out of the car, where we were patted down and asked to surrender our phones before being ushered into a plush sitting room.
One side was full of mirrors, wine decanters, and crystal bottles full of liquor. The other was covered in oak shelves and stocked with every sex toy imaginable. A perky checkout girl in 1950s style lingerie and feathered kitten heel slippers bent over to grab us each a shopping tote. The perfect curve of her ass cheeks made me wonder what she looked like under her lacy panties.
"Whatever you like is yours to keep, but first please place your bags under the tree for the Christmas exchange." She winked at me and I got a whiff of bubblegum and strawberries.
"Uh, ok, thank you." I was having trouble focusing on the toys as I looked beyond her into a softly lit room filled with velvet-covered banquettes and couches of all sizes. A buffet table laden with shrimp, caviar and gourmet cheeses was being widely ignored as couples and threesomes were in varying states of sex.
Two women on a lounge were lazily fingering each other and sipping champagne. A man and two women were slowly undressing each other on the dance floor. Over by the wall, a statuesque blonde was kneeling over a couch as one of the men I'd served cosmos to all night unzipped his pants and slid into her from behind. A massive Christmas tree glittered in the far corner of the room; underneath it were the tote bags full of dildos, pearls, rabbits, and peppermint-flavored lubes.
I clutched Matt's hand. "Do you want to stay?"
"It's up to you, I've never done anything like this before."
"Well, we could just have a drink, have sex with each other, and then head home." I wasn't sure who I was trying to reassure, Matt, or myself. But we both knew the night was going to be much more than that, and I couldn't wait to see how it all played out.