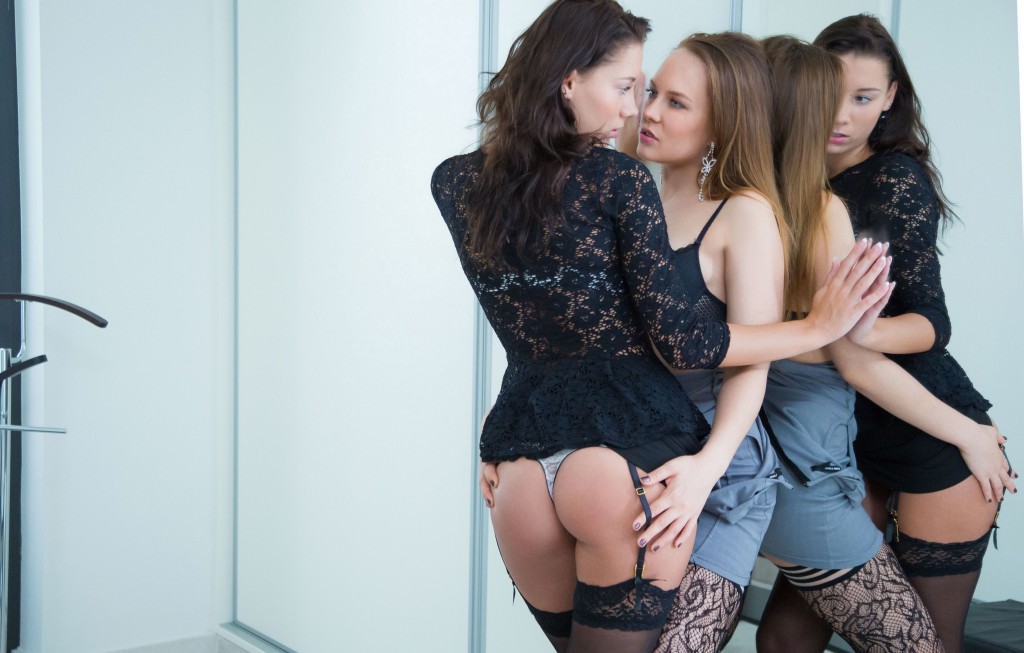 I spotted the lovely Keri through a large shop window, holding a beautiful sundress up to her chest. That gorgeous smile curved, very pleased with her reflection…as she should be. What a sight for sore eyes she was, after many months.
I had missed her and wondered where she'd gone. I hadn't seen her since our sweet Halloween tryst and was worried we'd reached the end of our sporadic rendezvous.
I swiftly walked inside and got her attention by deliberately pressing up against her. She jumped when she felt my breasts on her back, then laughed heartily when she saw it was me.
"That would look gorgeous on you," I smiled. "This color really brings out your eyes."
"You think so?" she grinned.
I nodded, pulling her closer. Our eyes met in the mirror seductively, as I leaned in to whisper in her ear. "Why don't I help you try it on?"
"I would love that," she smiled.
I took Keri by the hand and we went into one of the back dressing rooms. She hung the dress on the hook and pressed me up against the mirror.
"How are you?" I asked flirtatiously, as I leaned in to kiss her.
"I'm fine," she giggled as her hands reached under my shirt.
"Yes you are," I whispered sexily, kissing her again.
She squeezed my breasts as we made out in a fiery rush. My hands gripped tight to her lovely round bottom. Heat and lust rose between us within that tight space. Energy trapped. Nowhere to go but through flesh and bone.
I unzipped her jeans and rolled them down and off. I quickly undressed as she did the same. Our shirts, bras and panties were tossed in a messy pile on a corner chair.
We were tangled in each other's arms, facing our own reflections on either side. I couldn't help but keep my eyes open, admiring the beautiful view of her as I kissed her neck. Her soft blonde hair, pleasantly draped down her back. Her legs and thighs flexing, those adorable feet, jittering in excitement. It was a voyeur's dream.
I turned her around to face the mirror, so she could see herself being touched. Her arms and legs over the glass, spread wide like an assailant being searched. I gently moved her hair to the side and kissed her nape. My left hand pressing hers. My right hand reaching around to pet her pussy.
My fingers slid between her lips to part them, revealing those pretty pink folds. I saw her wetness gleam through the mirror as I softly kissed her shoulders. I massaged her clit lightly until her juices leaked over my fingertips. Soft slow circles, teasing it to swell.
Her mouth could barely stay closed as her face reddened in arousal. Her beautiful blue eyes fluttered open and shut, her hips firmly thrusting on my hand. She moaned softly as we worked up a sexy rhythm.
I swirled my fingers faster, drawing her closer to climax. I covered her mouth to keep her from moaning too loud, while sliding my fingers inside her tight wet hole. I flicked them rapidly within her walls, incessantly hitting her G-spot until she came in a powerful jolt. Her legs trembling as she bit my fingers.
Keri kept her eyes open most of the time. I could tell she liked watching herself cum. I flashed her a naughty grin, then turned her around to face me. She took my wet fingers in her mouth and tasted her juices off them. I kissed her and moved to my knees. I gently licked her wetness off her skin until she was nice and clean.
Keri pulled me up and pushed me to the corner. She positioned the chair by the door to block her from view, just in case anyone walked by. Then she draped my leg over her shoulder and leaned in close.
I was already soaked from playing with her. That soft tongue of hers felt amazingly slippery on my skin. She kept her tongue out, pressed tight to my clit, letting me grind my pussy on it. I took two fistfuls of her hair and slowly fucked her mouth.
I saw twin reflections of us on each side, giving me a sexy view of Keri on her knees, and myself, curling in pleasure over her face. On one side, she was hidden by my thigh and on the other, she was fully exposed. Her lips pressed to my pussy, her tongue swirling my clit in smooth sexy circles. My hands trembled through her hair.
She reached her arms around my thighs to keep me in position as she sucked my pussy harder. Her tongue sliding perfectly on my clit, edging me dangerously to culmination. It was so hard to stay quiet when I felt those aching pulses flow through me. All I wanted to do was moan and scream, but I couldn't. I felt the sounds trapped in my throat like a lid over a boiling pot, as my pussy burst on her tongue.
Keri kissed all the way up to my mouth and put her arms around me. Our bodies were soaked and sticky. The dressing room was clouded by our heat, and that undeniable aroma of fuckery.
We had to use our clothes as temporary towels, so I wound up purchasing an outfit to change into. I had to wait in the undressing room while Keri picked out something for me, but I didn't mind. It gave me a moment to breathe and reflect on my naughtiness. And I was right. That sundress looked amazing on her.
Keri and I grabbed a bite to eat and caught each other up on missed events. Then, we did some more shopping. I guess the time apart took a toll on us both. We couldn't keep our hands off each other.
Not long after lunch, we blessed just about every dressing room in the mall from Nordstrom to Victoria's Secret. We also made out for another hour or so in the parking lot until we eventually wound up at her place.
I spent the night there, cuddled up next to her. This time, we didn't bother with the Netflix and went straight into the chill.
Keri and I kissed passionately under the covers. My legs wrapped around her as she fucked me slowly. I couldn't keep my hands off her gorgeous ass cheeks. Squeezing them, spanking them.
As if I didn't cum enough at the mall, she had my pussy bursting repeatedly in her bed, too. It was back to back orgasms between us. Once I came, she was close. I'd roll her over onto her back and grind another one out of her. Then, that awoke another tide of lust within myself.
We got so rough, her comforter wound up on the floor. Her pillows scattered everywhere. Her soaked sheets, twisted and hanging off until we were left, fucking on a bare mattress.
I felt my body reach this autopilot mode, where I couldn't stop fucking no matter how sore my body felt. My abs and arms were on fire, trying to get in every thrust to cum again. My pussy refused to leave hers alone.
Keri is just so damn addicting! It's no wonder we don't see each other but every few months. We would die of dehydration if we had sex like this all the time.
Hours later, my face was still buried between her legs, softly sucking her clit. My fingers squeezed deep inside her as her thighs shivered around my neck. I rested my tongue gently between her lips and swiveled my fingers inside her. Keri started shaking uncontrollably, her stomach fluttering in waves. She was gasping, almost hyperventilating. I could hear her mouth watering as she breathed dramatically. Control slipping away, as I sucked it out of her. The build was strong as if she'd been holding back all night.
Suddenly, I hit a magic spot within her that broke the seal and she squirted all over me, cumming hard, screaming and cursing. Her body leaked wetness.
I kept my fingers inside her until her walls relaxed, then kissed her pussy like I was bidding it goodnight. I passed out between Keri's legs, nestled on her thigh like a pillow.
I awoke the next morning fully recharged. Keri was curled up next to me. I carefully moved my arm from under her neck and picked her comforter up from off the floor. As I covered her body with it, she stirred and opened her eyes. She pulled me on top of her again and kissed my lips softly.
"No," she said sleepily, "please don't go yet."
"I'm sorry, sweetie but I have to," I replied softly.
"No, you don't," she whispered, "please stay?"
Keri pulled the covers over me and held me tight. I couldn't resist. I don't know who could in that situation.
I was afraid to at first. I didn't want to overstay my welcome or insinuate anything but I didn't want to go. Keri reminded me that it's been over a year since we met and I didn't have to pretend I had somewhere to be when I truly didn't. She was right. Maybe it was time to see where this would go.
In that moment, another seal was broken. Although we were covered up again, she truly undressed me. And did so subtly. I felt like how I did in the dressing room again, watching myself, watching her. Naked in all ways. Wondering what would become of this and if it was okay to enjoy it just a little longer. I could see myself with Keri. I loved how uncomplicated she was, how she could make a delicate matter so simple. Maybe it was time to be uncomplicated, too.