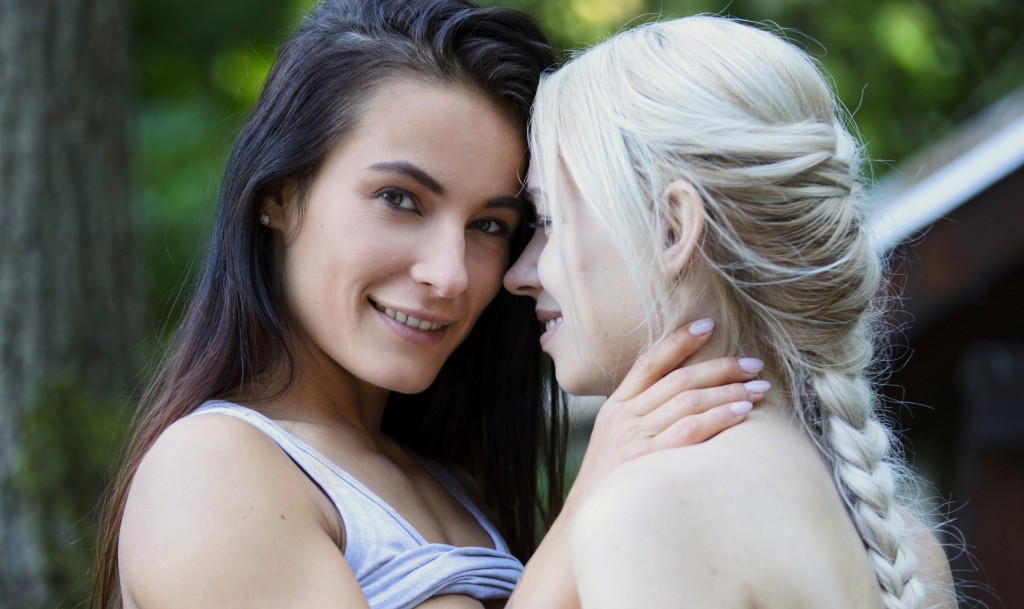 This story is the craziest thing that I've ever seen or done. I accidentally walked in on two people having sex in a park late in the afternoon and I totally stopped to watch. I couldn't help myself.
Don't judge me until after you've heard the story. This isn't something that usually happens.
Oh please. You know you'd at least watch for a little.
Ok. So, I'm an avid hiker. I often go off the trail for exercise and relaxation. I love the woods and the smells and the solitude of nature. Often I'll take photos of nature and its beauty. Oh yeah, I did take a few of them. For my own personal collection. Again. Don't judge me.
It was a beautiful summer's afternoon. Getting late, but still light out. I was about half an hour into my walk through the woods and I stopped to take a few photos of the trees and the wild flowers. Sometimes I also get amazing pics of wildlife. One time I came across this gray wolf standing on a rock on the edge of a cliff. It was like something out of a movie. The greatest pic I've ever taken by far.
Back to the story at hand. So like I said, I was walking off trail and I heard some rustling. I figured it was a small animal and maybe I could take a quick photo. I knew that I had to be careful. I don't want to be found dead from a wild animal attack.
To my surprise I found a cougar. Not the animal. The human kind. This woman had to be forty or so. I could see gray streaks in her dark, long hair. She was with this younger girl. Looked to be in her twenties. I'd seen them walking hand in hand. I knew she was a cougar because of the way they were looking at each other and holding hands. This wasn't her daughter.
Definitely not after I saw her grab the girl by her face and kiss her open mouth. I'm no perv, but I couldn't stop watching. Are you going to tell me that you wouldn't have watched? Please. This was everyone's fantasy come true.
I know how to be quiet in the woods. So I lurked in some nearby bushes. From there I could see them clearly. I had my camera already taking photos before I even realized what I was doing. My heart was racing. I couldn't believe what I was seeing. I stayed as still and quiet as the field mice.
Then, I swear the cougar stared at me. I knew I was well hidden, but I couldn't help but feel her ice-blue eyes boring through my soul. I was frozen stiff. And yes, I was stiff too in other ways. At this point I thought that I was busted. I wondered if I should just try to quietly walk away, but I couldn't. I had to see what would happen next. How could I walk away at this point? I decided to stay. I had to see if what I had hoped to see would happen.
Are you going to tell me that you would have walked away at this point?
The cougar had a killer body and so did her friend. The cougar was tall and lean. Built for speed. Nice perky tits. Killer legs and ass. She was wearing a short black skirt and a white blouse opened half way down her chest. Definitely no bra as I could see her hard nipples poking out. Her friend was shorter and thick. Blonde hair and big tits with a matching ass.
Anyways, at this point the cougar was kissing the blonde. I was in the bushes watching and taking photos. I was hard as a rock and couldn't believe this was even real.
The cougar was kissing her and touching her all over. Exploring every inch. Then she pulled her top off and started to kiss her big tits. I mean this cougar was devouring her. She got that bra off and released those massive tits in no time. Her mouth was working her nipples. I could see her teeth pulling on them. I couldn't have been more than 10 feet away. Perfect view. She ripped her pants and panties straight down. Her hot blonde was now completely naked.
At this point I was like holy shit! The cougar got on her knees and started eating her out. The blonde was holding the cougar's head in place. The blonde's head rolled back and she started to moan. Damn, she was loud. I mean fucking moaning like nobody in the world could hear. I swear she must have cum in moments. She was going wild. The cougar's hands were grabbing and smacking her ass and her tits. Pulling on her nipples to make her scream. I've never made anyone do that before. I was really impressed. The way the cougar worked her. The way she commanded the situation. It was like watching a pro.
After the cougar got her fill, she stood up and kissed the blonde. Full of power and passion. When she stopped, she looked at her and then back again in my direction. Again I thought I was busted. My heart skipped a beat. Looking back in the blonde's eyes she said, "How do you taste? Did you like it? This is only the beginning."
She turned to look in my direction and smiled. I got that photo. She had to know someone was watching. I couldn't stop. It was like she knew it and loved being watched. I couldn't possibly get any harder. Part of me wanted to stand up and join them. Another part of me just wanted to see what would happen next.
The blonde was totally still. Like she was waiting for the cougar to tell her what to do. Totally naked. Exposed, and I was taking photos. The cougar started to finger her. The blonde was loud again. Lost in ecstasy. Her hands were reaching to touch the cougar anywhere she could. When she had reached orgasm once again, the cougar took her fingers out and put them into the blonde's mouth. The blonde sucked her fingers. "I do taste sweet, Mistress. Thank you. May I please my mistress as she has pleased me?"
Holy shit! She was her Mistress. It made sense now. This was getting hotter by the moment.
"You will in a minute my kitten," the Mistress, as I knew her now, said to her kitten. Mistress then began to do a striptease. As much for her kitten as it felt that it was for me watching. She was facing my direction as much as she was facing her kitten. Bending over facing me so I could see her firm tits. Her smile was bright as the midday sun. She flashed her ass to her kitten. She stood back up and turned to face her kitten and bent forward. Lifting up her skirt so I could see that she wasn't wearing panties. She kissed her kitten's pussy and I could see hers. At that moment, I wanted to go and eat her out.
Then Mistress put her hand between her thighs over her pussy and gave me the middle finger. That middle finger went up her pussy and she moaned. Her kitten had her hands in her Mistress's hair. "Oh Mistress, I love you. I love how you please me. Tease me."
As Mistress stood back up, she turned around, twerking her ass on her kitten and finishing unbuttoning her blouse. It hit the ground and her tits were exposed to my camera in their full glory. Hard nipples. Perfect curved tits. She blew me a kiss. There was no more pretending that I was hiding.
Her hips shook side to side as her hands pushed her skirt down. Kitten wrapped her arms over her Mistress's tits. Kissed her neck. Her hands went down to her pussy. Her fingers worked her Mistress and made her moan. Mistress's moans were low and almost animal-like. She was reaching back and kissing her kitten. Turning into her kitten. Their bodies intertwined. Hands and lips were all over each other.
Next I saw them lie down. I hadn't noticed that Mistress had a bag there. She reached in while they were kissing and touching. She pulled out a strap-on. Long and pink. Mistress then stood up and put it on. Kitten was just smiling. Lying there fully knowing what was about to happen.
"Kitten, I told you that your Mistress would be kind and make her kitten's first time memorable. Do you want this still?" Mistress was grabbing her pink cock.
"Yes Mistress. Please. I've been waiting for this for far too long. I've dreamed about this ever since we first started talking about it. I'm yours. I trust you. Just like you have told me. I want to be your kitten. Please make me yours. Just like you promised." Kitten was on her knees. Pleading to her Mistress. "I'll do anything for you." She started to suck her pink dick.
Mistress held her head there. "Yes my kitten. I know you want me. Need me. I've been looking forward to this too. Are you sure that you want me to be your first girl? Are you sure that you want me to take your lesbian virginity?" She said the last part jokingly.
Kitten was sucking her strap-on like a dick sucking champ. I wanted that to be me so badly. She stopped sucking and replied, "Of course, my Mistress. I'm yours. I know you'll be gentle."
Mistress guided her so that when she laid her down on her back, I was able to see it all. I knew these photos would be hot. Mistress entered her gently. Kissing her softly. Stroking slowly. Powerful and slow. Each thrust made kitten moan and groan. Then faster and faster. I could see her kitten's tits bouncing all over. Mistress was pulling her kitten's nipples. They were all hands and legs wrapped onto one another. I had the perfect view. Both women's bodies were gorgeous. The way Mistress moved was seductive. I was learning from her by just watching.
One position to another. All that you could think of. It went on and on. I could hear them both orgasming. So often that I lost count. Time stood still. I figured that Mistress must have something on the inside of that strap-on as she was climaxing too. She was just as loud as kitten. They were fucking like animals. Touching, grabbing, nails and biting. The hottest shit I've ever fucking seen. It was so hot that I came in my shorts. I wasn't even touching myself. I didn't even know that was a thing.
Doggie style was when I blew my load. I felt the orgasm come on suddenly and I knew that I let out a low groan as I came. It was so intense. Mistress was smacking her ass and pulling her hair. Kitten's tits were bouncing all over. I mean she was slamming her so hard that the slapping sound hurt my ass. I came when kitten started to shake. Mistress pulled out and kitten was squirting.
I lost it. I couldn't hold it. I was so hard. I didn't know that could happen. I didn't even care that I had cum in my shorts. It felt as good as if I was with them.
Kitten was shaking. I was shaking. Mistress was smiling. Kitten lay on the ground panting. Giggling. "Omg. Omg. Omg. I'm shaking. Holy hell. You made me squirt."
Mistress said with a grin, "Of course I did. I told you that I'd take care of you."
"Fuck yeah you did." Kitten paused and looked embarrassed. Then she quickly added, "My Mistress. Sorry I forgot myself. Punish your kitten for speaking so boldly." She looked away from her Mistress.
"It's ok, kitten. It was your first." Kitten turned and smiled. Mistress started to rub kitten's pussy. Kitten lay back down and enjoyed the massage. Her pussy had to be spent. Smack! Mistress smacked her pussy hard.
"Oh fuck!" Kitten grabbed herself and bent forward.
"Move your hands, kitten. It's ok. It's not punishment. It's pain mixed with pleasure. You'll know who you belong to now."
Kitten hesitated, then she did as she was told. Smack, smack, smack. Mistress smacked her pussy three more times. It made me cross my legs and hold myself. I winced for her. Kitten winced each time. Then Mistress grabbed her nipples and pulled. Kitten started to squeeze her eyes shut. I thought I saw a little tear. Mistress leaned in and kissed her and let go of her probably sore nipples. Kitten wrapped her arms around her Mistress.
Mistress kissed down her neck and then each nipple while rubbing her pussy. Lower and lower until she was kissing her pussy to make it feel better.
She stood up and said, "All better now. Get dressed kitten. It's getting dark soon. I don't want any other cougars to get you. Go to the car and I'll be right there."
Kitten did as she was told. I almost forgot that this was real. I felt like I was watching a movie. Until Mistress walked towards me. My body froze. Time stopped. My heart was pounding.
"Get up. It's ok. I know you're there."
I didn't know what to do.
"Don't make me make you." She grabbed her bag. Reaching in for something that I didn't know what.
I got up. Face to face. She looked me up and down. She could see the wet spot in my shorts. "I see that you had fun. Did you do that on purpose?" She pointed to my cum stain.
"Uhhh…no. I…uh. I mean. I didn't mean to. I mean to watch you. I just…" I had my head down low. I felt embarrassed. I watched her naked and now I couldn't stand to look at her. Her presence was powerful.
"Uh huh. Sure. Give me the memory card from the camera." I did as she asked without even thinking. I just followed her commands. "Clothes off. Now. I want to see you. I let you watch us. It's the least you can do."
I did as I was told. I think she became my Mistress too at that moment. I felt like I had to listen to her. I was embarrassed. I felt my face burning. I could see her sizing me up. I was still semi hard. I wanted her to like me. To approve of me.
"Not too bad, tall, dark and handsome. Let me see your phone." I did as told. She opened my phone and added notes of her social media. "Message me there and maybe I'll get back to you. Just be careful who you watch having sex without them knowing. You never know what can happen."
"Yes Mistress." The words spilled out without thought. I watched her take off the strap-on and put her clothes back on. She walked back to me. Her eyes keeping me in a trance.
Mistress grabbed me by the balls. She squeezed. I was in pain. But I didn't try to pull away. Not that I could have. "Just remember who is in charge."
"Yes my Mistress," I eeked out. She let go and started to stroke me and massage my balls. I became fully erect.
"Pain and pleasure," she whispered in my ear. It was the hottest thing any woman ever said to me. She was stroking me harder and faster. I was moaning now. "Do you want to cum for Mistress?"
"Yes please, my Mistress. Make me cum for you," I asked through my moans.
My Mistress let go. "Too bad. You'll cum when I let you. Now stay here for 15 minutes after I leave. If you don't listen…well I will track you down. And you don't want that." She just stared at me. Her ice blue eyes took control over my body. I could tell that she wasn't joking. "Besides, if you don't listen, then you'll never have the chance to have this." She used her hands to show her body.
"Yes Mistress." Before she left, she smacked my balls. I groaned and doubled over. Then she left and I waited. I have no idea what happened. I let her have her way with me. I was way bigger than she was. I could have controlled the situation, but I just felt…I don't know. I had to listen. I could have not done anything that she asked. I could have just left. But…I couldn't.
Don't judge me. Tell me that you wouldn't have done the same.
We have been chatting online for a few weeks now and I'm supposed to meet her tonight.
Now you can judge me.
What would you have done?