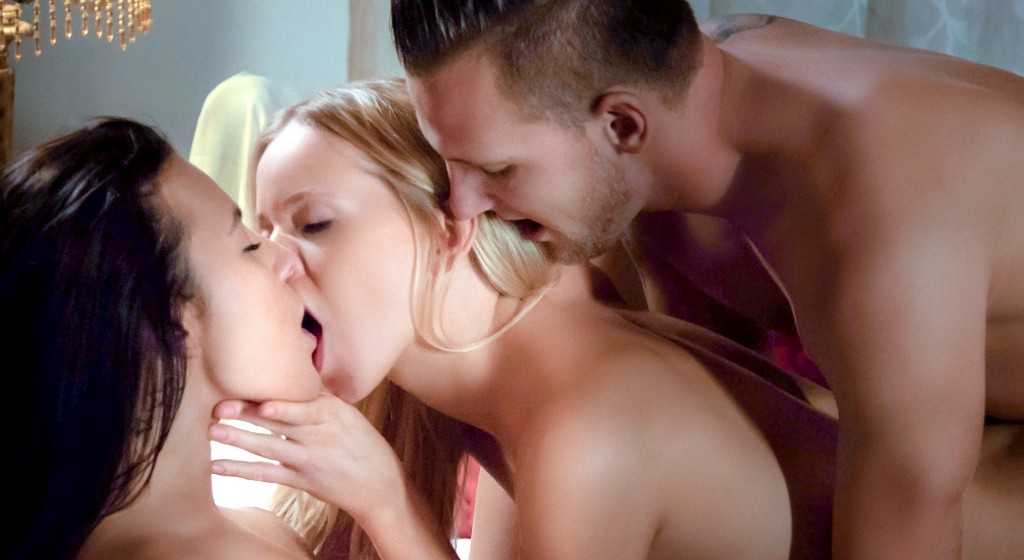 I raise my head as I hear Bunny moaning. She is lying next to Bee, sharing kisses, while Bee's expert hand disappears between Bunny's legs. The three of us sway in unison, uninhibited and unapologetic.
"I think Bee really likes you."
I had the feeling after the first date. Bunny, ever doubting her qualities, was not really sure. The words that Bee would later write for her were extremely poetic and passionate and confirmed my theory. Bee was a great observer. This night was to be a definite proof.
To take pressure off of Bee as our guest, we suggested blindfolding her. It was Bunny's idea, commenting on how when she had been in that situation in the past, the nervousness was always difficult to overcome in the beginning. We hadn't devised a plan for what was to happen after she has been blindfolded, but there was no need for one.
Like a human tetris, the pieces started to fall in place. Bee's kisses were so sweet that it made it difficult for me to stop kissing her. As I moved down, exploring her soft anatomy, Bunny took my place feeding from her mouth and got so hooked that she also could not let go. As I looked up from between Bee's legs to see what the girls were up to, I felt this sudden urge to become one with my Bunny.
Moving up and in was quick. We became entangled in a Gordian knot. My Bunny was already extremely wet, and from the look in her eyes she really wanted me to do what I was doing. My manhood slid into her as soon as the tip got into position. Bee turned to the side following her mouth and embraced our motion. A three-way kiss followed. Our tongues doing pirouettes over each other's. Our motions were slow, yet full of passion. When you feel every millimetre of the shaft as it glides in and out. When you, at the proper rhythm, drive Bunny wild.
And after a few thrusts it did. It was a fantastic sight to watch these two beauties kiss each other. They were glowing with every peak. I could see Bunny starting to reach for the stars as Bee looked up at her in awe. The discharge of energy that followed her orgasm was powerful. We just embraced each other, enjoying the beauty of the moment.
Bunny suggested for me to lie down and a new game started. Bee sat on my face as Bunny started riding me in cowgirl. I was overwhelmed by the sensations, but as it turned out I was not the only one.
I love the way Bunny rides me. She knows just exactly how far to sit up to have the whole length of my dick slide out of her only to then drive it back in all the way. My hands were cruising from her hips to her breasts, not knowing where to focus on first.
Bee's sex on me was like adding petrol to a fire. Her clit was engorged and she was moving rhythmically while I held her waist with my other hand. Her wetness flowed down my chin only to turn me on even more.
I could feel how Bee turned around to reach Bunny's lips. Their hands were on each other's nipples and our rocking felt like waves in a mad sea of sex to me. There was a kind of rhythm to it, but one that was enough out of sync to drive our senses wild. Like a little raft lost in the middle of it, I felt how we were soon to be shaken by the storm that was approaching.
As thunder strikes when you least expect it, Bunny's orgasm descended on us unannounced. We felt how it stoked, and a few instants later we heard her helpless moans. I moved my hands to steady her by her waist while Bee hugged her shivering torso and embedded a wet kiss on her neck. The squeeze on my shaft was overwhelming.
They lay next to me, Teddy surrounded by Bee and Bunny. It was a calm moment of communion. It felt like reaching the peak of a mountain and looking down the valley. A beauty that can happen when three souls have found their way to each other. A place where the world is in order.