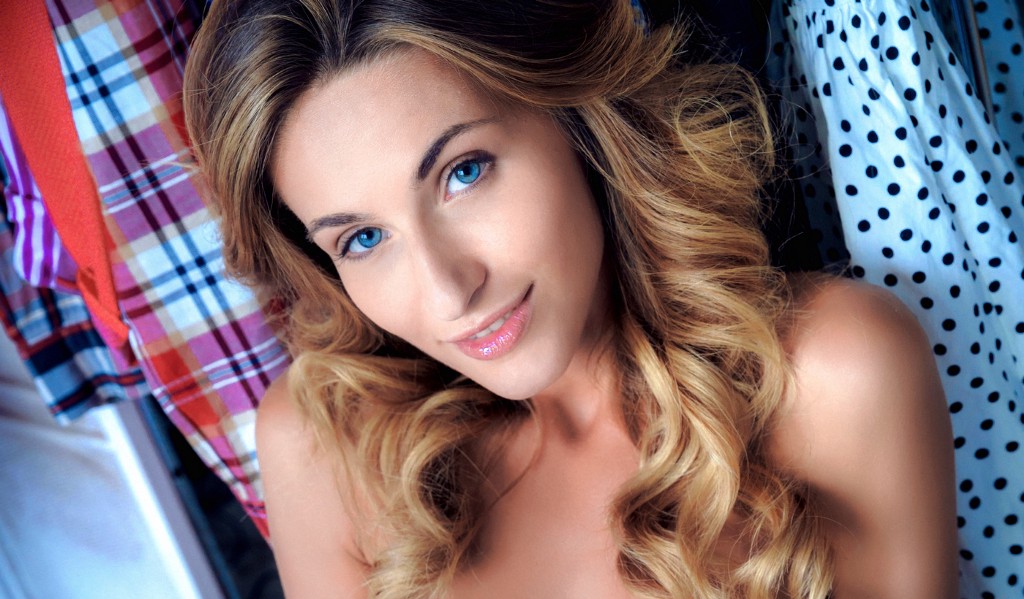 I was walking around the mall when a woman caught my eye. She was around 25 years old, with dark-blonde hair, loosely put up in a half bun. Curls were streaming around her face, and she had a beautiful smile, which lit up her brown eyes. She was wearing an almost sheer sleeveless white blouse, and a long green skirt. The blouse exposed the fact that she wasn't wearing a bra. Her nipples were pink and her tits fit her frame perfectly.
I undressed her in my mind immediately. She looked up and caught me in mid-daydream. She smiled slyly and walked away, glancing back over her shoulder at me. My dick was hard, as I loved how she looked — I wanted to hold her in my arms and say sweet things to her as much as I wanted to lift up that skirt and fuck her, holding her body as I pounded it. I stood frozen as I watched her walk away.
I started to walk in her direction, letting my perversions and dirty mind lead me. I watched as she influenced everyone she came into contact with — every person, man or woman, had a smile on their face and looked happier after they interacted with her. My heart was beating fast and I wanted to see more of her. I was entertained just watching her, and it made me want her more. I resolved that I had to have her. I kept following and I felt like she knew I was watching, which made her giddy.
She walked into the women's section of a gigantic department store. She grabbed a few dresses to try on and went into the fitting room. There were no store employees around. My heart was pounding with anxiety but also hunger. I smelled her perfume in the air and I wanted to inhale it from her soft skin and kiss her neck. I thought of her massaging her tits with lotion in her bedroom, alone at night, enjoying the feeling, grabbing them and loving the touch, finally masturbating to a passionate orgasm. I wondered, "She must be with someone right? Someone has got to show up."
I walked into the fitting room and saw one of the cubicle doors was ajar. My heart was pounding. If this wasn't her cubicle, I would be so embarrassed and would have to feign ignorance that I had entered the wrong room. But I felt in my balls that she had left the door open for me.
I opened the door slightly and saw her cross in front of me, wearing a tight peach blouse and an even tighter white skirt. She turned and saw me and smiled. She started to take off the skirt and I saw she wasn't wearing panties. My erection wanted to rip out of my pants as I saw the tattoo she had on her lower back, trailing to her ass, of hearts raining downward, encircled by stars.
"Hi. You've been following me…" she let out under her breath.
"Yes…" I barely murmured.
"Are you some kind of pervert?" she asked. I didn't answer.
She walked up to me and my body began to shake. She looked up at me with her seductive eyes and smiled, "Well? Are you a pervert?"
I looked at her and admitted, "Yessss." Her perfume was overwhelming me and I felt completely vulnerable.
"Come here. Help me with this dress," she commanded, and I was hooked. I grabbed a long, prom-style dress. "Kneel and help me get into it," she demanded. I knelt down. I laid the dress on the carpet. I could feel the warmth radiating from her body. Her hips and pelvis hugged to form a perfect "V" and she had a bushy pubic hair triangle I wanted to run my fingers through. I could see her pussy lips half-hidden behind her thighs and I wanted to dig into them ruthlessly.
She stepped into the dress and moved closer to me, putting her hand on my shoulder. I pulled the dress up slowly, looking at every perfectly sculpted part of her body. My lips salivated at the thought of kissing her skin and licking her everywhere. She turned around so I could pull up the zipper. I ached to wrap my hands around her.
She was getting off on my reactions as she looked at me through the mirror. "Please, take down my zipper," she whispered. I was hypnotized. I brushed my hand over her shoulder. She exhaled and I felt her body relax. I couldn't take it anymore and I grabbed her, mashing my lips onto her neck. She took my hands and bent her neck back against my chest so I could have a better angle to sink my teeth into her neck — and I did. I raised the dress up and my fingers immediately began to run between her pussy lips. I almost picked her up off the floor, I had such energy. I pulled at the cups of the dress that held her tits and dragged them down, grabbing her tits and groping them. She loved it, breathing heavily.
"Wait, wait! Close the door!" she let out between panting. I closed it with a slam and we ended up against the back wall. We were kissing passionately and caressing each other's face. I knelt and pulled up the dress until it was around her waist. I stuck my nose in her pussy lips and then took them in my mouth. I was making out with them and then, hungry, picked her up by the ass cheeks and pushed her pussy into my mouth. I flicked my tongue on her clit rapidly as I felt the heat of the dress over my head. I heard her and felt her through quiet moans and grunts. I kept pushing her up against the wall, letting her know I was eating her and she was mine. I felt her hips push into my mouth with acceptance.
I stood up and we kissed, she sucked on my lips to taste her pussy juices. She caressed my face and kissed me hard. She began to unzip my pants and reached in, taking out my thick, throbbing dick, which had a mind of its own and was begging to be used. She stroked it and looked deep into my eyes. She stroked faster.
Then she knelt down with the dress bunched around her waist and started to flick my cock on her tongue. She looked up at me, stroking fiercely, alternating with flicking. I loved watching her enjoying herself. She took my dick in her mouth and sucked it deep. She deepthroated me and I almost let out a scream of pure ecstasy. I pushed on her head and gyrated my hips on her face, fucking it as deep as possible. She grunted at me with pleasure and grabbed my ass cheeks, pulling me into her. I slowed down and fucked her face, watching the shaft come out of her pretty mouth, then back in. She wrapped her lips around it and her eyes watered.
I picked her up off the floor and guided her onto all fours on the bench. She arched her back and stuck her ass out. I knelt down behind her, took my dick in my hand and started to brush my mushroom head on her pussy lips. We both started to moan and I pulled and pushed my shaft up and down her pussy lips, getting us worked up again.
The feeling was amazing and I felt we could have kept going that way to orgasm but then, I slipped into her and pushed myself all the way to my balls. I started my thrusting slow, feeling every inch of myself going inside of her as we both moaned with pleasure. I picked up the pace, both of us glistening with sweat under the fitting room light. My thighs and her ass slapped together and the sound got louder.
We got up to a point where we were about to start screaming when I heard footsteps and saw feet stop at the gap under the door. I jerked her up to me and covered her mouth. She looked down at the feet and froze. After a moment, the footsteps left. Our bodies were pressed against each other. My hips started to gyrate again and I slipped my fingers into her mouth for her to suck. I kept thrusting upward and we stayed that way, pressed together. She leaned back against me and we looked at one another in the mirror as we fucked.
Her eyes widened as I kept covering her mouth. I thrust harder and she came. I kept thrusting and she was sucking on my fingers as she shook through her climax, until I exploded inside of her. We stayed clutched together as we both needed to recover, naked and kneeling on the bench.
After a while she got up and started to get dressed. The feet returned to the door and someone began to knock heavily. "Just a minute," she called out. She finished getting dressed, picked up the dresses and opened the door. "Great! Thanks, I'll take this dress!" she exclaimed to the store assistant.I hid in the corner of the cubicle, feeling trapped.
After a few moments I sneaked out of the fitting room, and saw her at the register, looking flushed. She gave me a big smile. I motioned with my eyes for her to meet me outside.
Emma and I didn't know how this fantasy was going to work out, when we dreamed it up. But, we love remembering it every time she wears that dress!