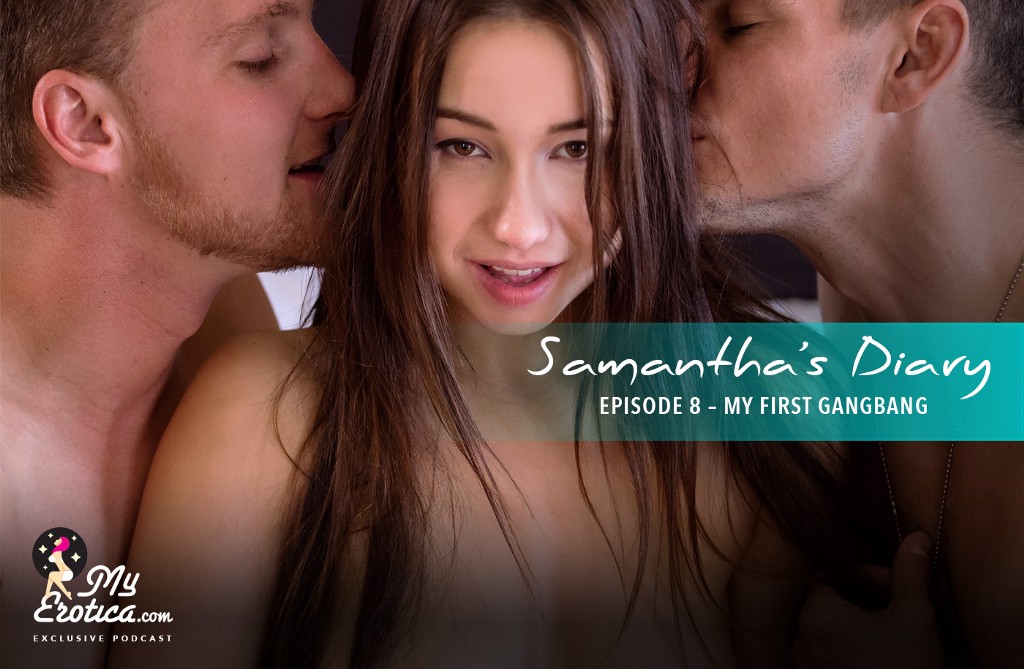 My first gangbang…
I'm not a big outdoor-type person, but last summer I found myself wanting to get away from it all, and decided to take a camping hiking trip. Just me, my gear and the great outdoors. I planned to spend just two days hiking so I packed light. I spent the rest of the day reading and relaxing. When it began to get dark, I started to wonder what I should do next.
I didn't have long to think, however, because just then a group of five guys came tramping into my campsite. Upset, I told them they'd have to leave. They claimed that this was their favorite spot and they wouldn't be leaving. Since it was dark and all my stuff was set up, I figured I could spend the night and set off early the next day to find a site of my own.
Even though they wouldn't leave, the guys were nice enough and after they set up their camp, began playing cards by the light of a big fire they'd built. They were drinking but weren't obnoxious and looked to be having a lot of fun. I must've looked a bit left out because they soon invited me to join them.
I 'd nothing better to do, so I decided to join them. We all got to talking, and drinking, and I found myself warming up to the guys quite a bit. They all had good jobs, were well dressed for hikers and two were even married. Best of all, no one was hitting on me.
As it got later and the fire got hotter, the guys started looking really good. I could see their bulges through their Levis and was dying to know what was underneath. I figured I'd give them a hint by stripping off some of my excess clothes. When I got all the way down to my sports bra, and my cut-offs, I could see the guys were getting interested.
One of the guys, Tom, came over next to me and put his arm around me. I liked that and reached for him, drawing him up against my body, and I began to kiss him on the neck. He was instantly on me and I was feeling a bit self-conscious, but decided that if I was going to have any fun at all I'd better lose my inhibitions. I got up, stripped off the rest of my clothes, and began to dance around the fire.
I think their jaws just about hit the ground. They were enthralled — if I can be allowed to brag a bit — and I was really turned on. The fire and the alcohol had warmed my body and all the guys staring at me made me really horny. Before I knew it, I was leading the guys into my tent.
Only three of the five came inside the tent with me. Jay and Kyle, the married ones, stayed behind (bless their hearts). The other guys wasted no time stripping down and before I knew it, Jacob was inside me. I lay down on my back and opened my legs. Jacob got on top of me and slid right in. I was so wet. I reached up to feel his body while he was fucking me. He felt so good but things were about to get better. Phil positioned himself close to my head and offered me his cock. I took it into my mouth. Oh my god! I had two cocks inside of me. This was so exciting.
Someone took my hand and the next thing I knew I had Danny's hard cock in my hand. This was too much for me, having three cocks to play with and three men who wanted more than anything to fuck me. Jacob pushed into me at just the right moment and hit my clit and I came. It was such an intense orgasm, the first of many.
The boys kept doing me and I was in heaven. We went on like this for close to two hours, the guys trading positions and moving around me. I tasted my pussy on each of their cocks. In the end, we wound up where we started. Jacob started fucking me faster and faster. He announced he was going to cum. I took Phil's cock out of my mouth and told him to cum inside me. He did, in force. His cock was deep inside me I felt each spurt of semen. It was incredible. Jacob stayed inside of me while his orgasm subsided. When he pulled out my pussy felt so open and wet.
Phil was next. I started sucking his cock again. He looked at my pussy and Jacob's cum leaking out onto my thighs. That did it for him. Phil ejaculated in my mouth. It was a huge load. I couldn't swallow all of it at once and some of it leaked out of my mouth and down my chin. I had Jacob's cum running out of my pussy and Phil's cum on my face.
I started rubbing my clit. Phil moved off me to recover and Danny straddled me. His cock was inches from my face and right over my tits. I told him I wanted to see him cum on me. He said okay and started rubbing his cock. I was still rubbing my clit when I started to cum. Just then I felt a hot spurt of semen on my face, followed by several more on my tits. His cum was so hot. I rubbed his cum into my tits and tasted it. He was delicious. I don't know how many times I orgasmed but it was spectacular.
When we were finished, the guys went outside and laid out their sleeping bags on the ground next to the fire. Phil carried me out and laid me down on the bags and I felt great relaxing by the fire. Then he came over and went down on me until I came again. Phil either forgot or didn't care that Jacob had cum inside my pussy. It didn't matter. I found that to be an incredible turn-on and I always love having my pussy eaten. I fell asleep by the fire that night with Danny fucking me on one last time.
In the morning, the guys made me breakfast and we all had a really nice morning chat. Jay and Kyle invited me to go for a hike. I figured they were just trying to get me alone so the other guys wouldn't know they'd cheated on their wives with me, but it turned out they just wanted to talk. They were really sweet and felt a little awkward about last night's activities. I told them that night was definitely a first for me and I think that made them feel a little bit better about me.
We got back to camp late, and the rest of the boys had dinner ready for us. That night I danced by the fire again and the whole process started all over again. Jay and Kyle were so nice that I didn't want them to feel left out. They protested, but I kind of persuaded them, taking turns taking them in my mouth. It was the first time I gave two blowjobs simultaneously. Jay was first to cum in my mouth. It was a big load and I swallowed as much as I could. When he was done I looked up at him with his cum on my chin. He said thank you and moved over so I could finish Kyle.
Kyle didn't last long. I think seeing me with Jay's cum on my face overexcited him. He also had a big load, most of which I dribbled onto my tits. I do hope their wives never find out! When we were done I walked out of the tent to show the rest of the guys what I had done. They were all impressed. There's something about seeing cum on my face and tits that just excites these guys.
We're planning on meeting again next year. I can't wait.
You can find more episodes here