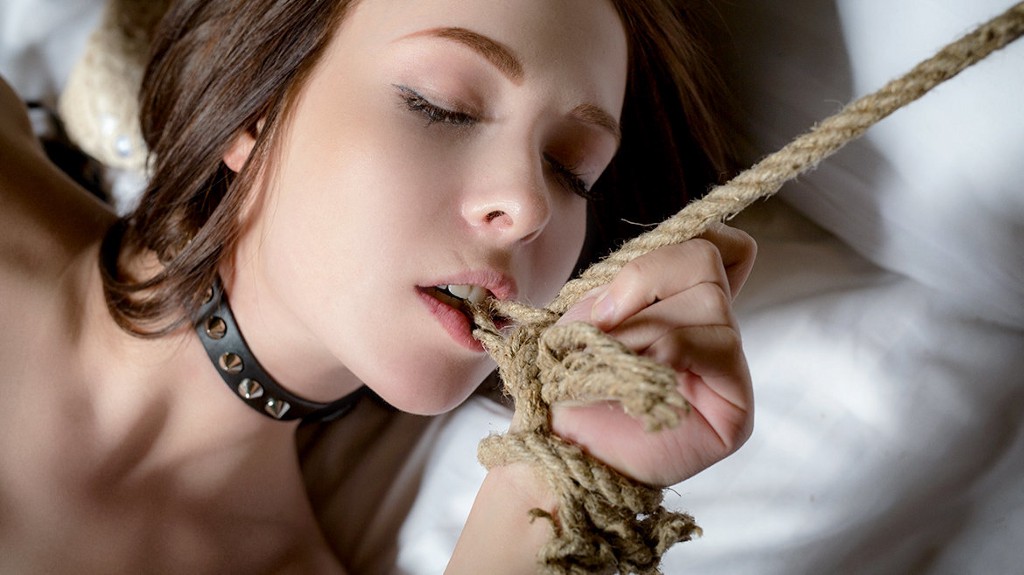 You bind me with invisible rope. But it's real; you still restrain me. You hold me in exactly the place you want me. And I love it. Fuck yeah. After all, you own my body's manual; you own me. I beg for you to take me in every way, and to let the Calgon bath of your thick stiff cock succumb inside me. While I love the way you edge for hours and give me so many multiple orgasms, I can't help wanting your seed inside me, roughly plunging into me as I plead, "Master, please… I'm begging you to fill me with your jizz." I want it dripping out of each and every hole of mine when you cum.
We both fantasize about that, and sometimes when I'm real open to you, I feel your long, thick cut dick fuck all my holes simultaneously. Even though it's physically impossible, with you the impossible is possible. It's beyond desire, beyond lust, it's beyond my comprehension. But I do everything you tell me. I submit my own free will, and you cheer me on whenever we play; hard. Like you, I love it hard and rough; especially your kisses. God! Do I feel it when our mouths fuck. You tell me I have a "dirty cock mouth." It's such a turn on, you suck fucking my mouth real rough after I go down on you. I want you even more when you taste my favorite flavor in the world, my saliva and your cock's pre cum/cum. Fuck yeah! It makes me wetter than the ocean.
You are in awe of my technique. You've never met a mouth like mine before; and you never will. Your mouth is your cock, and your cock is your mouth when I eat you.They're the same, they taste like Heaven, and I take as much of you as you're willing to give me. You're such a perfect fit for my mouth that I can't help but engulf your hardness as deep as I can. I'm always ready. I'm always willing. I love sucking you off.
I'm not your average girl. I don't want you to put a ring on my finger, but I insist I put a ring on your cock. Of course you oblige. You're going to buy me a piece of jewelry. You desperately want to buy me a big jeweled butt plug. You want me to wear it in public, thinking of you taking all you've got inside every cell in your body to fuck me up my ass. Anal is my yellow brick road down the rabbit hole, and I want to see the wizard, while we fuck like rabbits.
Of course there's always hours after hours, and sometimes days of foreplay. Every time we're alone you demand I get down on my knees to suck your cock and balls. I always try to squeeze as much of your crown jewels into the vault of my wide wet mouth. It's a trick I've learned over the years, and it gets me real wet when I give you this pleasure. I get off without you even touching my pussy or ass when you repeatedly tell me I give you the best head you've ever had. You give me rave reviews. You'd honor me with an Academy Award for my performance. It's always the appetizer you order. And I love serving you. The only pairing you want to sip slowly and savor is a hand crafted intoxicating hallucinating cocktail of your cum and my saliva. You love my "dirty cock mouth." Our cocktail is even more potent and powerful than drinking a dirty martini with a chaser of absinthe.
I'm now tying you up with my mouth. I'm playing your cock the same way I played the clarinet growing up, except I never miss a note. I'm in key with your licorice. Except it's red, and it gets redder as I suck on your reed. I love to twizzle your Twizzler. Makes me so wet I soak through my panties, which glisten with my pussy's lip gloss. I love to wear white sheer panties so you can see the outline of my flower, and see its power. Every time I wear them, it's like winning a wet thong competition at Spring Break.
I love it when you tell me how beautiful it is. When I asked you what kind of flower my pretty pink pussy was, you said, it was my "Jenny flower." Every time I hear you say it, I get wetter and wetter. My desire is so intense, I feel I'm falling down an elevator shaft on ecstasy. Molly is the nom de plume of the ropes that restrain me. There is no trace of X in my system other than my flower's own power. You are training me to trust myself in the moment with you, because we are forced to.
It's not easy where we are in our lives right now. We've both lost and sacrificed so much, that I feel we are banded together to heal our wounds. Our sex life isn't superficial, it's deeper than the sea and transcends time and space. Master, my sexy man toy, our sex games are exercises designed to both escape our pain and heal it. I couldn't ask for more from you or the Universe.
You are hotter and sexier than you know. And I should know, I've been free to explore myself and my sexuality. I've had lots of exes who each taught me a lesson, and I have tales to share with you, and everyone here on Medium. But you, my dear lover, are the best sex I've ever had. And as much as I'm doing my best to be in the moment with you, I'm becoming addicted to you and I'm afraid because you can't commit you'll leave me alone detoxing from my addiction.
Now give me a kiss and tell me what you want me to do. You know I love your body, and respect you. God I want you,
Your Jenny Flower
Thank you for reading my erotic story. I love applause, highlights, comments and shares on your socials. I crave your feedback, so please feel free to share your thoughts. This is an open forum. I respect you all and look forward to connecting with you through your comments. Please feel free to give me ideas for stories you want me to write. You know I love you, Jen X