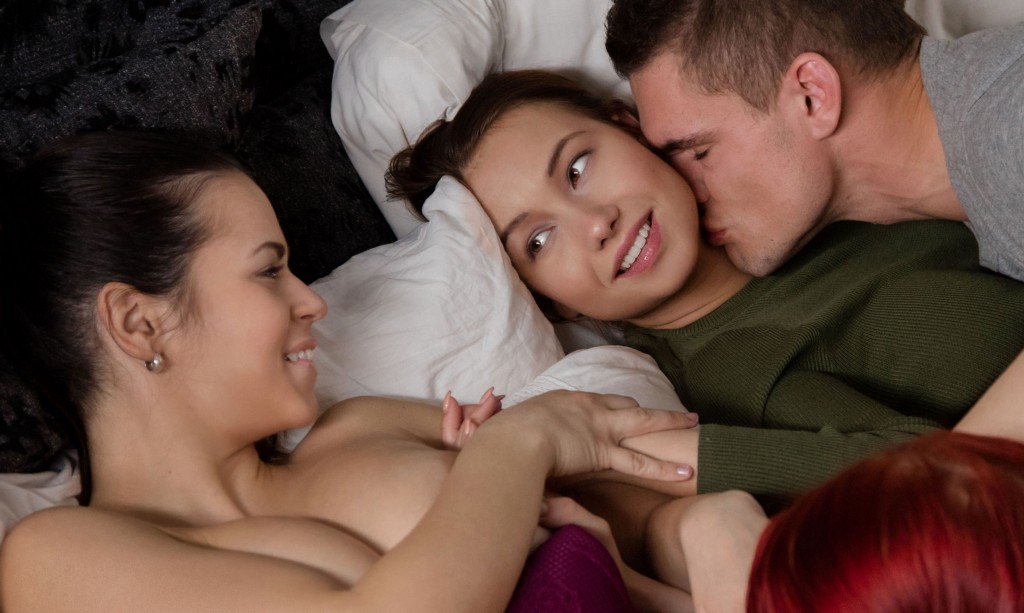 My first time with four women in college was as strange and rewarding as one might imagine.
Not only was it tricky to arrange getting everyone at the same place at the same time, but also for them all to want to have sex together. I was way out of my depth when it came to figuring out what my role was going to be. Fortunately I was carefully guided by Gloria, who dreamed up this little party. It didn't matter how we got started or what anyone said about anything, really. Once the day arrived we spent a lovely early afternoon getting completely stoned. Everyone but me knew we would eventually end up mostly naked later, but the day seemed to stretch out beyond eternity because of the anticipation. Caroline got more and more quiet as the day went on.
The fact it was a sunny day was a perfect start. The evening was filled with giggles and good food. No one was left out of the fun. After what seemed a half day of being entirely smoked out I suddenly found myself contemplating the idea of Caroline's shapely body in various lovely outfits. Then I started to visualize Gloria in something bright red, which I knew she owned, while eating Ellen wearing a black corset and satin gloves, which I knew she kept in her bottom drawer. Swirling images of their bodies clad in silky soft colours, catching light in every fold, sliding and settling across narrow waists or along smooth legs, filled my brain — while anticipation filled my erection.
Once the sun reached the hills we went inside. Ready and waiting was a delicious and colourful meal. We were all craving something so it was a free-for-all along the counter with each of us reaching across each other to fill our plates. Then a long silence passed as we each became totally focused on our meal. Some compliments were in order, so I started with how great everything tasted. Others immediately chimed in to praise what this or that person contributed.
Then I decided to compliment Caroline on her beautiful print blouse. This produced a chorus of other compliments overlapping each other about what each was wearing. It descended into a chaotic yammering over bubbling giggles.
Once our plates were empty the four women began complimenting me. My pants were unable to conceal my growing excitement. Caroline seemed most impressed, confessing she was looking forward to seeing more of me. Gloria shamelessly said she was curious about my reputation for eating pussy. I felt myself getting even more aroused by all these women openly talking about my body this way. My stiff cock strained while my mind was distracted by wobbling breasts and crossed lean legs.
My girlfriend Michelle took Gloria's hand and led her into one of the bedrooms. I wasn't sure what this meant, but in seconds both Ellen and Caroline urged me to join them. When we entered Gloria and Michelle were already halfway through undressing. I wanted to ask them to slow down, so I could enjoy how they looked without their clothes, but the hand now pressing against my erection yanked my attention away.
Ellen was intently stroking her fingers along the crotch of my pants. Then she told Caroline to take off my pants so she could show her my cock. In an instant I stood between them in only my silk boxer shorts. I wore silk just for me. I had not been quite sure whether this party was actually going to happen, but here I was in a bedroom with four women ready to have fun.
The explanation reached my ears but it took a while for my stoned brain to process it. While the three of us stood watching Gloria giving my girlfriend some serious sexual stimulation, I was told Caroline was quite inexperienced and was looking forward to finding out what fucking was all about.
The slender fingers of the hand which covered the embarrassed smile belonged to a truly beautiful woman who could have had any man she wished. My brain could not process that she was still waiting for her first satisfying sexual experience with a man. While they worked my erection I mumbled something in agreement. The two of them giggled at my attempt to join the conversation. Once my erection was proudly on display I found it funny too. I just wanted to help Caroline explore what she'd never seen before. To give to her the experience she so desperately wanted. Ellen did too.
Ellen spent the next fifteen minutes coaching Caroline in how to fondle and stroke a hard cock. It felt wonderful to have one women telling the other what to do while I just stood like a mannequin. My first sexual experience was a handjob from a girl in high school. When I felt Ellen put her hand on Caroline's to show her how to grip my shaft, I heard myself utter a groaning sigh for this deliberate escalation of my arousal. Ellen served up the biggest complement any guy would love to hear — especially with two women kneeling in front of his stiff cock — telling Caroline, "Most guys aren't this big."
Until Ellen's remark reached my ears I never gave the size of my cock a second thought. I was completely happy with mine, hard or soft. But now I was also shaking with desire from the feeling of two hands around my shaft. This was not the time to celebrate the status of my erection. It was time for Caroline to become familiar with the feel of one.
My stoned out brain was barely able to keep up with seeing Michelle on her back, legs wide apart, while Gloria slurped all over her cunt. Moments after Ellen had gotten Caroline to feel my cock I was watching Gloria wet a rather lovely rubber penis with her mouth. My erection throbbed in Caroline's hands as the toy was fitted firmly into Michelle's glistening slit. Ellen told Caroline to feel how I was pulsing, to enjoy the effect she was having on my stiff length. I was so distracted by seeing my Michelle getting drilled by her friend that I didn't really notice when Ellen knelt down directly in front of me, leaned in, and fitted the head of my cock between her lips. Caroline knelt beside her holding me still. This was a total… body… freakout!
The sensation of my cock tightly gripped by Carol's slender hand, while Ellen's lips were fixed around the ridge of my head, had my heart racing. Over on the bed Michelle was squirming under the intense probing of Gloria's toy. I felt Ellen's tongue dancing and swirling around inside her mouth. I was rock hard and throbbing while this sensation shot through me like a bolt of electricity. I nearly shouted. I took in a gasp of air with the intent of belting out a howl of joy, but I caught my gasp because I wanted to keep this level of arousal as deeply as I knew how. My confused brain felt like it might explode.
When I let out my breath, Gloria glanced across the bed in my direction. She provoked me, saying Ellen was probably a better pussy licker than I was. Then she went back to drilling Michelle with that amazing dildo. My gaze dropped back to Ellen looking right up into my eyes while twirling and swirling the head of my cock. She might have been challenging me to prove myself after hearing her friend's declaration. I hoped with all my heart I would have a chance to prove myself to each of these women in turn.
With Ellen's eyes locked on mine I had a moment of realization about how this might be exactly how it feels for a woman whenever I'm swirling my tongue around her clit. I began to imagine what it felt like for my first girlfriend, Emma, just then. She was my satin dream girl who taught me all about how to treat her pussy while riding on waves of lust toward a shoreline of release. Emma had taught me all the parts of a woman's pussy. She'd demand I keep away from her clit until she was fully warmed up. In a flash I wondered whether I might be experiencing a bit of what it was like to have a tongue sending jolts of passion through the most sensitive part of a woman's body. Maybe a man's erection is just a big clit on the end of a tube of flesh.
Emma taught me to bring her to climax only after first working her pussy into a frothing cauldron of lust. Then she would signal for my lips to target her nubbin, along with short swipes of my tongue, until she couldn't stand it. I received months of instruction about targeting a firm clit as well as just where to give the most enduring pleasure. She'd shown me how she wanted her orgasm to grow slowly until it built up to her climax. For all the time I spent with my head between her thighs I never once thought about what it was like for a woman to feel my tongue pressing gently against her clit. I was usually in my own state of shivering arousal so it never occurred to me to imagine what it might feel like from her point of view. If what I was feeling now was anything like what I had done for Emma then I was glad. Ellen was showing me what it might have felt like for my satin dream girl while I licked her into endless orgasms during those glorious days we had together.
Caroline's hands fell away from my cock just before Ellen stopped swirling her tongue. I was stiff as steel while the end of it stayed between her lips. Caroline looked up at me for just a moment, which trapped me in her gaze while I wondered if she was as nervous as I was when I first started having sex.
I hadn't realized, until then, she'd been transfixed by the sight of a hard cock and was, only now, acknowledging to whom it was attached. Seeing Ellen work just the end of my cock seemed to have motivated her to ask to try it. Ellen put both hands around my shaft before pulling her head away and to the side. Caroline did not hesitate to pull my shorts down when she had the chance. Once I had stepped out of the silk puddle Ellen waited for a breath or two before telling Caroline to be careful with her lovely teeth and just hold the bulb with her lips. Caroline's jaw and cheekbones were very dramatic. I watched with great anticipation as her mouth formed a wet, red opening before guiding it toward the tip of my erection. Her tongue stayed inside while she leaned forward.
When I felt her lips pucker around the end of my cock I felt a brand new thrill travel up from my toes. This beautiful creature finally had a man's cock in her mouth for the very first time, and it was mine. I shuddered a bit in response when she started moving her tongue around carefully. Then she stopped. I nodded for her to keep going. She tongued me some more. Then she swiped across the underside of the head, sending me to the moon. How could she have known? Ellen, and her experienced hands, recognized my reaction to what Caroline was doing with her tongue. Then she leaned over to whisper a suggestion or two. The tongue stopped but the lips started sliding along the shaft until they met the fingers of Ellen's hand. This mouth moved only about a half inch but it was delightfully exciting. The movement continued in and out for a few slurps while I enjoyed watching those amazing lips rolling inward and outward.
Ellen dropped one hand out of the way allowing Caroline to go deeper. She managed to get a lot more between those lips on each sucking stroke. Eventually Ellen's other hand fell away to let Caroline hold my erection herself. A moment later Ellen stood next to me while we both watched Caroline try to find her comfort zone. I reached around Ellen's waist to steady myself, and to feel the material of her flowing wrap dress. It hugged her body and I could feel her warmth as I ran my hands over her. I loved the way it slipped against the tap pants she wore under it. My hand worked around her waist and back toward her ass a few times while I enjoyed this little interlude.
Ellen turned to speak into my ear in a breathy whisper, "It'll be my turn next." My stoned mind picked up a slight tone of uncertainty in her whisper. Maybe I just imagined it. Ellen was primarily interested in finding out as quickly as she could whether this rumour about my tongue was more than just one woman's opinion. I expected her to be defiant by challenging me to show how well I could do her, but as much as she tried to make it sound like a dare it had a hint of pleading somewhere in the middle.
Across from us Michelle was glazed in her own juices as Gloria slowly worked her up into a foggy state of excitement. Michelle saw Ellen standing with me and smiled to see Caroline's head moving at my crotch. Michelle already knew what it felt like to have her lips sliding along my shaft. We'd shared many a night enjoying our erotic journeys.
I enjoyed about five more minutes of Caroline's sucking before Ellen kissed me. It was slow, warm, soft and tender. I felt a wave of excitement pass through me while I kissed her. When our kissing ended she looked at me with a smile and told me she wanted me to lick her pussy right now.
When Gloria noticed us kissing she leaped up off the bed to gently pull Caroline away from my cock. I needed a moment to process what was happening next. Michelle gave up her spot as Gloria took my hand to entice me down onto the very warm bed. With my erection the center of everyone's attention I knelt, then rolled onto my back, leaving myself naked and ready for whatever these women wanted to do next.
Ellen undid the tie on her dress to slip it off. She ran a hand through her hair before getting onto the bed in her lovely tap pants. They shone and waved in harmony with her hips and legs. I was so involved in watching her ass I forgot, for a stoned minute, there were three other people doing the same thing. Caroline's beautiful wet lips caught my eye. I couldn't wait to have some more time with those lips. Gloria was directing Caroline to go around to the other side where she could watch me more closely.
Ellen climbed up over my head with her knees at my shoulders. Michelle seemed dozy from being pumped so thoroughly, and ended up sitting near my knees. Gloria stepped up to the headboard and told me to give Ellen the licking she deserved. She wanted me to show everyone what all the fuss was about. At first I felt a quick moment of panic when I heard the tone of defiance in Gloria's voice. I was clearly at the mercy of these four women at this point so I needed to remain calm in order to enjoy whatever happened next. Michelle sighed deeply as she slowly recovered her strength. Ellen lifted her panties to one side and slowly lowered her pussy toward my face.
From far away behind Ellen's tight thighs Michelle said something about "maybe this will help" just as her hand took hold of my very hard shaft. Her gentle, familiar stroking brought me back down from my paranoia. I found it incredibly sexy for her to be holding my cock while her friend's damp pussy hovered over my face. As turned on as I was, I was careful not to push things too fast. Ellen's pleading tone was still fresh in my mind and I wanted to be sensitive to that. So I figured I'd let her guide things where she wanted them to go. I looked up to see her staring down at me from a great height. Gloria told her to enjoy the ride while she slid out of her cut-off jeans revealing a wonderful black thong.
I didn't want to take advantage of Ellen's fragile ego so I started by kissing and rubbing my lips against her labia. She smelled fresh and ready. Ellen shifted so my head was between her legs with full access to her blushing pussy lips. This turned me on even more as Michelle was pumping my cock more firmly through thin layers of her nylon half-slip. I put both my hands on Ellen's ass before pushing my tongue into her pussy for the first time. From there it felt like hours went by.
Licking Ellen never felt like a challenge to me. She responded naturally to everything I did. It was as if she knew, only a moment before I did, what was going to happen. I worked her over for a long time but I was avoiding her clit the whole time. She started out being comfortable with my slow explorations but eventually was moaning for me to make her come. I knew, from what Emma taught me, that it was important for her to feel in charge, safe, on top of me. She had to learn to trust me even while demanding I perform for the group. I knew I could carry on like this for a long time because of the way her cunt was responding to my licks and swipes.
Michelle's hand was a calming influence through all of this. I was in my zone with all my focus on getting Ellen up to the peak of arousal. Then I pushed her hips up and told her to lie on the bed. Gloria had Michelle and Caroline move away so I could open Ellen's legs and crouch back down between her thighs. Then I started into the familiar sequence Emma had taught me; I knew it would bring my partner to a nearly constant state of orgasm. Working carefully toward her clit I eventually started teasing back the hood and targeting my tongue slightly off center from her love bud.
Once I was settled in I just kept tapping and licking along the side of her clit with a smooth, gentle, gliding motion. The room grew silent as they all watched Ellen fall into a hypnotic kind of paralysis. Waves of orgasm urged her closer and closer to her climax. She broadcast each wave of sensual delight by moaning long and low. A moment would pass before she would moan again. My licking was feather light as I nudged her through repeated waves of joy. I could have kept her in this hazy fog of orgasm for as long as she could stand it but I needed to bring her home with one last swing for the fences. Gloria and the rest needed to see for themselves just what Michelle had been talking about.
I waited for the perfect moment when I knew Ellen was most ready to come. Her waves of orgasm might have seemed like they would build into a final gasping orgasm, but I knew my tongue and fingers would tell me just when her throbbing center was ready. The silence was broken when Ellen cried out with a wail, a short plea to God followed by a curse, just as my tongue drove her right over the edge. The room had watched her floating in her sweaty waves of multiple orgasms inside which she seemed entirely ready to remain for as long as she liked. But the final stab caught them completely unprepared for the powerful climax which took over Ellen's body. I heard Gloria gasp just before I heard Caroline say, "Oh… my… God!" Michelle must have been silently beaming as my demonstration concluded.
Once Gloria had gotten some water for Ellen it was her turn to enjoy my skills. She lay on the bed in the warm sweaty place Ellen left for her, letting me slip her thong down her legs, then opened herself up to me. I asked Caroline if she would pump my cock while I ate Gloria's pussy. Caroline took up a position on one side and Michelle on the other. They each fondled and stroked my cock in turn as I crouched into Gloria's opening. Needless to say her experience was similar to Ellen's in that she was now ready for me to show her what it felt like to be licked by an expert. Gloria might have been sincerely dubious before she saw what Ellen went through, but once my tongue started working its way into her opening she was loud and grateful. The longer I licked the more my stoned state was wearing off.
The hands working my hard cock were wonderful, but I felt myself gently returning to a clear head while Gloria rode the thrill ride my tongue provided. Where Ellen simply floated from one peak orgasm to the next Gloria seemed to explode with noise and squirming each time I bought her up to the next one. Gloria finished with a fireworks display of groans, moans, and foul mouthed appreciation for her multiple orgasms ending in a totally consuming climax.
Since Gloria was not really interested in men I had no obligation to fuck her at this little party. She and Ellen had something going on between them which was apparent from the way Ellen had watched Gloria coming.
Michelle insisted we all take a break, perhaps a shower, a change of clothes, and some more weed before we carried on any further. I was happy to get myself back together. Michelle quietly told me how Caroline became a little overwhelmed at how strong Gloria's orgasms were. We shared a conspiratorial smile between us. Around this time I was starting to feel like a sultan. But Michelle's smiling face told me this was her victory and not mine.
Each woman left to use the washroom in turn. I watched as each of them returned refreshed and smiling. We were in Ellen's bedroom, apparently, so she changed into new panties and chemise right there in front of me. I lay there with my hard cock in my fist awaiting my turn in the bathroom. Michelle and Caroline left when Gloria finished in the bathroom. Gloria went to her room to change. Ellen reached across to push my hand away so she could stroke my cock. She then confessed how it was the most exciting licking she had ever had. She said she couldn't wait to try it on Gloria. I just smiled while her expert hand gently jerked my thoroughly hard cock.
When Gloria returned she watched her friend jerking me and said she'd like to taste a bit of that. I told her she'd have to wait until our little break was over. Then I located my silk boxers, pulled them over my stiff length and strolled out of the room. They followed me to the kitchen where we made up some cool fruit drinks and chatted. Eventually all four women were relaxing in new outfits and nibbling on snacks. I left them to take a shower and get my head back in the game. The water felt amazing. I realized I wasn't quite as high as I'd been before, but high enough for my skin to tingle.
I came back to the front room to find Gloria and Ellen had gone to her room again for a little time together. After smoking another powerful joint between us, Michelle pushed me toward Caroline's room where she had me sit on the bed while Caroline stood nearby. I was under the impression Caroline was readying herself for her first proper fuck, but then I remembered the look on her face when she first asked me if what Michelle told her was true. The heady excitement of being in Caroline's room was mixed with the elevating levels of excitement my stone was creating, which nearly had me passing out.
Just as Michelle knelt between my legs to suck my cock Caroline revealed an amazing teddy by untying the silky robe she wore over it. My cock felt the wonderful warm sucking of my friend while my eyes drank in the vision of loveliness swaying slightly as the robe dropped from around her shoulders. Caroline really knew how to sell her sexiness. That face, that body, and those eyes were all there for me to enjoy while my cock went deeper into Michelle's mouth on each plunge. I remembered stroking my cock to the memory of some of Caroline's shiniest outfits. Her heavenly body had been the subject of many sexual fantasies from the first time we'd been introduced.
Michelle stood up and gestured for Caroline to get on the bed. The next moment was the single sexiest thing that's ever happened to me. Michelle lifted the robe off of Caroline's body as she moved to lie on her bed. Once I climbed up over Caroline's body, Michelle draped the robe over us. I was bent over her friend with my cock pulsing with need. Once I bent over Caroline the silky robe created a private place where I could really focus on giving Caroline her very first oral sex experience. She might have been biting her lip, rolling her head, or making faces at Michelle while I licked her pussy but I saw nothing but her shaved cunt as I gave her everything I had. She seemed to stiffen up once or twice as if she was feeling scared of what was happening. Over time she opened up to my tongue and let me send her to heaven.
It was warm and cozy under her silky robe. I felt like all of this was meant for me. She was mine. Her pussy was to experience, for the first time, just what it was like for a woman to be licked to orgasm. After all my efforts she finally came like a wild woman. Perhaps she was inhibited about sex before seeing Gloria's boisterous expressions of joy. Maybe something just freed her to give out with a few squealing shouts of amazement. But something new was revealed about my girlfriend's roommate, which even she could not have anticipated.
Michelle pulled Caroline's robe off us before declaring it was time for me to fuck her. I agreed. I'd been waiting all night for the chance to fuck her beautiful friend. Caroline slid her teddy up and away from her very wet pussy while Michelle rolled a condom down the full length of my erection. My hard cock was soon pushing against Caroline's opening as her legs wrapped around me. She pulled me into her until my cock was fully inside. I really enjoyed the wonderful warmth and wetness of her pussy surrounding my shaft.
Once I was fully inside we both gasped as we looked at each other. Her huge eyes betrayed the level of her excitement. She let out a huge moan whenever I lifted my hips. Then she groaned her approval each time I filled her up again. The sensation of my cock entering her was incredible but was amplified by the wild look in those huge eyes staring directly into mine. I felt totally involved in letting her feel my cock enter her over and over again.
It didn't matter whether I had ever fucked someone so inexperienced before now. It mattered to Michelle that her friend experience someone who truly appreciated the gift of her body for what it was. It was all in my head. The very idea of satisfying Caroline sent chills through me. I felt pretty sure the feeling of my cock going inside her was as exciting for her as it was for me. If her pussy was tighter than her girlfriends I could not tell, as she was so wet, and the way her legs held me in their grip showed me how eager she was.
I was so turned on I couldn't think clearly, so I fucked her just like that. We fucked harder and harder as Caroline grew more excited by my cock sliding in and out. We kissed so deeply it felt like we were completely connected. It couldn't have been more than five minutes before I felt myself about to come. I warned her to be ready but Caroline said, in a voice distorted with arousal, "Fuck yes, come with me."
She wrapped her legs even tighter and I felt her pussy tense up as we came together. I grabbed her ass while my cock was pulsing in the most intense orgasm I can remember.
Michelle seemed genuinely pleased to see the results of our fucking. She swarmed me with kisses while tugging off the condom and fondling my softening cock. Her familiar hands soon had me throbbing hard again. Her lips spent some time slithering over the head of my cock until she felt I had regained most of my necessary hardness. Caroline sat up against the headboard of her bed to watch us while Michelle gave me another condom to put on my renewed erection. Soon Caroline was watching us fuck. I felt aroused by having this stunning woman gaze down at us while we made love. My cock found new strength as it slid in and out of Michelle's wet pussy.
Having someone watching us fuck was like discovering I like ice cream. My stoned brain was tickled by the idea we were being watched. I didn't know if Michelle felt the same way but, for now, she only seemed interested in relieving her own pent-up sexual desire. Caroline stayed entranced by our fucking; the lower part of her teddy was soaked.
Not long after feeling my cock sliding inside this very familiar pussy I suddenly had more energy to fuck than only a few minutes before. My cock knew this feeling and responded by filling up with hardness as I plunged its length through those plump pussy lips repeatedly. Caroline seemed most interested in seeing the length of my shaft emerge and disappear. Perhaps the echoes of her first fuck were still moving through her body as she watched. Since I had already come a short time ago I was able to maintain a steady pace and complete control while my girlfriend got the relief she needed so desperately. It had been a long while since her pussy enjoyed Gloria's attention but now the foursome was complete. I'd proven her correct and given all her roommates the sexual excitement she'd promised.
Caroline's gaze lifted to my face and our eyes met just as I felt Michelle spasm and twist with her orgasm under me. While Michelle calmed down we continued to stare at each other. I wondered what Caroline was thinking while her sparkling eyes and relaxed smile beamed at me. I knew what I wanted next so I climbed off Michelle's sweating body and asked Caroline to kneel to slurp my cock a bit more. I yanked off my condom and stood up beside the bed near her head.
As Caroline slid to the floor, Michelle scampered down the hall to use the bathroom. I held the bedpost as Caroline eagerly used her mouth on my hard cock. I tried to enjoy the feeling of her lips sucking on me but it was pointless. My brain and my body were drained so I told her I was done for the night. As her lips slipped off the end of my softening cock she boldly declared how, some day soon, she would suck my cock as good as I licked her pussy. This woman rising before me from kneeling at my feet, who had transformed into a sexually confident image of female perfection, was promising me I would be feeling her lips around my hard length very soon. I was forever grateful to all four of those women for showing me just how much fun people can have when they trust each other.
Caroline delivered on her promise only a week after our party when she knew we could be alone. I'll never forget the bikini she wore. She was no longer an innocent. She demanded I let her suck my cock until I came before she received the blessings of my tongue. Michelle had never sucked my cock this enthusiastically. She mostly took my cock in her mouth to make it harder so she could enjoy it. Caroline seemed transfixed by what it felt like in her mouth. I even tried asking her about it while we were cleaning up, but she couldn't find the words to explain. But, it felt just as good for me to enjoy her new obsession as it did for her to get another exuberant licking.
Soon Caroline's reputation was tinged with growing respect for her formidable talents. She no longer felt restrained by what people thought of her. She enjoyed some sexually charged dates with hunky guys, who were easily persuaded to let her go down on them.
Michelle moved away after graduating. I did cross paths with Caroline after we got our careers underway. We even had lunch once. She'd found the right guy and was soon married. In a moment of regret I confessed to her about fantasizing about her back in those days. She threw me that mile-wide smile and told me she knew I probably did, lots of guys probably did. We would forever have a special fondness for each other.
This experience taught me about taking things one step at a time, which has served me well the rest of my life.