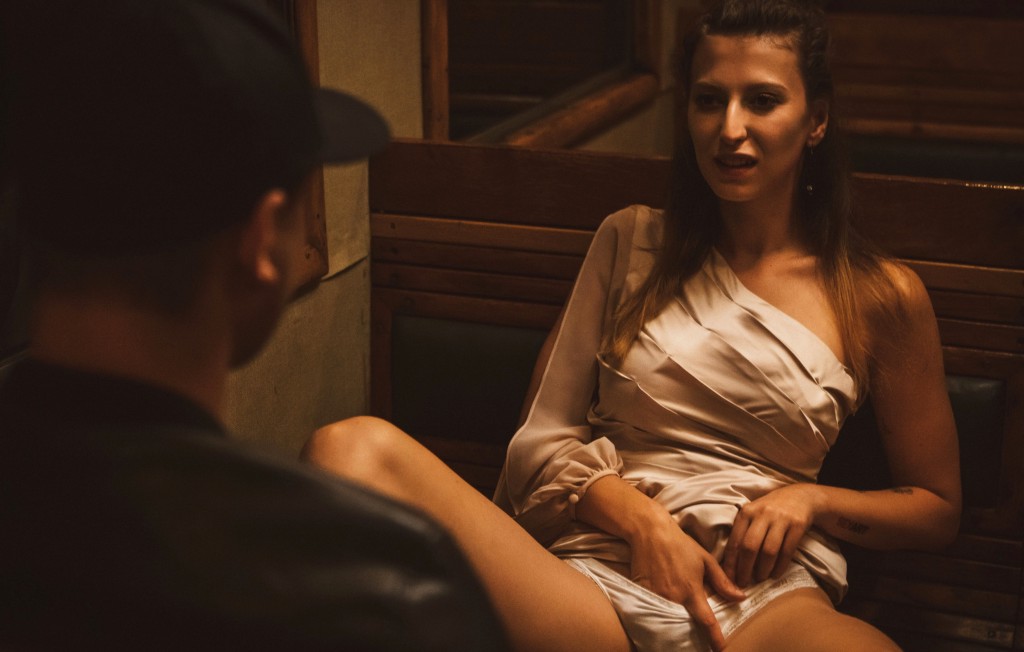 The tiny mirror in their cabin reflects the Gordian knot of their loving. Bunny is lying on her back on the top bunk bed of the night train to Vienna. Her right leg against the tiny wall of the cabin entrance. Her left one against the window. Teddy is exploring her new Brazilian with his mop of hair reflected between her legs.
It was her idea to take the night train home. And on this summer day, together with a bunch of tourists, they boarded the train. The got a two bunk cabin, with a tiny wash basin and just enough space for all their bags. The beds are small but comfy. The top windows have blinds that can be opened to look at the sky.
They are horny for each other. It has been a few days since last time they met, and so much has been happening that it feels like months. Bunny wanted to have the top bunk and in no time she was almost naked on it, only her black panties left on. She was lying perpendicular to the bed with her legs hanging down, exploring for places to push her feet against.
Teddy removed her panties to investigate that Brazilian she just got before they caught the train. Her skin is smooth, and delicious. The position is comfortable for both of them. He places a pillow behind her back so that she gets a better front row view of the show.
He is taking time to explore her, kissing her thighs and using his tongue to savor her saltiness. He knows she loves to see what he is doing, and tonight it will be a show for her. His tongue starts caressing her labia with slow, full strokes, just as you would lick a delicious ice cream. Her moaning is showing him that she is enjoying the action.
His tongue wanders to her entrance, exploring her level of wetness. After a few checks for her natural lube, he moves it, to slowly and gently caress the tip of her clit. Bunny is looking expectantly at him. He places his hands under her buttocks to provide her with a better viewing angle. Bunny bites her upper lip as she feels the caress of his tongue.
She starts moving her hips up and down, aiding his tongue as he moves side to side. He has focused on the hood of her clit and has his tongue tip just at the point where it starts.
The train is rolling. They see the intermittent lights of the station through the top window. Bunny is building up momentum, as Teddy keeps giving her the show of his tongue on her clit. She grabs his hand and places his fingers on her mouth. She needs to wet them with saliva and guide them to her right nipple.
He moves the fingers of his left hand to the entrance of her vagina and collects some of her sticky cum. He wets both his index and middle finger and moves them up to her other nipple. Bunny has now placed her arms over her head. She is pushing against the wall of the compartment, while her feet are also flexing against some fixtures on the other side.
"Just like that, yessssss, just like that"
Is the sign she gives him to keep doing the things he is doing to her. Her eyes are looking at what he is doing, but he can notice by the cooling of the skin around her clit, and by the arrhythmical motion of her hips, that she is about to reach the stars.
He braces for impact as her legs start banging his head. After Bunny's initial shaking subdues he stops and places her tongue on top of her sexuality. It is such a beautiful sight to watch the girl you love explode in a symphony of emotions.
For he knows that while the motions of the tongue are his, the building up for her orgasm belongs to her. He knows that it is their love that makes this possible. All the feelings they have for each other. All the trust that she has placed in him to make him the spectator of one of the most beautiful phenomena in nature.
She told one friend once: Teddy gets off on my orgasms. At this moment he knows that is true.