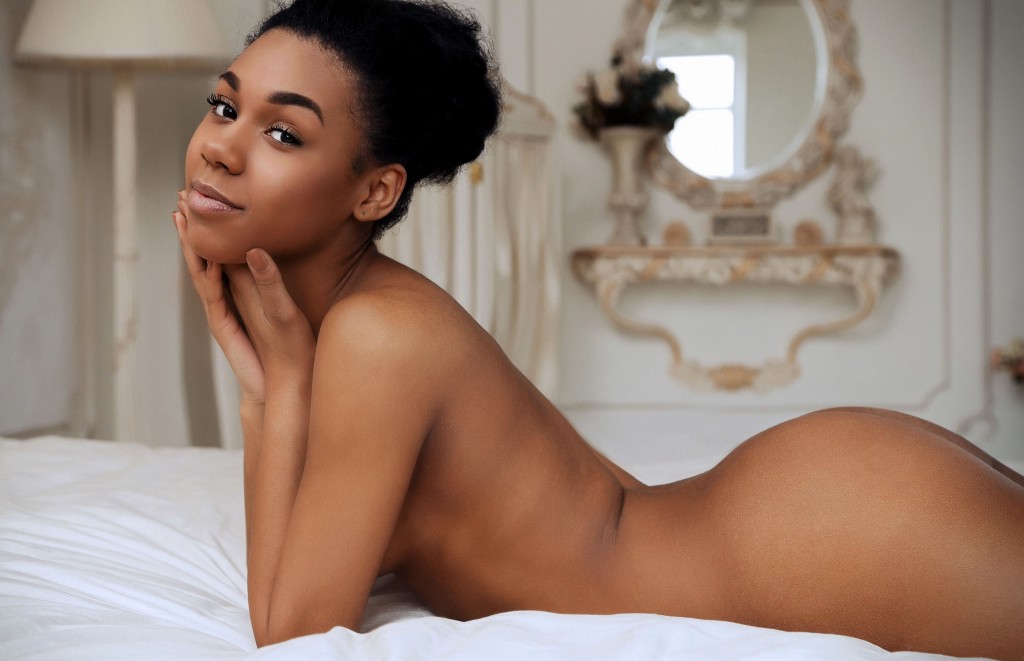 I woke up ten minutes before the knock on the door, with a rock-hard cock and an urge for pussy. During that time, whilst lying in bed, I heard the sounds of the street coming through the half-open window, a dead silence roaming the corridors and stairs of the B&B; and then the soft, muffled steps of Munira approaching my room.
For, who else could have been knocking on my door now?
I got up, stark naked, sweating and hard. It had just gone nine o' clock. My room was bathed in almost total darkness, illuminated only by a cone-shaped light from the street lamp outside. The bed on which I had been having a much-needed kip after my marathon earlier on took up most of the space in the room. My muscles ached but there was no pain. And whatever discomfort there was, I knew it would be overcome as soon as I ate this gorgeous Sudanese woman.
I opened the door to find Munira barefoot and in a short, white, see-thru negligee, which contrasted nicely with her very dark body. A quick hello, a soft, friendly shove (I was blocking the door) and a semi-twirl were nothing but steps towards the execution of a perfect routine en route to my bed. She sat on it and spread her legs open to make her intentions clear. She had no knickers on. Her pink pussy was gorgeously sheathed between two fat lips. Her curly black pubic hair glistened in the semi-darkness. Add to this her muscular runner's legs and thighs and her athletic build and I knew I was in for a treat. I was really turned on.
I closed the door behind me and leant against the wall. We checked each other out. This was not the time for talk because talk was all we had done on the train from London to Brighton the day before when we had first met. Like me, Munira was on her way to Brighton's annual spring marathon. It turned out that we were both running in support of the same charity and staying at the same B&B. And we were both three-time marathon-runners. So many coincidences made us laugh out loud and keep eye contact with each other for longer than one would normally do with a stranger. I had to ask myself a couple of times, whilst still on the train, if I wasn't crossing an imaginary line. Munira was half my age, in her late 20s, and so beautiful that it was hard for me to believe her when she told me she was single.
After my separation, I set myself two rules: no smokers and no younger women. I had always dated women my age or older and I couldn't stand the smell of cigarettes. I broke my rules a couple of times. By the time of the marathon I had already slept with a smoker (she was gorgeous and older, though! A good excuse) and here I was, naked, my black cock completely erect and this — much younger — beauty sprawled on my bed.
I began to touch myself and Munira followed suit. She started to play with herself, rubbing her fingers on either side of her clit. She closed her eyes and started to moan. I squeezed my cock gently and made it harder and fatter. I kept my left hand around the base and I slid my right one up and down the shaft. Munira stuck out her hand and beckoned me to the bed. Despite my achy limbs, I lay on my front, the tip of my hard dick against my stomach, smelling this stunning African woman, sniffing her in between her legs. I noticed she had had a shower, whereas I, on the other hand, knackered from the twenty-six miles I had run earlier, had collapsed in bed straight after eating. I still smelled of my long run. I mentioned this to Munira and she just smiled.
"Baby," she said, "I want to smell your sweat. I want your sweat on my body, baby."
I dived down and began to lick her thighs, pussy-bound. With each lick of my tongue Munira gave a sigh of satisfaction. I raised my head a little and saw her eyes semi-closed, her mouth half-open and a smile adorning her thick lips.
When I had teased her enough, I stuck my tongue in between her fat pussy lips. I didn't go for her clit straight away. I waited until she started moving her arse up and down. I was still drawing circles around her clit. She grabbed my bald head and tried to push it onto her clit. I play-resisted for a few seconds and then, without warning, plunged my tongue all the way in. She sighed louder.
Once inside her, I arched my tongue and flicked it back and forth. Her hands held my head tighter and her body began to tense up. Her voice raised a few decibels: "Don't stop, darling, don't fucking stop, keep licking me, don't stop, ahhhh… don't stop, I'm almost there, don't fucking stop."
Her hips were going crazy. Hard to believe that a few hours before she had run the same distance I had. Just when I felt she was about to come, I pulled my tongue out, raised my body and snatched a condom off the floor — I had left it there earlier, knowing that this gorgeous woman was going to pay me a visit tonight — and put it on.Then I stuck my cock all the way in, her pussy fully open, wet and ready to take all my black girth.
Munira's body grew rigid for half a second. She hit me on my butt.
I teased her, "Is that the best you can do? You're gonna have to do better than that, you know?" She spanked me again. "Harder," I told her, "spank me harder, I want to feel the full palm of your hand on my butt."
Both her hands came down with a force I never thought possible in such a tiny (and sculpturally beautiful) woman. I grabbed a pillow and put it under her. With her pussy up and at the mercy of my cock, I brought her legs and feet up to my chest and thrust in with wild abandon. My cock was plunging in at lightning speed. What a sight we were! Two strong black bodies, hers darker than mine, going at each other in unison. Our two heads, mine clean-shaven, merging into one.
Munira came twice more. All the time she kept slapping my buttocks, harder and harder. At one point she contracted her body which caused her pussy to clamp my cock tighter. I came within seconds. I let out a long and sustained scream. I felt as if my orgasm was going on for ages. I was still semi-hard as she removed the pillow from under her body and made the international sign for time.
"Are you OK?" I asked her.
"Yes," she said, "just exhausted, did you come?"
"Yes," I said.
"Oh, but you're still hard!" She looked surprised.
"Yes, you got me really turned on, I'm getting hard again."
"Okay, let's have a little break and have some more fun later," she said, as she grabbed my shaft and moved it up and down, slowly, a cheeky grin adorning her thick, black lips…
To be continued.