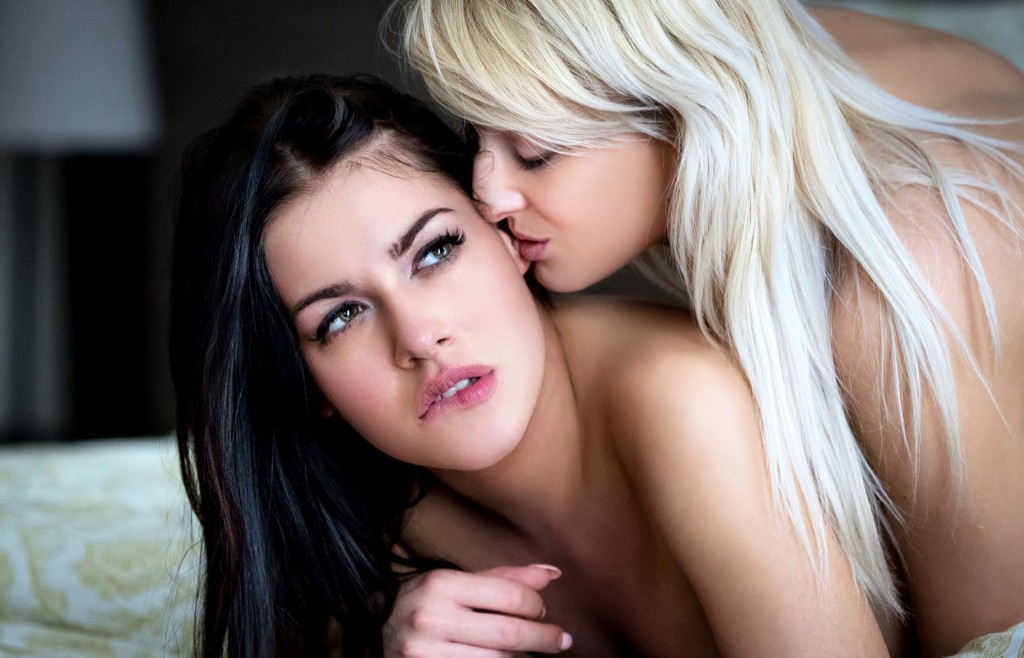 I watched you get out of bed. As you gradually covered your glorious body, I lay in the warm spot you left, inhaling your scent and mine. They mingled together — sweat, arousal, perfume.
"Are you sure you need to go grocery shopping?" I drew circles on the sheet and smiled warmly.
You smiled back and turned toward your chest of drawers. "We need more to eat than each other's pussies." You bent over and I could see yours through your freshly laundered underwear. The pair you had on last night had met an untimely demise.
"True. But maybe we could go together." I patted the bed. "Later."
You giggled. "Insatiable." You pulled out your favorite sweater. You often wore it without a bra, enjoying the way it stimulated your nipples.
I let you get the sweater on over your head. That much, at least. You stood there in your cable knit and your black cotton panties. I couldn't help but ease out of bed and up to you. I needed to have my mouth on you. It was primal.
I spun you around and kissed your coffee warmed mouth. Tasting the french roast on your tongue more energizing than any caffeine. You moaned into me as my fingers eased down your body to your stomach. I pulled the sweater up just a little so my hands could rest on your hips.
You kissed me back, hungrily. Our tongues were eager and our teeth untamed. We bit and sucked and our tongues slid against each other. As my body moved down your length, my hands moved up. They passed each other at your ribs so that as my tongue found your belly button, my hands filled with your breasts.
"You know just what to do to me." Your voice was husky with desire.
I swirled my tongue and fingers around the circumference of their objects of desire. Your moans let me know that my attentions were more than appreciated. I could smell how wet you were. I wanted to taste it. I ripped your panties down and pressed my nose to your mound and my tongue to your slit.
You ground against my face, your trimmed hair tickling and your hands in my long hair. My own pussy clenched and released in its desire to have your fingers in me, but this morning was about you. You moaned and pleaded with me to fuck you. "Use me. Bend me over and eat me."
I didn't want to do those things just yet. I wanted to revel in your taste, sweet and salty. I wanted to feel your smooth, round flesh under my fingers. I traced your stretch marks and occasionally encountered the rise of a blemish here and there. You weren't flawless in spirt or in attitude and it was for these flaws that I loved you. You didn't pretend.
I sucked your lips and swirled my tongue around your clit. I wanted two tongues and two sets of lips so I could taste and please you twice as much. But I had to make do with what nature had granted me.
You had no such complaints, losing your words and keening your pleasure into the atmosphere of our room — perfumed as it was with our sweat and arousal.
Finally, I used my fingers — parting your lips and finding your G-spot. The path was well known to me.
You put your hands on my shoulders to support your body. Come filled my mouth as you screamed your orgasm. Your thighs quivered and one foot tapped staccato against the hardwood.
I stood and slid my warm hands against the hot skin of your stomach and breasts as I kissed you again, letting your tongue taste what mine had. We stood in the bright sun of the morning through our window and our shadows were the only things that could be closer than our bodies.
You sighed. "Maybe we can go shopping later." You pushed me towards the bed. "For now, it's my turn."