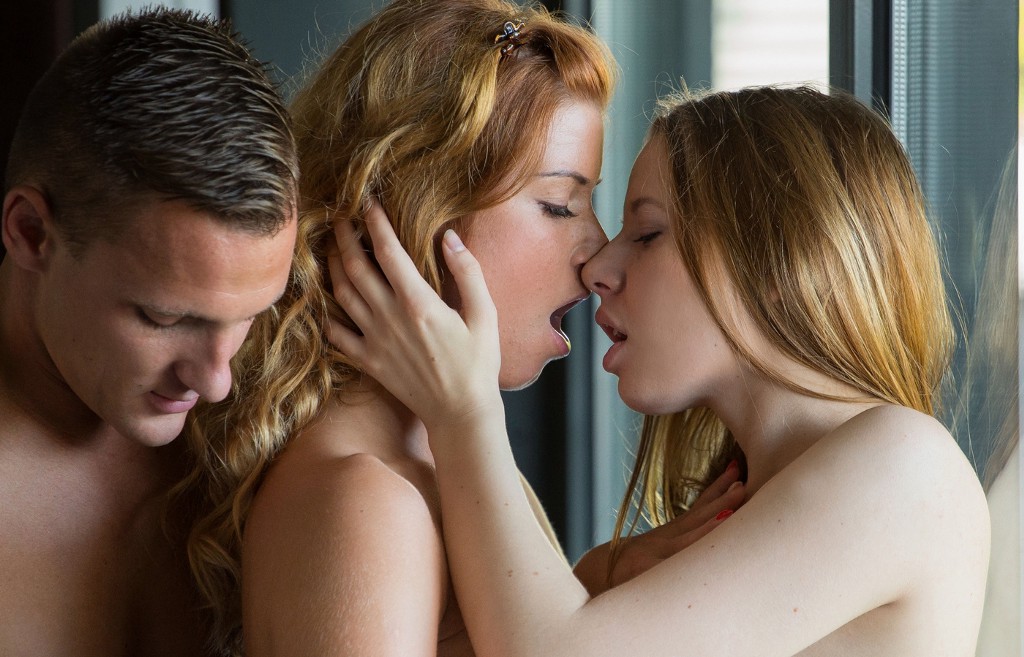 He rose from the love seat and went over to his angels and kissed them both. Each woman with the taste of the other on their lips. He nibbled, sucked and slurped them both, one to the other and back again, cleaning them up. Then looking into his soul twin's eyes he growled, "OK baby, time to make this little thang our slave."
Our blondie of a bombshell looked paralyzed for a moment, so our twin grabbed her hair with one hand, pulled it back, pushed fingers into his open mouth to soak, then plunged two wet fingers into her pussy.
"Oh, don't you worry my little kitten, you are gonna serve me and my man well, like you need to. You didn't think I wouldn't have picked up on your submissive nature all this time we have been texting and flirting, did you?"
She added another finger to the two already in place to hook and hammer the blonde's cunt hard. Her recent cumming had brought out her dominant nature and now finally having eaten pussy, she was free to be her true self. She was going to make this little bitch pay for being so fucking sexy and delicious.
Ms. Blonde shook not only from the suddenness of the shift in mood, but from the pounding her G-spot was taking. Oh my gawd, what have I gotten into? her mind wondered briefly. But orgasm soon splashed over her and drowned her inhibitions. Her heart was pounding as he kissed her to comfort her shaking and ease her fears.
"It's OK angel, she will be good to you if you serve her well, but you must submit and eat her cunt right now and make her cum hard," he said with soft eyes, shifting between good cop bad cop with his twin flame and their new vixen slave.
It was all so new and terribly exciting at the same time. Being forced into handcuffs and pinned to the bed by him as our twin sat on her face and roughly forced her pussy down on her mouth. "Fuck me you little bitch!" With hands on her perky breasts, pinching nipples and supporting her weight just right so as to not drown our sub in cunt and juice oozing out all over her chin and neck. With her face buried in tasty lips of juicy, wet womanhood, his cock raged hard at the eroticism of the moment. His lovers, one dominant, the other pinned and made to submit; the sight was wordlessly, achingly arousing and stimulating to the visual senses. His soul twin with her head flailed back uttering obscenities at her sex toy, who was quickly settling into her new role, eating pussy with sweet adoring relish as she had been commanded. He opened her legs and noticed how her cunt eating was making her wet.
"Oh you like eating my lover's pussy, don't you?"
All she could do was utter a muffled groan and nod her head as our twin pushed her wetness deeper on her mouth, punishing her with more pleasure of the taking and giving kind. He grabbed his raging cock and played teasingly with her pussy lips. She arched her hips up to meet this new stimulating contact. Eating the pussy grinding on her face more fiercely and longingly, hoping by doing so that it would make him fuck her as she needed now. He sensed her new need and teased her folds, curves and deep wetness with the head of his hardness. And she squirmed and sighed as our twin eased off her face to give her slave air and kiss her man about to enter this gorgeous thang.
Reaching down to replace his hand on his cock, our twin took charge and rubbed the blonde's pussy and pulled him to enter her slowly, then pulled him out again. He smiled at his heart, now playing so naughtily with their new girl toy. Her with pussy on mouth and cock teasing her so; it was tormenting in an almost painful way. Our dominant stared at him with fire in her eyes, eased off her slave's face and nodded for him to slam it into her — and he obliged. And our blonde angel screamed in delight as his cock hammered home. She came immediately. And she came hard, deep, penetratingly, and into her soul, with a rock-her-world orgasm.
Then man and woman lifted themselves off her and both lay beside her and each took turns kissing she who had just cum so hard. Back and forth they shared her lips until our sexy toy could find her balance again. She was an irresistibly sexy thing with those tits, hips, lips and curves. He and she could eat her all night, and so they would, after she had eaten them.
"Oh my you two, fuck! WOW!" she said, regaining her breath, looking angelic, and now gazing more longingly into them both lying next to her.
Our dominant, seeing their girl had returned to the land of the fucking, ordered her to get on all fours, and she obliged: "Yes, mistress."
"Baby you fuck her from behind and I am gonna fuck her face again, she's good at that pussy eating, darling. She has been a good girl so she can have some more cock."
And he obliged and eased into our curvaceous blonde's hot box while his soul twin knelt in front of the girl to have her pussy eaten again. It felt so divine having that goddess eat her and watch her man draw and give pleasure. They all three connected heart, mind, soul and sex in that moment, and fucked each other lovingly. Thrusts met with reciprocal movements and flow. Each knowing and surrendering to the others. The union was as if they knew each other from a long, long time ago.
The tempo built and he had to pull out of our sub before he shot his load deep into her. "Fuck, you two women are so fucking hot, fuck me, I will cum so fucking hard if I don't take a breather now, phew!"
And he did. Reclining back on the sofa at the foot of the bed he drank the glass of bubbly he had poured earlier. He had to quench the kind of thirst the soul feels while making love.
"In the top drawer right side you will find something; fetch it, my little slave," she who dominated barked at our sub.
And the sub obliged her mistress, head bowed, assuming the position of one so ordered. He smiled at her crossing the floor, she with face flushed and skin alight from the fucking she was giving and receiving. So hot! She was playing her role so well. Little had anyone known how well this was going to go. It felt right and it felt as all present were fulfilling deep needs to pleasure and be pleasured.
Her eyes bulged as her hands found the strap-on. She eased it out of the drawer, for there were many toys and oils of a delightful naughty nature there. Several dildos of various shapes and sizes and lengths and girths. She giggled at the thought of these pleasuring the two empaths, and now her as well.
"You two are very, very naughty. I would never have known that when I met you. You are so gentle and passionate."
"And you, my darling, will say nothing of this to anyone, will you?" he told her, with toy in hand bringing it to her mistress. "I might write about it to share with Rose MyErotica and a few other naughty people I know, but you will say nothing, will you, slave?"
Nodding her head in deep submission, "No, my master." She knew he was discreet and did not use names. She had, after, all fucked her pussy with her favorite dildo many times while reading his stories and others written on MyErotica.
"Now you little cock and pussy whore, bend over the bed while my lover fucks you with that," he said, pointing at his soul twin, who was putting the strap-on in place to make good use of her new toy.
And she obliged her mistress and master, with her pretty ass in the air, waving it seductively at our twin to enter. "Please mistress, will you fuck me with your new toy, pretty please, please…"
And the twin obliged her need to be filled and taken yet again. Hammering her, pounding her. Filling her need. Replacing years of sexual frustration with satisfaction and orgasm as she had a sweet clitoral cumming. And he watched the women satisfying their desire. One taking, the other giving. Both feeling the other. He gulped, throat dry yet again. Leaving the girls to do their thang he went to the counter and poured himself another juice and ginger and filled their flutes again with bubbly. The night was young, this was going until dawn, hours to go yet. Smiling to himself, the sweetness of the moment sinking in. The scent of sex and sweat. It was really happening. Years of pulling his cock thinking of just this now. It was so worth it to wait to cum. It would have been so easy to spill his seed long ago in or on one or both of these angels, but he would hold fast and serve these ladies, his goddesses. For he was between them both as sub and dom. And our blonde hottie screamed again in another orgasm, shaking him from his mind's wandering.
Bringing his lovers their bubbly to catch their breath, he served them. Then our dominant told him to bend over the bed.
And he obliged her. She slicked his ass with lube handed to her by our gentle sub, who knew just where to find it. The toy slid gently into him and he groaned. Our blonde kneeled in front of his face so he could eat her. And he served them both in their need to take and be taken. Both sipped their bubbly and fucked him now. They smiled at each other, knowing his proclivities and being glad to service him as he had them earlier and would again later. He moaned and felt the length and girth slid in and out of his ass. He was moist from the inside with desire for this fucking he was receiving. The taste of pussy in his mouth added beautifully to the moment.
He eagerly licked and lapped at her with gusto as he was being fucked more steadily and firmly. She who was being eaten enjoyed his attention and sucking. He was so exact and technical in his attentions to her and she was closing in on a bursting of the most high caliber. She squealed in powerful orgasm, driving our dom to slam his ass hard, and he moaned deeply in satisfaction with woman flesh on his face soaking him with her squirting. And he attended her, licking and wiping her with sucking, drinking and savoring.
This went on and on until our blonde sweetie lost count of how many times she came.
And his need was satiated as well.
"Darling, I think our angel here needs to have a go, whatcha think?" he said to our sub, kissing his partner deeply for the fucking she had given him. She was so powerfully alluring and attentive.
Collecting themselves and wiping one another with baby wipes and cleansing with kisses and licking, they set to the next round of their sexual adventure.
Laying out our mistress on the bed, they each took a breast into their mouth, and sucked her nipples and pawed her body in caresses of adoration, affection and love. And she closed her pretty eyes and let the dream wash over her body. The beeline to her wetness tingled all over, setting off electrical bursts of excitement. It was not long into this her pussy shook and quaked with an orgasm of the clitoral kind.
Our darling angel of a blonde slid down her body and sucked her lover's pussy petals into her mouth and drank her juices. He raised his body to let her suck his hard cock. And she shook and stirred in the passion of her lover's attentions and feeling. He pumped her mouth, knowing she was being filled, satiated and satisfied as our blonde angel had been. Mission accomplished! And so he could release, and he let the build rise and rise. And our doll of a woman under her and him was building too, she was going to burst and burst hard. He fucked her face and fucked it for all the pleasure she had given him this night of nights. Our blonde temptress and eager sub could feel the woman under her tongue and lips striking spark to flame, and kept at her efforts.
He pulled out of his angel's mouth and shot stream after stream of his cum on her face, and she being sucked and fucked squirted in powerful shots on her sub, soaking her. She closed her eyes as the woman's juice drenched her face in a sudden overflowing of passion. And it kept cumming, he and her until they collapsed together in a bundle of three, flesh on exhausted flesh. Kisses, licking and cleansing all over, first our sweet dom and then all three, tongue on tongue, in tender exchanges of love and appreciation for fantasy and desire fulfilled all around. They passed out together in one another's arms and slept deep and in love.
Read part one of the story here: