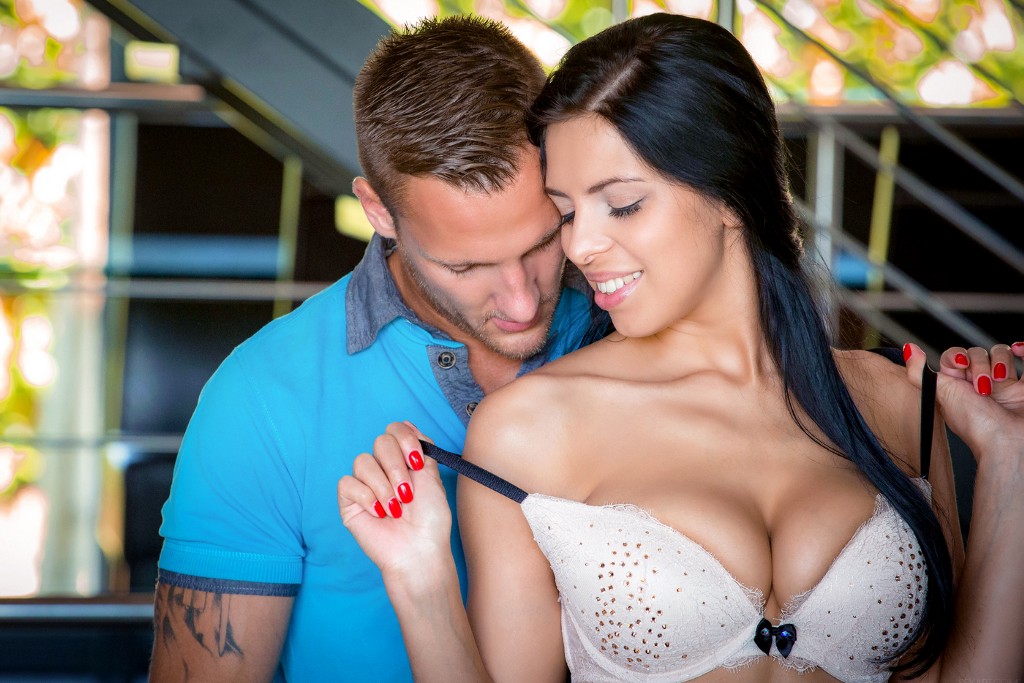 "I'll bet those beauties jiggle like jello when you're riding some lucky guy, Polly… I'd love to see it…"
I've got one hand in Polly's panties and the other tweaking her nipple as I say this. Maybe that's why she's so quick to respond:
"I'd like to see it myself, Rose. I should get you to film me having sex, what do you say?"
As if I could resist an invitation like that…
Polly works in my favorite lingerie store. She's the perfect model for their designs, favoring chic little wrap dresses that show off her sumptuous curves; and it doesn't take much prompting for her to untie her dress and let it fall open to reveal whichever set of lacy panties and cleavage-enhancing bra she's wearing, often with garterbelt, stockings and heels to complete the ensemble. I don't know if she does this for all her regular customers, or if she just appreciates the way my eyes linger on her big, natural breasts.
It's not just my eyes that linger, either. At work she's professional Paulina, an elegant, sophisticated sales associate who can always pick out the ideal lingerie set to flatter your coloring and fit under your new dress like a second skin; but I know her as party girl Polly, who likes to flash those sensational tits when she's had a few drinks, and has encouraged me to feel her up in the private dressing room on more than one occasion.
We're in the dressing room as this intriguing conversation takes place, and by the time I've finger-fucked Polly to a quick, sticky orgasm, we've agreed that I'll set her up with one of my boyfriends who'd be delighted to let me film him banging her. It's not like I have to rack my brain to think of a suitable partner. My best friend and faithful fuckbuddy Tony is fascinated by Polly's beautiful big breasts, and enjoys visiting the store and enlisting her help to choose gifts for me just so he gets to check out what he calls her fabulous funbags. Polly smiles when I suggest Tony; she's had a string of tedious and possessive boyfriends, and she's often told me how much she envies my easygoing relationship with Tony.
"He's great in bed too," I promise her. Just call me Cupid.
Polly is house sitting for her wealthy boss the following week, and his cool apartment is the ideal setting to make a high class home movie. I've been wondering if Polly will be shy with Tony, but his goofy charm immediately puts her at ease, and they are already smooching on the couch as I fiddle with the videocamera I've borrowed from another friend. He uses it to film himself with his girlfriend and has assured me it's foolproof, but I'm weirdly nervous. I really want to do a good job and make an erotic movie Polly can be proud of. I've snapped the odd selfie video on my phone mid-blowjob — hasn't everyone? — but I realize I've never actually stood back and filmed other people having sex. I know exactly what I want to see, though.
"Tony, why don't you undress Polly," I suggest.
"It would be my pleasure," he grins, sliding a hand down to Polly's waist and taking hold of the bow that's holding her dress together. He waits until she nods her assent, then pulls the tie with a flourish. Polly's dress falls open, revealing her gorgeous breasts barely contained by a white lace bra covered in tiny metallic studs, and matching black and white panties. She looks insanely hot. I ignore my sudden urge to squash my face between her pillowy tits, and concentrate on holding the camera steady as I zoom in to get a close up of Polly's face, her lips parting in pleasure as Tony moves behind her to kiss her neck and cup her heavy breasts in his hands. Deftly, he unclips her bra, and… wow. No matter how many times I've seen those whoppers in the flesh, their appearance is always spectacular.
Tony looks like a man who's attained nirvana as he supports the heavy weight of Polly's breasts in his palms, bouncing them gently. I focus the camera on the soft, full, jiggling globes. What a sight.
He may be blown away by the sensation of getting his hands on those marvelous tits at last, but Tony really is an excellent and very attentive lover. He soon has Polly naked on her back on the couch as he sucks her responsive nipples, making her oooh and aaaaah, then kisses his way down to her pussy. The way she immediately spreads her thighs tells me she's more than ready for his talented tongue, and he licks her to a heated state that has her back arching and her boobs wobbling in a most alluring manner.
Naturally I'm capturing all this for posterity, and getting off on doing so. I've seen Tony fuck many times — and been on the receiving end on countless occasions — but I've never actually watched him perform. As he kisses his way back up Polly's body and guides his cock into her, ramming it home with a snap of his hips that makes her squeal with excitement, I realize he's putting on a display of prowess as much for my benefit as hers. His steady strokes show off the muscles of his back and ass admirably, and as Polly's moans grow higher and louder, I can tell she's really feeling it.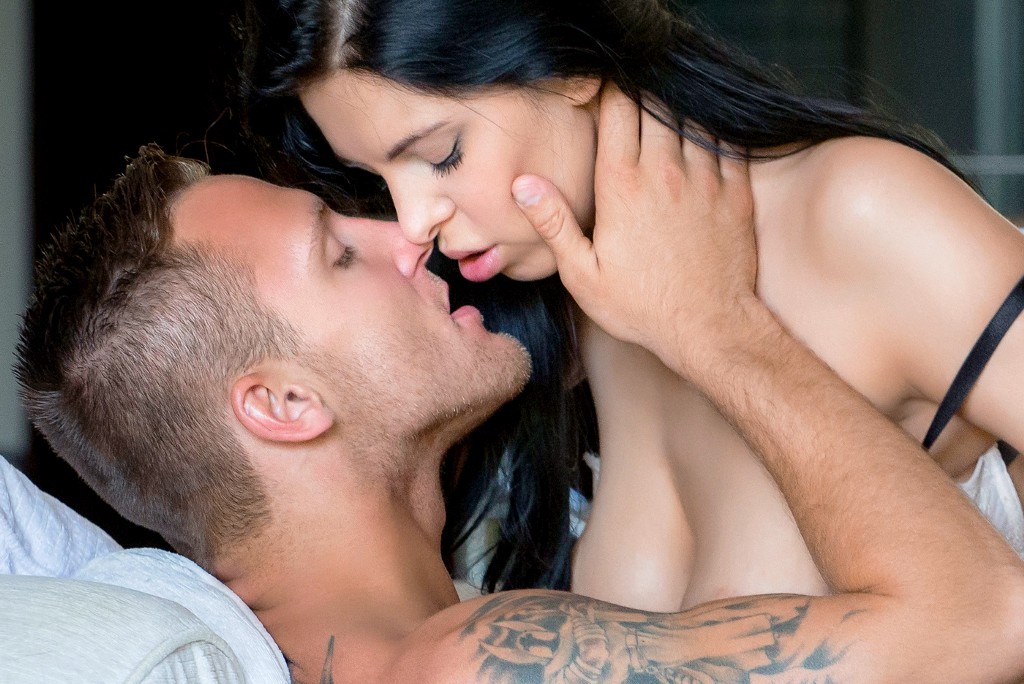 Those bountiful boobs need to be the star of the show though, so I direct Tony to flip them so Polly is on top. The sight is even more mesmerizing than I had imagined, as Polly moves into a squat to ride Tony energetically, her tits swaying and jiggling hypnotically, ass rippling each time she slams down, cleavage glistening with sweat. Tony's cock is rock hard, gleaming with Polly's wetness, and after letting her do the work for a while he starts thrusting up to meet her pounding body, her fingers a blur on her clit as she screams to an intense orgasm.
Polly collapses down on top of Tony and he kisses her sweetly and fucks her gently through the aftershocks. When she's caught her breath he moves her into spoons, directly facing the camera so her whole voluptuous body is in frame. I capture the most delicious close-ups of her pretty lips open on a gasp of bliss, her tight pussy stretched around Tony's driving shaft, and of course her breasts shaking and quaking and juddering so temptingly it's not easy to keep my hands off them. She climaxes again when Tony starts jackhammering into her furiously.
I can tell he's getting close now.
"Tony, I want to see you cum on Polly's tits," I tell him.
I see him freeze and clench every muscle in his body with the effort of holding back, my command nearly tipping him over the edge; but he's determined to finish the job like a bona fide porn stud. Pulling his cream-coated dick out of Polly's pussy, he stands beside the couch so she can sit on the edge and take his cock in her mouth. She makes a meal of it too, licking her juice from it avidly, then sucking it hands-free, making him groan. But that's nothing compared to his joy when she lets his cock slide out of her mouth and squashes her big breasts around it. He fucks her tits hard and fast now, no holding back, and when he cums he paints her tanned skin with strings of shiny white semen. It looks incredible.
I've been concentrating so hard on getting the perfect shot that my own arousal has simmered down to a hot throb between my thighs, but the look Polly gives me now has it flaring up like pouring gasoline on embers.
"Care for a taste, Rose?" she smiles, indicating the slippery mess that coats her heaving tits. Another invitation I can't resist.
I hand the camera to Tony. "Want to film me making Polly cum just by sucking her nipples?" I ask. He's not the only one with mad oral skills.
Thanks for reading! Applause, comments and follows get me hot 😉
More confessions from me here — if you think you can handle it! Maybe have a cold shower first…