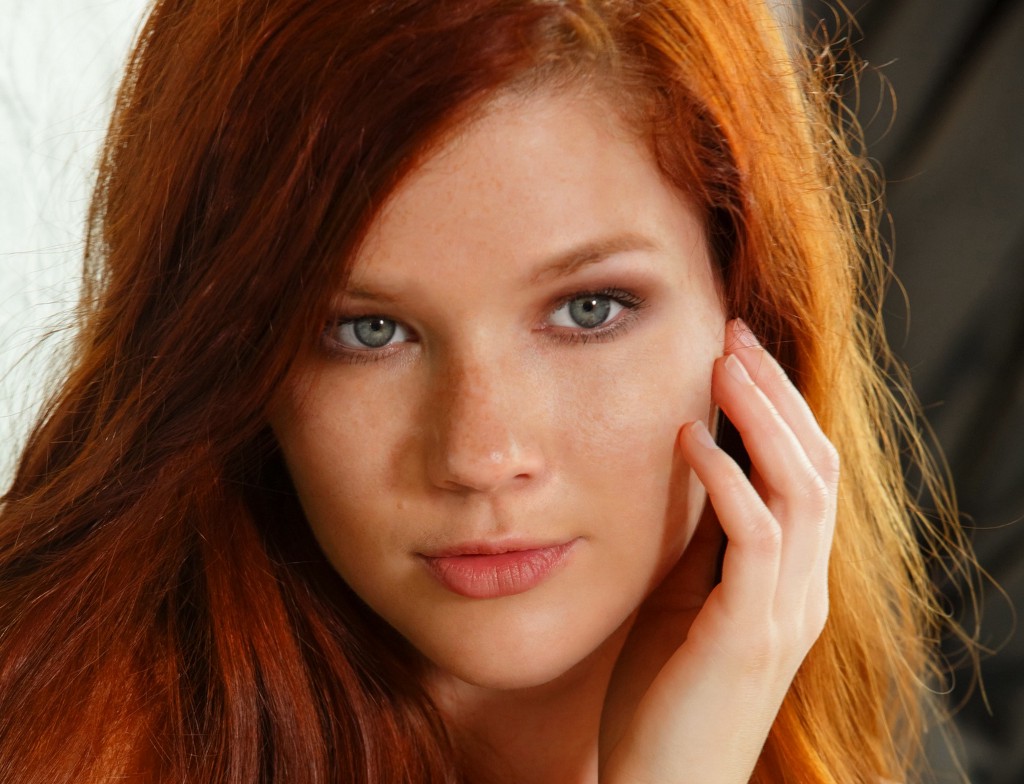 Walking down the corridor, I feel like the tapping of my heels is way too loud — as if everybody in the building has an ear stuck to the wall, listening in to what I've come here to do.
And so what if they do? They happen to be right. It's been three months since I caught my ex and her boss in our office. I may have been a bit more naive than her in terms of sex, but even I knew what that thing was, sliding in and out of her well-lubricated pussy. Three months since I dropped my bag and left the room, never to see her again.
I deserve some fun, if only to finally get over her.
That doesn't keep my knees from shaking though. Before I can think better of it, I knock on the door.
"Come in, it's open!" a breathless voice calls. I take a deep breath.
She's sitting in a chair, naked as the day she was born. God help me, she's as striking as when I met her. She's even pulled off her hairband, letting her red locks flow free over her shoulders.
"Well. So you did come, after all."
I focus on her green eyes. "What if I hadn't come?"
She shrugs. "I would have masturbated. Our little cat and mouse play got me horny." She's so unselfconscious about sex, so direct. So unlike anyone else I know.
She looks me up and down. I gussied up for her. Put on a nice dress, a pair of heels. My feet feel like they're on fire but if she keeps looking at me that way, it will have been worth the trouble.
"I think you know what you're supposed to do?" she asks nonchalantly, and spreads her voluptuous legs. Legs made to leave a bite mark in, though that'll have to come later, because right now I see nothing but her pussy. Yep, the drapes match the carpet. So fleshy and juicy, what a marvellous sight.
"Liking the view?" she says.
As an answer, I crouch down on all fours, making a huge show out of it. There's nothing sweeter than a woman between another woman's legs and I intend to treat it with the respect it deserves. From the sudden spark in her eyes, I'd say she appreciates the effort.
I rest my hands on her hips and stick out my tongue, all set for exploration. I start moving it around, careful to avoid the little nub beckoning me for the moment, and above me I hear a sharp intake of breath.
"That's it. Show me what you're good for," she whispers, her voice hoarse. I hope she's soaked, because I am.
Just like that, I take the plunge. She's so wet, I don't think she was kidding about masturbating. Sex is obviously something she takes very seriously. I rub my nose up and down and close my eyes, breathing in her scent. Each woman has her own unique aroma, and hers is intoxicating.
I must be doing something right with my tongue, as she's locked in my face with her legs on my shoulders. There's nowhere I can go right now, but there's no place I'd rather be than right here, at her core.
Her pussy is glistening, her curves moving back and forth; her head is thrown back in silent ecstasy and I'll be damned if there has ever been a lovelier vision. She's a Raphael painting made flesh and blood. A queen. And I intend to serve her to the best of my abilities.
…
When you start moaning and let out a string of expletives, I just smile.
When your whole body shakes in anticipation, I'm right there with you.
I flicker my tongue lightly on your clit. Once… twice… three times…
"Oh, goddammit!" Your hands reach forward, pushing my face into your pussy.
Finally, a primal scream, the mark of a job well done. I'm not done with you, though; I still have a few surprises. I'm well aware that where there's been one orgasm there's another one lurking just under the surface waiting to come out. And it's my pleasure to draw them all out until you're left shaking and stammering, holding onto my hair as you gasp out your pleasure.
You get yourself under control in time and the look you give me sends shivers down my spine. I've only known you for a few hours but I can feel the unbridled lust in those big expressive eyes.
You say just two words: "Naked. Now."
I don't think I've ever undressed so quickly, and as you're busy lapping my cream-coated face, your fingers start playing with my pussy, not even waiting for my underwear to come off. As soon as I've stepped out of my undies, you turn me around and now I'm pinned between the door and your body.
You stick two fingers in me, while your other hand grips my hair and you rub yourself up and down my body, wantonly. There's no finesse in this, no gentle coaxing and probing. It's powerful. It's raw. It's exactly what I needed and I don't try to hold back my moans. The noise spurs you on to pick up the pace with your fingers, until we both share a rough, loud climax.
"Looks like you needed it," you say. You seem impressed at how intensely it overtook me. A little in awe, maybe. I see doubt in those eyes too. As if it wasn't what you had expected.
…
Outside, I allow myself a smile. I don't care if we were overheard. I'm sure we must have been, we were loud enough. I've changed, I can feel it. I lick my lips. There's still some cream of yours and I get your scent. Strawberry and leather. It's a scent a woman could get used to. We haven't even kissed. Next time, maybe?
…
There would be no next time, she decided. She was still spent and didn't understand why. She had stamina, she had experience, she knew she had a certain allure. Why had that girl affected her so much? What had been so different from all the other girls she'd picked up over the years? She didn't know, but right now, she didn't feel like investigating. She was still horny.
She picked out her favorite toy, a small but thick dildo with several speed settings. She grabbed it with both hands, set it on the maximum level. It didn't take long until she had to muffle her screams with a pillow.
She slept, but it was a fitful sleep, full of visions of a girl with flowers in her hair…