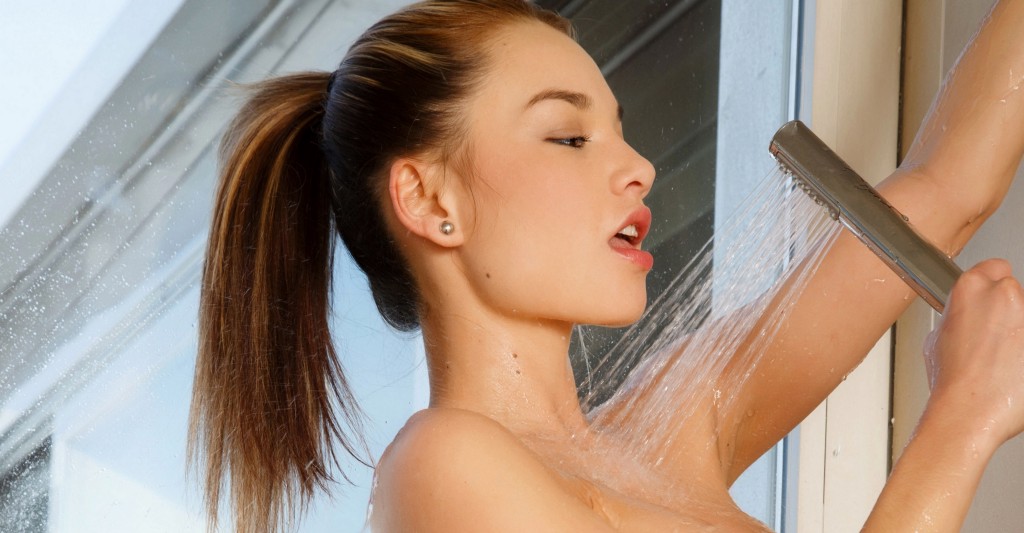 Whatever Lola wants, Lola gets…
Almost an hour had passed and Lola was still in the shower. I had heard her climax twice already and she was on her third ascent as I sat in bed trying to read, but really in a state of anxious expectation. Lo is meticulous about maintaining perfectly smooth, perfectly pure skin, but beyond that, the shower is her spa substitute. She goes in there, exfoliates; shaves her legs, her underarms, her pussy; applies ointments that make her soft as silk; and then uses the showerheads to finish herself off once, sometimes twice, on occasion three times.
She likes the adjustable pressure showerheads that she can set anywhere from strong pulse to gentle rain. Because she utilizes these for more than utilitarian purposes, I rigged the shower so that she has two of these self-pleasure devices — both on six foot flexible hoses so that she can manipulate their angles to suit any position she pleases. I know when she's been up to her tricks in the shower because she never replaces the showerheads to their upright position when she's done with her "spa treatment." I suspect she wishes to let me know each and every time she's been a bad girl in the shower.
With each successive peak of Lo's orgasmic screams from behind the cloud of steam in the bathroom, I grew more and more eager for her to be done with her self-indulgences and indulge me for a while. After the last loud outburst of expletives and groans, I finally heard the squeak of the shower faucets being turned off. Lo emerged from the plume like a wicked angel from on high, and her lovely naked body slowly sauntered her way to the bedside where she bent over and announced softly, "I want a wet kiss, Daddy."
"Where, sweetheart?"
"Right here," she said as she reached behind her back and placed her index finger right on her special button behind her pink pussy. I got on my knees and began lightly licking her ass as instructed. Gentle at first, deeper by degrees, until I was inserting my tongue in and out of her and flicking the tip of it back and forth from the apex of her slit to the hole of her sweet ass. She moaned and she climbed up on the bed so that she was on her knees, bent over, allowing me to delve deeper into her ass until she came. She fell flat on her stomach and collected herself for a few moments and then she stood up in front of me and told me to give her another hot kiss.
"Where, sweetheart?"
"Right here," she said as she placed her index finger on her pussy. I was on my knees on the floor and my face was perfectly positioned to lick, kiss, and nibble on her elongated pussy lips. I put my mouth to her and she said, "Careful, Daddy. They're super sensitive. I've been rubbing them and massaging them with water for an hour now."
"Oh, I know," I mumbled as my lips were busy with hers. I licked, kissed, sucked, and stretched her pussy with my mouth. Her hands worked their way through my hair and then pulled my face in close and tight to her clit. It was large and erect and I took it in my mouth and began sucking it as she pushed my head back and forth. As she stood there with me kneeling and my face between her legs, it occurred to me that we had switched gender roles. She was subverting the stereotypical gender roles. She was a man taking his woman's head in his hand and using gentle force to get her to do to his dick what he wanted. I was that woman and her enlarged clit was the dick I took into my mouth and which I face-fucked until she came all over me with her female ejaculate.
For more erotica like this, check out mysexlifewithlola.com and the Match, Cinder & Spark series of books. This story is a preview from a collection of stories soon to be published in the Match, Cinder & Spark series called Sexy Shorts.