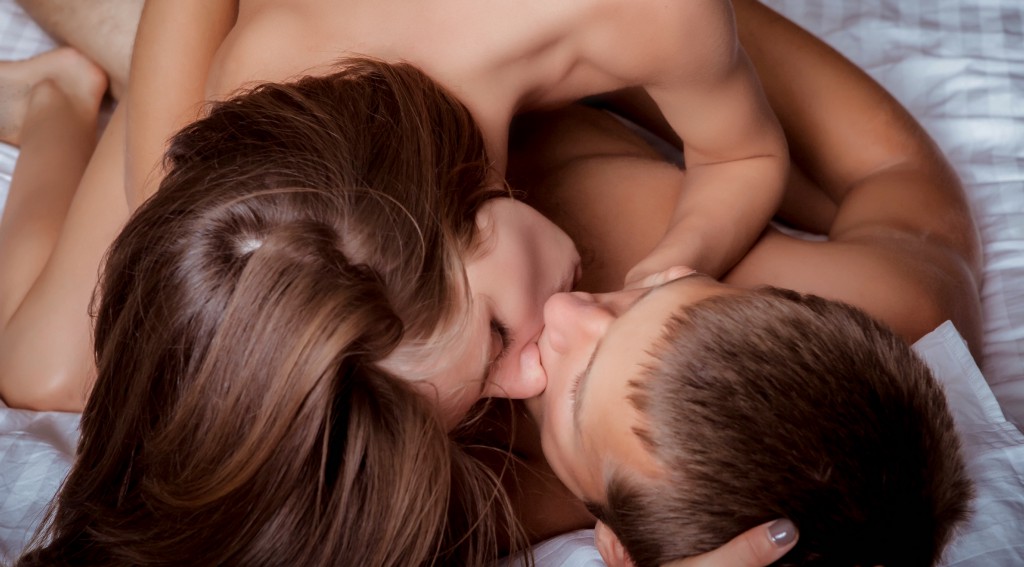 It's a nice hotel. The room has a big king bed and a little couch suite opposite, with a desk, and plenty of room. It overlooks the pool, 12 flights below. It's room number 1240. That can't be a coincidence! She's turning 40. And she's bringing in her birthday present.
"Take off your clothes," she orders, as she lies back on the fluffy white bed. "Slowly."
"Sure thing," he says, shyly. She puts her hand down her panties as he takes off his shirt, slowly, and tosses it down. Then he unbuttons his jeans — he's wearing fashionable 400-dollar jeans with pre-ripped holes and a few bangles on them. He pushes them down. He's not wearing any underwear. His cock pops out. It's large. But it's not completely hard yet, so it's still dangling down.
"You like what you see?"
"Oh yes, I like what I see. I like it a lot," she says. And she masturbates herself to an orgasm as she stares wild eyed at that cock and that muscular body and those tattoos and …that scar on his cheek, in the shape of a C. She focuses in on that scar for some reason. As she comes she realizes for the first time what I had realized the first time I saw that scar — that it was spelling the first letter of her name. She feels strange. She feels like she's just swallowed a powerful supplement that has made her almost immortal. Not quite, but almost.
"Do you want a massage?" he asks tentatively.
"Oh God no," she says. "I want you. Get over here."
He comes over to the bed and she immediately starts sucking his cock. She sucks it voraciously, like she's sucking some more of that powerful supplement that almost makes her immortal. It becomes so hard in a few moments, and he starts moaning. She bites it a little. He lets out a little gasp. But he likes it, she can tell. She bites it again, just the tip. These bites let him know who's boss. And then she takes it all in her throat again and sucks sucks sucks.
"Stop!" he cries. He doesn't want to cum because he wants to fuck her.
"I told you I'm not sure I'm going to let you fuck me."
"At least let me eat your pussy," he says. "Please?"
"Alright, if you beg. Beg me to eat my pussy," she says, playfully.
"Please I'm begging you."
And then she says, "Alright you may eat my pussy." She slides down her panties, unbuttons her shirt, takes off her bra and lies down completely naked on the bed with her legs up. He takes in the sight of her nakedness and her beautiful pussy. She's not one of these millennials who shaves off all her hair. She's a grown woman down there, with a nice tuft of black hair above her clit. He likes what he sees. He strokes his cock and comes down onto the bed and starts eating her.
"Oh, oh oh," she cries. "Yes, yes, yes, that's so good. That's so good. You're making me cum, you're making me cum, oh my god am I ever going to stop cumming oh my god what are you doing that is so good oh."
He's fucking her hard with his fingers as he eats her. And then she lets out a high pitched squeal.
"Oh my god. What was that!"
A stream of something goes arcing up from her pussy and goes flooding over the white duvet cover. "Oh my god. What happened? I never…"
"You squirted," he assures her. "You didn't pee. I made you squirt. It's a talent I have."
"Oh my gosh that's a nice talent. Oh my gosh can you do it again? Please, do it again, please, oh my gosh."
He eats her some more and fucks her hard with three fingers and rapidly so that she squirts again, and this time it doesn't stop. It just squirts in a fountain-like arc for what seems like an hour but is probably only a few minutes. During that time she thinks she has about fifty orgasms. And his face is covered in the fluid, whatever it is. And then…
He puts a condom on his huge cock. She's never had anything like this.
"Don't be afraid," he says.
She looks nervous, as he climbs on top of her. He gently puts it in.
"Ah," she gasps. It surprises her, its girth, but it doesn't hurt. It takes her breath away.
Slowly, slowly, he pushes it in her, pulls it out, and pushes it deeper.
"Oh my gosh," she says.
She's really aroused now, being fucked by this stud. She can't believe it. She thought these days were over for her, now that she's married, and bored. But no. Things have suddenly livened up. She's having quite a time. It's a real surrender to the feeling moment for her.
"Oh," she cries, "oh." And she pushes her hips as he fucks her harder.
"Harder," she says. She wants to go all the way to debauchery. She wants him to fuck the shit out of her.
And he does.
He has real staying power.
After a while he turns her over onto all fours and enters her from behind.
"Nice ass," he says, and slaps it.
She feels her loins become heavy. She cums. "Oh god. Oh god."
She gets on top of him and fucks him for a long time. She looks down at this stranger as she fucks him. It's good, to fuck a new person. This strange man. With this huge cock.
"Jesus. I'm cumming again?" She's surprised.
Then he takes his condom off. He comes up to her and he masturbates his long cock in front of her face until he cums a huge load on her face like the end of porno.
"Here, take a photo," she says, reaching for the camera, and he snaps a photo of her face covered in his cum, her tongue reaching up out of her mouth to lick some of it up.
Tenderly, he brings her a little towel from the bathroom and she wipes off his cum.
He lies next to her. He tells her that he is off the clock now and that he would give her a freebie anytime and they feel emotion for one another and that warmth. Then he goes to sleep.
She texts me.
Thank you for the wonderful birthday present, she texts. It was even better than I expected.
Awesome, I text back, from our home, where I've been alone in bed, masturbating, fantasizing about what's been going on. And now I know, it happened. It happened like I wanted it to happen and it was good. Christina has been such a good wife and friend, mother to my kids. I wanted to get her something really special for her 40th. But what do you get for the girl who has everything?
A hot hung stud with a nine inch cock!
I look at the pic of her beautiful face, covered in another man's cum, and I shoot a load so big some of it hits my own face.
That hand over there is for applause if you liked. See Colt Stevens full-length oeuvre here.
Get your Free Colt Stevens epub here