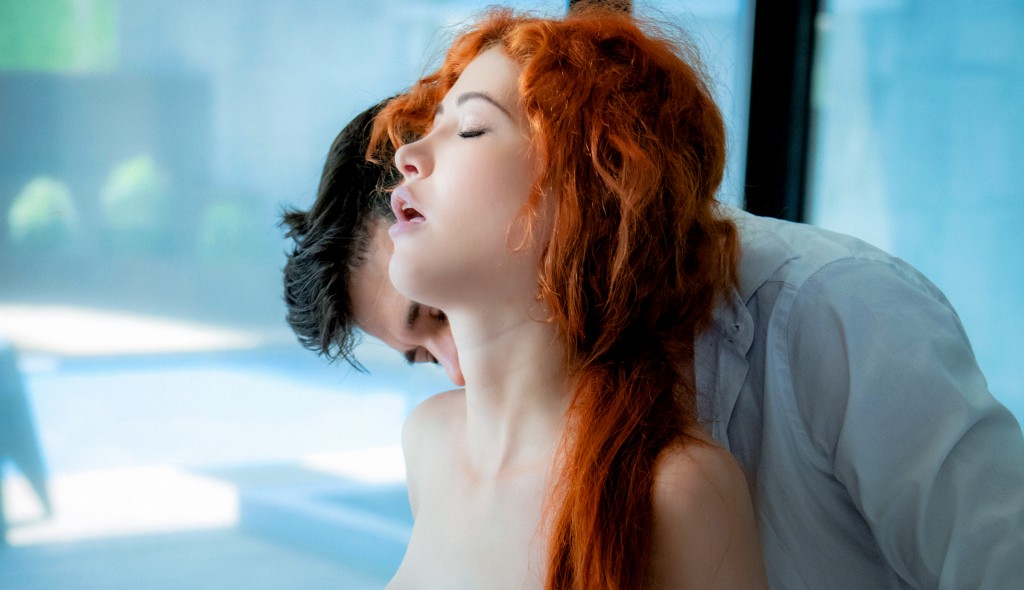 I called into the bathroom.
"He's here. Are you ready, honey?"
"Almost," she said. "Just give him a glass of champagne or something. I'll be ready in five minutes."
He had texted from the lobby and was heading up. We had met him only once, at a bar last week, for a meet and greet. It had gone well. At the end, Lizzie had given him a wet kiss goodbye which seemed to knock his socks off. Afterward, we arranged via email to meet here at the Weston Hotel downtown.
He knocked on the door and I let him in.
"How's it going," I said.
"Great," he said, with a bit of a grin. He was about to fuck my wife, after all. His day was going pretty goddamn well.
"It's Raymond, right?" he asked me.
"That's right," I said. "You're Ken?"
"I am," he said.
We laughed.
This was the first time for my wife and I. We were both nervous. But we had role-played it and arranged it and flaked out and chickened out so many times — we were done fooling around. I was going to become a cuckold tonight. A real cuckold. And this guy, Ken, was going to fuck my wife.
"She's in the bathroom getting ready. Have a seat, here, have some champagne."
It was awkward. We were sitting here. What were we supposed to do, make small talk?
"Are you excited?" I asked, finally.
"Pretty much," he said. "I mean, your wife is hot as hell. I can't wait, really. I mean…"
"Yeah, I know what you mean."
There was another silence between us.
"You're just gonna watch?" he said.
I nodded to assure him that this wasn't all some gay set up where the woman lures the man in and the husband goes to suck his dick.
I didn't want to suck his dick.
I wanted Lizzie to suck it.
And I wanted to be beating off while she did it.
Must be the seven-year itch. It'd been a good seven years. But lately, things maybe got a little routine in the bedroom. We started spicing it up with erotic fantasies and role-playing. This was the one that seemed to have stuck — a cuckold fantasy of another guy meeting us in a hotel room and fucking her.
Another guy with a big cock.
We had only seen Ken's cock on the email photo, but it was pretty big. Probably two inches longer than mine and an inch and a half wider in diameter. Uncut, like mine, so she wouldn't have to reinvent the wheel. She would know what she was doing.
"Hi," I heard Lizzie's shy voice. "Sorry. I was just getting…ready."
"Wow!"
We both were gobsmacked at how lovely she looked in her sexy dress, makeup all done, her long hair looking all wavy and gorgeous. She walked in from the bathroom, and we both stood up. Then I sat down on the chair in the little suite opposite the bed. Ken remained standing.
"You look so hot," he said.
"So do you," she laughed.
He went up to her and held both her hands. She giggled.
He was pretty hot himself. He had that gym body. Thick hair. Brown eyes. He was about 33. Definitely in our age range, I would say. Maybe a little older.
"Well," he said. "This certainly is my lucky night."
"Mine too," she said, biting her lip. She looked over at me quickly. She was blushing. I smiled at her and winked.
Without any further ado, Ken just put his face up to hers and started softly kissing her.
It was on.
Oh my God.
I cannot describe the way my heart started racing. It really was like the beginning of a horse race when the horses are finally let out of the gate and they go thundering down the track.
Oh my God.
As he kissed her cheeks, her eyebrows, her nose. And finally her mouth.
Oh my God.
That was the horses rounding the first turn. My heart was pounding. I couldn't swallow. I was sitting there in absolute heaven, watching my wife be kissed by another man. I had thought about this for so long.
It was happening.
He was here.
He was really here.
He's undressing her.
He stopped kissing her and turned to me.
"I think you'll really enjoy this," he said. "The husbands always like this."
He stood behind her then and started kissing her neck as he unbuttoned the back of her dress. She was staring right at me. I could almost read her mind. "Is this really happening? Should we stop? Is it too much?"
"No!" I said with my eyes. They must have been beaming. "This is wonderful."
And then, very deftly, he slipped the dress so that it fell to the floor. My wife stood there in her bra, as he continued kissing her neck. Nibbling on her ear. He was tickling her a little with his mouth on her ear. Meanwhile, his hands were wrapped around her. I could see them. They were all over her shoulders and her sides and her hips. He was caressing her all over.
She looked at me.
She was biting her lip. She loved being exposed like this to me. I could tell. She only bites that lip like that when she is really turned on. I was dying for him to remove that bra.
And then he did.
He quickly unsnapped it and it too fell to the floor.
Now my wife's big breasts were completely exposed. And his hands were on them immediately.
"What nice tits," he said, still kissing her neck and shoulders while rubbing her nipples.
My wife kind of threw her head back as though she was really surrendering to this now. Then she looked over at me. She was wondering if this was everything I had imagined it would be.
It was. And more. To see her lovely breasts being manhandled by this stud, it was so wonderful.
Finally, he got down on his knees and he began slowly, slowly pulling down her panties. Soon they were on the floor with the bra and the dress. He stayed on the floor and he kissed her bottom. She was still facing me and he was behind her. Kissing her and rubbing his hands over her. And she was now completely naked.
"Oh my God," I heard myself utter. "Oh my God."
The sight of my wife naked — it just made my balls throb. As his hands went all over her, and he said things like, "What a sexy body, oh yeah."
It made my dick throb too.
I pulled my dick out and I started masturbating, as he worked his hand around front and started rubbing her pussy.
Then he stood up.
"Let's go to the bed," he said, leading her by the hand.
He's got his dick out.
She lay on the bed, and he quickly removed his clothes. Now he was naked too. And I saw how big and hard his cock was. He was really enjoying my wife. She looked at it kind of wide-eyed. It was one thing seeing it in an email, but another to see it right there in bed with her. It was rock hard and at least nine inches long.
"Jesus," she said. "I don't know."
"Shhh," he said. "It will be fine. Don't worry. Because I'm going to make your pussy so wet, this huge thing will just slide right in. Trust me."
He began eating her pussy then.
It's really happening, I thought. My wife's naked in bed with a stud. And he is eating her pussy. And I think…I think…yes, she's cumming.
It only took her a few minutes. The whole situation was so new and exciting to her. I've never seen her cum so fast. And then, he came up on the bed and he presented her mouth with that big hard cock.
"Mmmmm," I said. "Suck it, baby."
She turned her eyes to me briefly and then brought them back to the cock she was about to suck.
"Oh yeah," she said. "Oh yeah!"
Her voice was huskier and scratchier than I'd ever heard it. He was bringing out a real beast in her. She wanted to suck some dick.
Chomp, chomp, chomp.
She sucked and sucked for like ten minutes. I don't know how these bulls and porn stars do it. I would have cum right away. But his dick just seemed to be getting bigger and harder as she sucked it and stroked the shaft.
"Oh yeah," he said. "Suck it baby. Suck it."
He's about to fuck her.
"I want to see that sweet ass while I fuck you," he said. "I think your husband wants to see it too, don't you Raymond?"
"Yeah, I want to see it," I agreed.
She got on all fours. And he was right behind her. He pushed his big dick along the crack of her ass.
"Ask for it baby," he said.
"Come on, fuck me," she said.
"Ask your husband if it's OK," he ordered her.
"Is it OK honey?" she said. She looked over at me. She was in quite a state now. She really needed that dick inside her and he was teasing her mercilessly.
"Yes, it's OK," I agreed.
"Do you want to get fucked by a real man, is that it?" he asked her.
"Yes!" she said. "I want a real man with a real big dick fucking me."
"Do you think it will be better than getting fucked by your husband?" he asked, ruthlessly.
"Oh God I hope so," she said, equally ruthlessly.
"What do you think, Raymond?" he asked me. "This is what a real man looks like when he fucks your wife. How do you like it?"
"I like it."
"This is how a real man grabs her hips and pulls her back on his dick. And this, Raymond, this is how a real man fucks your wife. Just. Like. This."
And now the dick was in her.
He was fucking her.
She was screaming.
I was moaning.
"Oh yeah!" she was yelling. "Fuck me with that big dick! Fuck me!"
"You like that big dick?"
"I love it!"
"You want it harder!"
"Hell yeah! Fuck me harder! Harder!"
He was really pounding it into her now. I could hear a swoop, swoop sound every time he slammed it all the way in and his pelvis met her bottom. It was like meat slapping against meat. And it was fast and furious. It was like two thrusts per second. Then three thrusts per second. Faster, and more furious. And all nine inches of that thing were pounding into her.
"Harder!" she yelled.
He fucks her in every position.
Next she fucked him on top. And this is when she came. I could see him lifting up that ass and slamming it down onto his huge cock. Harder. Faster. Two times again, per second. Then three times, per second. I looked at my wife. Her face was all red like she had been working out at the gym.
"I'm gonna cum!" she said. "Oh God I'm gonna cum! I'm cummmming!"
After that he got on top of her and fucked her in missionary for another twenty minutes.
Then he fucked her from the side, and she was turned to me, rubbing her clit as he fucked her.
I checked my watch. He had been fucking her for an hour now.
I was still hard, too, though. I wasn't going to cum until he did. That was my solemn vow. Every time I felt like I was going to cum, I stopped. I kept myself right on that edge.
Then he stood up, and picked her up. He fucked her standing up, right in front of me. He fucked her really fast, holding her up against the wall, and fucking her so hard, I think they actually made an indentation in the wall.
He cums and goes.
Finally he came in her the way he started, with her on all fours, and he was fucking her from behind. He let out a Geronimo yell and he came like crazy inside her. Then he rolled over and made room for me.
I still hadn't cum. I rushed over and my wife stayed there on all fours. Sure enough, in a couple of seconds the creampie emerged. His white cum. I put my mouth on my wife's pussy and I took it into my mouth. It was extremely salty and delicious.
"That's right," he said. "Eat up the real man's cum, the real man who just fucked your wife. How's it taste?"
"Great," I said. "It tastes great."
Then my wife and I lay down and cuddled together while he got dressed.
"Well," he said. "That was fun. I'll see you guys around."
"Bye," we said.
And he walked out of the hotel room.
My wife looked at me.
"OMG," she said. "OMG that was amazing."
"It totally was," I said. "It was the most amazing thing ever."
I kissed her passionately on the mouth. I loved her so much. The passion was ignited like never before, in both of us.
"I love you so much," she said.
"I love you!" I said.
Did that really just happen? I asked myself, as I drifted off to sleep. I imagine my wife asked herself the same thing. Did I just fuck some stud in front of my husband?
Yes. Yes you did.
I was just totally, one hundred percent, without a doubt…
Cuckolded!
This chapter is part of the full length My Wife Has a Boyfriend, available here on Kindle and Amazon