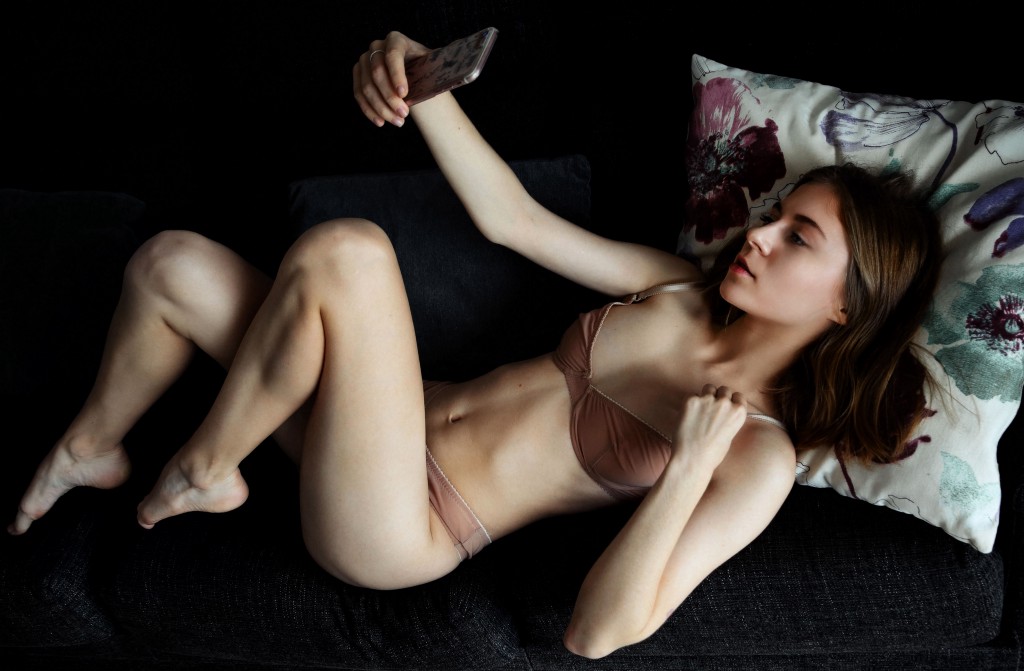 I was approached by someone on Twitter and we started to chat. It started off with the usual chit chat, getting to know each other and whatnot. Of course, as usual, it turned sexual. I love dirty talk. Y'all already know that.
She was curious to see if I could help her get off with my words. I asked her if she had ever squirted before and she said no, but it was something she wanted to be able to do, although she didn't think that she could do it. Thought it was a porn thing.
I loved how shy she was. How she was nervous to send pics and to talk dirty to a stranger. To put her mind at ease, I did send her a pic or two. It is not something that I do on a regular basis. Usually it's just words. So don't go getting any ideas.
I did not press her to send anything. I told her that tonight was all about her. She wasn't sure about it and we continued to just chat. She started to relax, but she wanted to get me off. I loved how she had a submissive mind.
Her words were able to help me achieve my sweet release. It was much needed and had been far too long since that had happened.
With her much more relaxed, I began to tease her with my words. Seduced her mind. She was allowing me to please her. I know that I needed to earn her trust. I expected that. I enjoyed it. It should always be that way. Intimate. Personal. Erotic sensuality.
My words began to penetrate her mind and her body. They sent waves of orgasmic bliss. She was becoming very aroused. So I asked her if she wanted to cum for me. Of course I already knew the answer, I just wanted her to say it. To really mean it. To truly feel it deep within her soul.
I asked her what toys she had. One vibrator, one plug and some vibrating balls. I began giving her instructions. She put the plug in her pussy first to lube it up, but not to cum yet. Then, she eased it in and out of her ass slowly back and forth and imagined that it was me.
I told her to rub her pussy and tell me how she tasted. Sweet, salty and delicious. She was told to begin to pull on her nipples to make them hard. Said it hurt and felt good. She then started to play with her pussy. Rub it all over. Tease it for me. But no cumming.
She was starting to get very aroused. Begged me to let her cum. Not yet I said, but you will soon enough. I had her smack her pussy three times for me before I let her finger it. She told me it stung and that she liked it.
I had denied her orgasm twice now. Before I let her cum, I explained that edging would make it more satisfying. She was really begging now. Her ass was still full with the plug. I told her to put the vibrating balls inside her over and over. Faster. I told her to put the phone down and at the same time the balls were going in and out, to put the vibrator onto her clit.
She was my good girl.
She finished and told me all about it. How it felt so good. I explained before that she would feel the need to pee and that was ok and to just push it out. It would be her first squirt. Most of all, I told her to just relax and enjoy it all. Trying was the fun of it.
She explained how she felt amazing. How she was shaking and how powerful the release was. But no squirting. She felt the need to pee building up, but was nervous to let it go.
This isn't porn y'all. What did you expect?
The next day we chatted and she sent me a lovely pic. She was so sweet and cute. Beautiful, and all mine here. I asked her if she wanted to play again and she said that she didn't want to push it.
Fine. No biggie, I said, but I knew better. I turned on the charm and started to seduce her again. I told her how I came myself to her pic. That I just wanted to help her climax and nothing else. If it happened, then it happened.
Of course she couldn't refuse that logic. Only fingers this time. Climax as often as you can handle. I used my words to seduce her mind. Her body followed. I had her touch herself all over. Tell me how sexy she was. I had her tease her clit and her lips. She became very aroused. She came quickly for me. She asked if she was allowed to cum. As many times as you want, I said. I told her that I wanted her to be relaxed and comfortable.
I had her cup her fingers on her G-spot and use her other hand to rub her clit. Again she climaxed. I told her to keep at it. She came again and again. I asked her if she felt the need to pee building up. Yes. She said her clit was hurting so I told her to let it go and to focus on her G-spot.
It was a few minutes again before I heard back. She came she like at least four or five times. I had to know.
Are y'all ready for this?
Are you sure?
YES! She said she was shaking. Head was spinning. It was magical. Wonderful. She said that she was pushing her G-spot when she just pushed it out. Let it all go. She felt the spraying on her wrist. It was amazing, intense and perfect.
That's my good girl. She knows who does her so good. She knows who is on her mind and in her body.
I bet you will want that same feeling too. Men have a G-spot too. It is in their ass against the prostate. It works. Trust me. You just gently push it and rub it. Doesn't even have to be hard. It will push the cum out. It is intense. As intense as it is for a woman to climax with her G-spot.
Try me. I dare you.