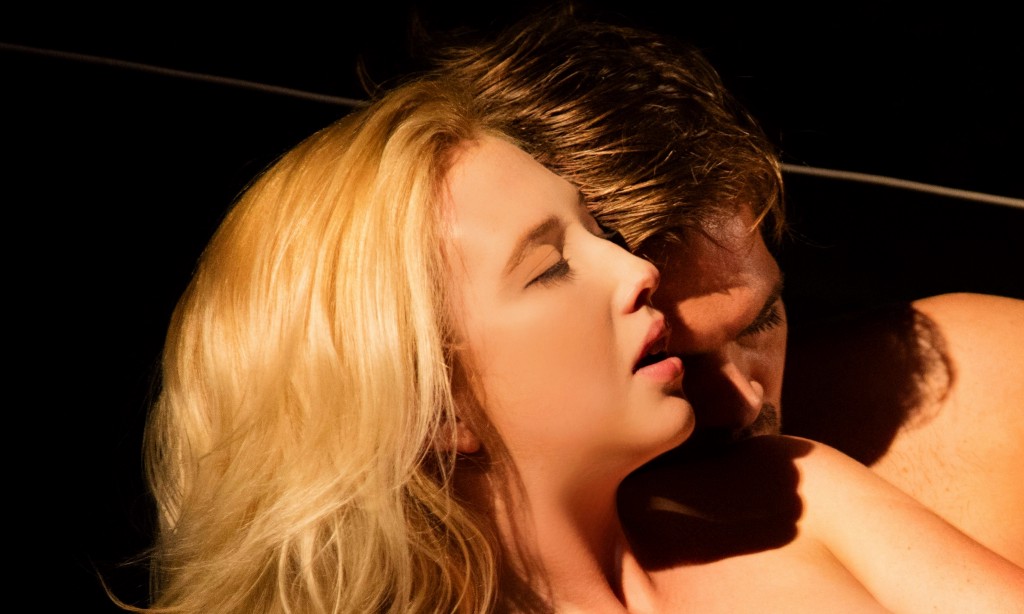 She lazily turned on her side. It was a hot summer night in the south of France, the lights were off and the open window was letting in the dry breeze. She shuffled back on the wrinkled sheet until her hips met his. She reached with her free arm to touch his sun soaked skin.
He was half asleep. It had been a long and a hot day. Swimming in the pool was been so much fun. They heated up the grill for dinner and feasted on cheese and wine. Afterwards they lay side by side on the sun beds, enjoying the sunset falling over the hills.
Now he suddenly felt her hand. Sometimes she would gently touch him when he was snoring, so his immediate reaction was to turn onto his side. So he did, moving his arm to hold her in spoons.
But now her hand could easily reach his lower abdomen and so she first started caressing the sides of his hips, waking up the resident with such gentle motions. Soon she felt its reaction in her back and it turned her on no end.
Meanwhile his hand had landed on her breast, and, still half asleep, he held her nipple in between his fingers. As she started caressing his rod he copied the movement on her nipple in unison. Soon his mouth found its way to her back and started kissing the delicate spot between her shoulder blades.
She really enjoyed feeling how his manhood reacted to her touch. Knowing the power her caresses had over him was rewarding. She pulled down the foreskin of his dick gently and started stroking his full length. With her fingers she could feel his wet precum, and soon she felt the familiar wetness between her legs.
He was surprised as she propped herself up and directed the tip of his erection into the warm embrace of her hungry pussy. His eyes might still have been closed, but his brain was now fully aware of the situation as he moved his hips to drive his shaft inside of her.
"Oh fuck, yes, right there…"
As he started pumping inside of her, thrusting steadily, she moaned with pleasure. She moved her head up a little to let his other arm embrace her, and grabbed onto his hip to feel its motion. She turned her head towards him, searching for his lips.
He was finally awake and as he felt her kisses on his forehead he soon met her lips. The pounding had reached a steady pace. He moved his hand lower to grab her leg for traction, opening her legs up. They were kissing passionately, and he could feel her gasping for air.
It was building up fast. Her orgasm would be arriving soon, and she needed to concentrate on her pace and her breathing. The kissing stopped, and was replaced by his fingers in her mouth, destined for her clit.
Once his fingers were dripping, he moved his hand down. As soon as he touched her engorged clit he could hear the change in the tone of her voice. It was a cry of pleasurable intensity. He felt her muscles tense and how she moved her back to allow a different angle of penetration. He knew she was close to her climax and held her in a deep embrace waiting for impact.
She lost control of her body for an instant, her abdomen and legs shaking uncontrollably. He held her close to him and steadied himself deep inside of her. It was as if his rod was the peg around which her sexual energy was flowing. Her smile wide as the moon set on her face as she slowly recovered.
His eyes started opening as she moved up to be on top of him. In the depth of the night he could make out her silhouette, as he felt her hair in his face. She moved the lips of her pussy on top of his hard rod and with a quick motion placed the tip at her entrance.
She moved her hand behind her to cup his balls and explored the wetness coating his rod as it was sliding in and out of her. She placed a finger to feel the ins and outs, as she held his balls. She had the urge to feel what would happen down there.
As she placed her finger on his rod all his circuits of pleasure started overloading. The motion of her hips added to the sensation of fullness. His guard was low and he knew he would be coming soon. Momentum started building up as he felt his shaft quiver inside of her.
"Oh yes Teddy, I want you to come inside of me."
These words pushed him over the edge. Like a geyser he pumped her full with his juices. She moved her hips slowly down and up on him as if trying to squeeze the last drop out. She enjoyed the rest of his hardness as it was retracting into the deep sleep state that they would fall into after this.
Afterwards she brought a wet towel to wipe his sweaty chest. Taking a sip of water, they cuddled again in spoons, the breeze of the night coming through the window. The hot summer day was coming to an end with love in the air.