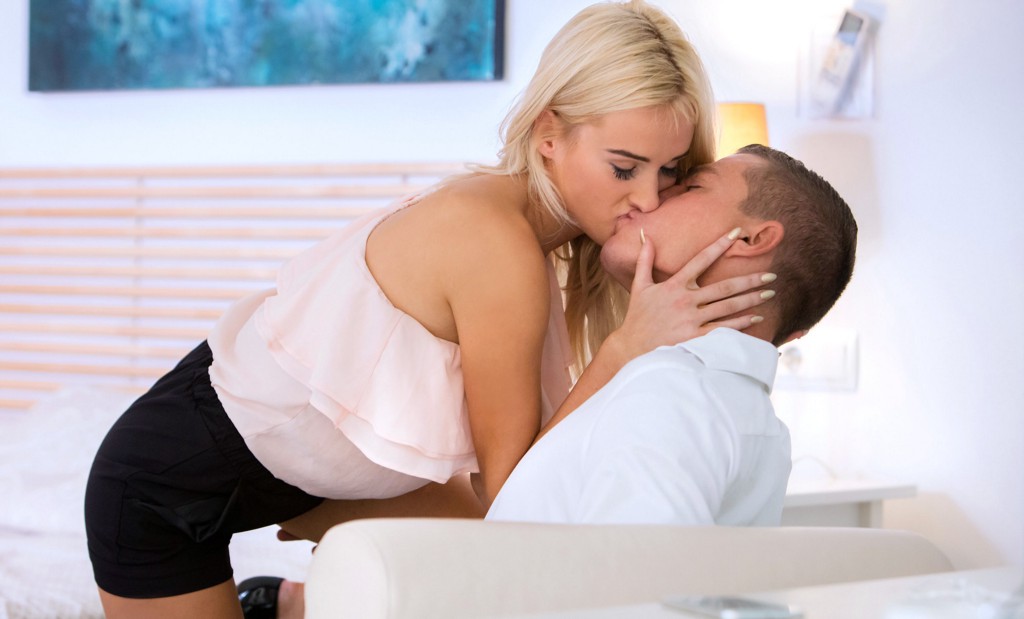 Ed and Aly had been working together for a few months. They had already had some fun. It all started with suggestive looks and cute innuendo and had progressed to touching; and finally a couple of weeks ago Aly gave him a blow job in the stairway. That had been crazy but so much fun. Now that she had tasted him she wanted more.
He couldn't believe that it had really happened. Of course, he enjoyed the banter between them but he didn't really think anything would happen past the bit of touching they had engaged in. He certainly hadn't expected a blowjob — and what a great blowjob it was! Now every time Ed saw Aly, he couldn't help thinking about her lips wrapped tight around his hard cock. He wanted more.
They had their cubicles right beside each other and they were in the corner, so it was perfect for them to exchange little quips and suggestions without others overhearing them. He would also leave her little notes under her desk blotter with just a corner sticking out so she'd see it. The latest one said, "You have great boobs, I'd love to kiss them and bite your nipples." She had read it and it made her tits tingle. He didn't know it but her tits were directly related to her pussy.
She loved having her nipples squeezed, it made her pussy automatically wet. The perfect place to put that hard cock of his. Some days she would sit at her desk, pretending to work on her computer, and she would drift to thinking about tasting that cock again. It was a good cock, straight and thick with a great round head. She wanted to make it glisten with her spit, lick it, just the tip, and flick it with her tongue. She knew what she could do to a man with her mouth. She wanted to do it again to Ed.
He couldn't get the thought of her out of his mind. He would talk to clients on the phone and then see her walk by his desk and he would lose his concentration just seeing those tits walk past. And that ass in the tight skirts she wore, it drove him nuts. He wanted to touch her.
He loved when she wore a skirt because she didn't wear underwear, but she did wear thigh high stockings. She had great legs leading up to that ass. He would love to lay her down on a bed and lick that ass and then turn her over and explore her thighs and delve into that wet pussy, sucking on her clit and making her moan.
But today there were people everywhere. He saw her but they couldn't have their regular fun. It created more tension, more build up. He wanted to see those tits, he was obsessing over them but he didn't care, they were good. He was so horny today.
Finally, it was getting to the end of the day. It had been a busy day with the phones ringing constantly it seemed. He walked past her desk and poked his head into her space.
"Are you packing up for the day?"
"No, I still have some work to finish up and I told some clients I would call them a little later. I'll just continue with things and then make the calls from here."
That gave him some ideas. He nodded and continued on his way. He dropped off some reports to the supervisor and mentioned to her that he was going to stay to finish up some things he'd been working on. He wanted it to look good and it was the truth, he had things he could work on if he could keep his mind focused on work instead of Aly's body.
Almost everyone had cleared out; it was 5:30pm so that wasn't a surprise. He heard Aly get up and start walking. She stopped just inside his cubicle.
"This is late for you, what are you working on?"
"Just some reports, I thought I'd try to get through them since it was so busy today."
"Well I guess I shouldn't disturb you then, carry on."
She turned to go but then turned back to him. He was still watching her, she knew that he would be. She put her hands to her already low-cut collar and pulled down. She knew he loved her tits so she gave him the full view.
At first it was just her lacy bra that she showed. His eyes went wide, what a great view. She traced her finger over the lace and easily brought her breast over it. She squeezed her nipple, knowing what it would do to her pussy.
He swiveled in his chair and his hand went directly to his cock to start stroking. She could see how quickly that shaft thickened. She let her other breast loose and moved to him, putting her tits right in his face. He opened his mouth wide to take one in. He swirled his tongue on her nipple and then gently bit down. She let out a little moan and wondered if he realized how quickly he got her pussy juices flowing.
She had on her red skirt, it was tight and showed all the right curves. He brought his hand up between her legs and could feel the heat even before he felt the wetness. He spent a moment stroking the lace top of her stocking but then he probed with his fingertips and she spread her legs apart a little more.
He parted her lips and was surprised at how wet she already was. He put two fingers inside her and she moaned a little louder. He started finger fucking her but then they heard voices down the hall.
Damn! He quickly took his hand away, while she straightened her skirt and tucked her boobs back in. He licked his fingers and smiled as he watched her. She was smiling back at him. That mischievous smile he couldn't get enough of.
"I want more of that!"
She turned and gave her bum a shake for him as she walked away.
Another half an hour and there was no one left in the office but Ed and Aly. They had said goodbye to the last stragglers. Aly had made her phone calls and could leave whenever she wanted. She didn't really want to. She had had a taste of Ed's cock and she really wanted more. She wanted a whole night with him to roll around in bed, suck his cock, straddle him and feel that cock inside her. She knew she wouldn't get the whole night but she could still fantasize about it. She decided she'd go home and get her vibrator out to continue the fantasy.
She went over to his desk to say goodnight and he must have heard her move because when she walked in, there he was sitting in his chair, his pants undone and that beautiful cock standing straight up with his hand stroking it.
She looked at his cock and then into his eyes. He was smiling. It was as if he was smiling from his eyes to his cock. She couldn't help herself, she went right in and knelt down in front of him and took him all in. Ecstasy for him! That warm mouth enveloping his rock-hard cock. She took him in all the way down to the base, he loved that!
Up and down she went, getting his cock even harder, fuller in her mouth. She sped up and used her hand to stroke him. He was loving it but what he really wanted was to taste her and feel her from the inside.
He took her face in his hands and gently pulled her up into a full kiss. He told her to stand up and he went down on his knees and hiked up her skirt. She spread her legs and sat back a little on his desk. She tasted just as good as he knew she would. He swirled his tongue on her clit and probed her with his tongue. She was trying her best to be quiet even though she was pretty sure they were alone in the office.
He was sucking her clit and had his fingers inside her, fucking her. He was driving her mad. The excitement of it all had her close to the edge. He went faster with his fingers and she grabbed his head and pushed his face farther into her pussy. That did it, his tongue on her clit and his fingers probing inside her had her shuddering with her climax as it pulsed through her. He was smiling to himself even as she held his head in between her thighs.
He broke free of her grip and quickly turned her around so she was bending over his desk. He slid her skirt up, parted her ass and plunged his hard cock into that beautifully wet, practically dripping pussy. Fuck, she felt good.
He pumped into her hard, fucking her while he held her down with his hand on her shoulder. He grabbed hold of her hair and pulled her head back. She loved every bit of it. She spread her legs and stood on her toes to get her ass higher for him. The arch of her back, the feel of her soft hair in his hands as he pulled just a little harder on it, it was all working to bring him close. He slapped her ass and she let out small moans, trying her best not to be as vocal as she normally would be. She couldn't forget they were still in the office.
His cock felt so good in her wet pussy. With each thrust she felt his girth spread her lips more. She hadn't really expected this. They had played a bit with touching and showing themselves to each other before, even going so far as a blowjob in the stairway, but full on sex in the office was not something she thought would happen.
The danger of it, the forbidden nature enhanced the pleasure for both, no doubt about it. They were hot together but to feel their bodies coming together was more than either had thought would happen.
He was fucking her hard and she loved every thrust of that cock. He was so close, she knew it. Quickly she turned herself around and sunk to her knees, taking the last three thrusts hard into her mouth and then he emptied into her. The mix of her juices and his cum thrilled her. She loved drinking the cum a man gave her.
She sat back on her heels and smiled up at him. They were both extremely satisfied. He helped her up and kissed her hard. She pulled down her skirt, straightened her top and turned to go.
"See you in the morning," she said as she strolled out. "I'll replay that scene in my head as I fall asleep tonight." And with that she was off for the night, leaving him to slip back into his chair and smile, with the scent of their sex still lingering in the air.