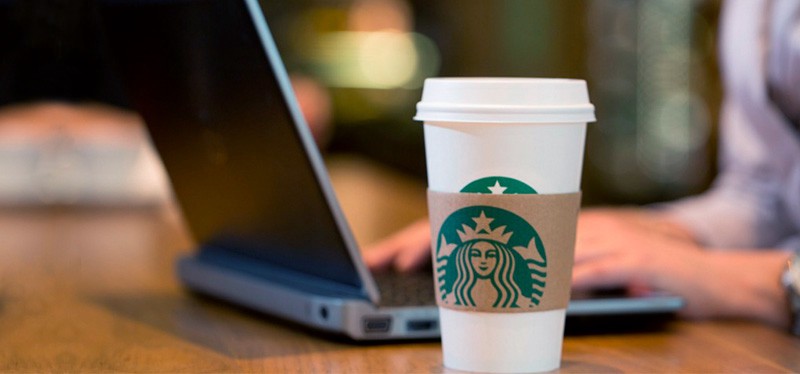 Several porn providers in the United States are retaliating against Starbucks Coffee after the company's recent announcement that it would be enforcing content filters on the free WiFi provided in their cafes. Starbucks made the announcement in late November, and the policy is slated go into effect on January 1, 2019. Two companies, PornHub and YouPorn, had particularly amusing responses to the coffee giant's ban.
In light of the news, tube giant PornHub began adding videos to their "Safe For Work" subdomain, presumably in the hope of retaining traffic from users who view the site in public. "To comply with Starbucks' new policy, we've created an option that allows fans to still enjoy great content to which they are accustomed, but that is appropriate for consumption in public places," the adult video-sharing site said in a statement. The category was initially created to circumvent an earlier porn ban in India. Users should not expect a completely SFW experience, though, as the site may still contain ads with nudity.
Video-sharing website YouPorn responded to the ban on adult content with a ban of their own. Upon hearing the news, executives unleashed a statement explaining that all Starbucks products would be banned in the YouPorn offices as of January 1st. The memo, released by Vice President Charlie Hughes, stated, "In light of the news that Starbucks has blocked customers from searching and viewing adult content within their establishments, Starbucks products will officially be banned from the YouPorn offices. See your direct manager with any questions."
Though adult movie moguls are now responding to moratoriums on watching porn in public, they may be late to the game. Viewing adult content was already against Starbucks WiFi policy, and while viewing pornography is technically considered free speech, it is hardly considered polite social conduct. Though they have reportedly decided on a tech provider, it is currently not known whether Starbucks' new filters will be blocking entire domains or individual pages. Personally, this porn blogger is looking for a new coffee shop to work from.
References:
Giraudet, T. (2018, November 30). Starbucks says it is finally going to block customers from watching porn in stores after years of pressure. https://www.businessinsider.fr/us/starbucks-promises-porn-blocking-tech-2018-11
Humphries, M. (2018, November 29). Starbucks to Block Public Wi-Fi Porn in 2019. https://www.pcmag.com/news/365186/starbucks-to-block-public-wi-fi-porn-in-2019
Pornhub (2018, November 29). Pornhub Launches Safe for Work Category that Features Videos without Nudity. https://www.pornhub.com/press/show?id=1741
XBIZ. (2018, November 30). YouPorn, in Countermeasure, Decides to Ban Starbucks at Its Offices. https://www.xbiz.com/news/240532/youporn-in-countermeasure-decides-to-ban-starbucks-at-its-offices